An Unignorable Hunch

Paul Taylor is one of the most prominent and influential choreographers of our time. Yet, in the late 1940's he seemed to be on a different path. He was studying painting and swimming on scholarship at Syracuse University when amidst a series of seemingly unrelated dance experiences he was struck by a revelation or, as he describes it in his autobiography Private Domain a "flash of recognition… an unignorable hunch" that he was to become a dancer. Not long after he began training within the newly formed dance department at Julliard and won a scholarship to the American Dance Festival where his athletic build and powerful presence captured the attentions of Martha Graham, José Limon, and other modern dance founders. He was already making his own choreography by the time he was invited to join Graham's company in 1955.
Taylor performed in the work of a number of dance pioneers in these early years, including Merce Cunningham and George Balanchine. He did so while continuing to choreograph for his own company a number of avant-garde works that sometimes confounded audiences. In 1962, the same year he left Graham's company, he created his first popular success Aureole.
"The amazing inventiveness, that peculiar quality of dynamic imagination which infused even his earliest choreographic attempts, continues absolutely unabated. There is still an awe-inspiring naturalness to his choreography, a sense of every step being in the right place at the right time to the right music, that is simply God-given." — Clive Barnes, Dance Magazine 1994
An Unequivocal Talent
In a 1989 New York Times article, Anna Kisselgoff states "There are four Paul Taylors. One choreographs dark pieces, another creates light comic works, a third favors homemade rituals and the last seems to invent pure-dance pieces inspired by music." She goes on to acknowledge that this is an oversimplified analysis of Taylor's rich body of work, a hallmark of which is the bleeding of these ostensible contradictions into one another. Taylor's choreography ranges from revolutionary to romantic, comical to controversial, robust to penetrating, spontaneous to shrewd, often within the same dance.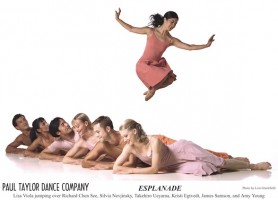 Carol Walker, retired Dean of the Conservatory of Dance at Purchase College calls Paul Taylor
"an American icon and one of the most prolific and stunning choreographers of the past 60 years. He was a dancer who captivated audiences in his performances with the Martha Graham Dance Company and in his own work. He is an author of two books and an Emmy winner for his choreography Speaking In Tongues. Dancemaker, Matthew Diamond's award winning, Oscar nominated feature-length film about Mr. Taylor was hailed by Time as 'the best dance documentary ever'. An artist and a man who has been devoted to making dances not only for his company but for major ballet companies as well, his work has awakened in many a love for dance that few choreographers' inspire."
Celebrating 80
Paul Taylor will be 80 years old this July yet a celebration of this milestone begins this week with Paul Taylor Dance Company's return to New York City Center [link] which features performances of enduring favorites as well as two premieres. On March 15, the day after the company closes its season at City Center, Mr. Taylor will be honored with a Nelson A. Rockefeller Award at the Purchase College School of the Arts Gala. To celebrate Mr. Taylor's work at the gala, members of the Purchase Dance Corps will perform excerpts of two of his works.
A Few Words With Paul Taylor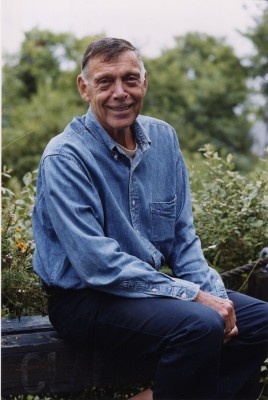 I have been captivated by Paul Taylor's choreography since my first exposure to his work in college. Seeing Esplanade live was an exhilarating introduction to his movement and scenes from the insightful film Paul Taylor: Dancemaker
made an enormous impression as I practiced the craft of choreography and prepared to enter the professional dance world. Therefore, I feel very honored that Mr. Taylor took the time to answer a few questions for Dance Advantage about his life and work in an email interview.
Dance Advantage: Your first experience with dance was through books. What did you read or see within the pages that so captured your attention that it changed the trajectory of your college study and your life?
Paul Taylor: Some of the first dance books I read during college that changed my aims were Martha Graham: Sixteen Dances in Photographs by Barbara Morgan, a book about the Diaghilev Ballet in Paris, Dancers, Buildings, and People in the Streets by Edwin Denby, and several books on dance history.
DA: Your dances have often been categorized as either dark and psychological or light and joyous.
PT: Most of my dances are a combination of both dark and light.
DA: Indeed, certainly this is a reflection of life and the human experience, but which is harder to make – the light or the dark?
PT: All of my dances have been both hard and easy to make.
DA: You have created over 130 works for your company since 1954. What is staggering about this is that you have made new work (sometimes multiple dances) every year for the past 55 years. What about the creative process continues to intrigue you and keeps you coming back again and again?
PT: It's my life.
DA: Despite all this dance-making, you've said that you don't think about dance much before you get into the studio.
PT: I lied.
DA: Is choreography a bit like sculpture, are you molding or carving the dance as you go?
PT: It is like sculpture or a painting but I usually have a general plan before rehearsals start.
DA: And what happens when you get stuck and aren't sure how to proceed?
PT: I skip ahead then go back and try to solve the problem later or ask the dancers to improvise and use whatever steps that seems suitable.
DA: Many of my readers are young dance students who face the decision of attending college or heading straight to a performance career. The dancers you select tend to have gone through university or conservatory programs before coming to you. What do you think these dancers are "picking up" in college that makes them right for your company?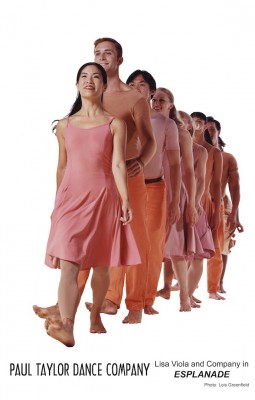 PT: College is a good place for students to find out what they really want to do. They are exposed to a lot of things that they may not have experienced before. They may be inspired by attending a performance by a touring dance company or by seeing a dance film.
DA: In auditions one of the first things you have dancers do is walk. What do you learn from the exercise?
PT: Walks are like fingerprints – none of them are the same. An individual's walk can reveal a lot about a person.
DA: What other attributes (aside from great skill and technical ability) are essential in the dancers you choose?
PT: Passion and commitment to one's chosen profession. Company morale is as important as the dance steps, if not more so.
DA: The legacy of modern dance is that we try to avoid doing what our predecessors have done and push the art form in new directions. Many of your dancers have gone on to choreography. In what new directions do you see them trailblazing?
PT: A lot of my dancers have gone on to do interesting things and are trailblazers. Twyla Tharp was one of a pioneer in making dances that combined jazz, modern and ballet. Laura Dean created dances with a lot of repetition, choreographed to Phillip Glass, which was very innovative. Pina Bausch introduced a harsh theatricality in her work that had not been done before.
DA: You've seen so much, what (if anything) surprises you about the 21st century.
PT: I'm constantly surprised by the advancement of technology, especially the invention of computers and cell phones.
DA: You've received numerous awards and you will soon be honored again with a Nelson A. Rockefeller award at Purchase College School of the Arts. What does this award mean to you?
PT: One always likes to be appreciated and I'm especially grateful that my friend Carol Walker, who has had the Company perform at Purchase College many times, will be presenting me with this prestigious award.
"Purchase College is honored to present the Nelson A. Rockefeller Award to Paul Taylor at the School of the Arts Gala on March 15, 2009. Paul Taylor is selected for this prestigious award because of his lifetime of achievements as a dancer, a choreographer, an author, an artist and the epitome of a creative role model. We are honoring his prolific and powerful body of work, his engagement with other art forms, and the long time association that the Purchase College Conservatory of Dance has enjoyed with Mr. Taylor and his company." — Carol K. Walker, Dean of Dance 1984 – 2007
Proceeds from the Purchase College School of the Arts Gala will create the first permanent endowment expressly for the School of the Arts. Reserve tickets
More Paul Taylor Links and Resources
Special thanks to Paul Taylor, Carol K. Walker, Purchase College School of the Arts, and Karen Apablaza.
Kindly follow, like or share:
Nichelle Suzanne is a writer specializing in dance and online content. She is also a dance instructor with over 20 years experience teaching in dance studios, community programs, and colleges. She began Dance Advantage in 2008, equipped with a passion for movement education and an intuitive sense that a blog could bring dancers together. As a Houston-based dance writer, Nichelle covers dance performance for Dance Source Houston, Arts+Culture Texas, and other publications. She is a leader in social media within the dance community and has presented on blogging for dance organizations, including Dance/USA. Nichelle provides web consulting and writing services for dancers, dance schools and studios, and those beyond the dance world. Read Nichelle's posts.