I'm feeling good over here at Dance Advantage.
Why? Well, this will be my third year running the Top Dance Blog contest. You'll have the chance to pick which blogs you felt were the best of 2012 this month so stay tuned for that announcement!
Plus, the new year will bring a milestone — Dance Advantage will celebrate its 5th birthday on April Fools' Day!
There are also cool things happening "backstage."
The second half of 2012 brought new partnerships, for example.
One of those partnerships included Ovation, a TV network to which, as a frequent viewer, I've been happy to bring attention. If you are a dance enthusiast in the U.S., you may know them primarily for their Battle of the Nutcrackers programming, but they bring many fine dance performances and performing arts documentaries to the small screen.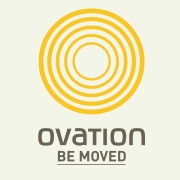 Ovation is the only network in town dedicated to the arts. You can find them on various cable and satellite providers. Though partnering with them has been exciting, I have a bit of bad news.
Unfortunately, Time Warner Cable recently dropped Ovation from their lineup. Boo!
So, I've signed the petition at BringBackOvation.com. Whether you have enjoyed Ovation television via TWC or not, the network could use your support. I know the arts are important to you and that you'd probably like to see a wider variety of dance programming on TV. Please let Time Warner Cable and others know you are unhappy with their decision by joining me in signing this petition. It only takes a few moments. Thank you!
A little disclosure: Though Dance Advantage has previously received compensation for promoting OvationTV and its programming, we are not receiving compensation for the Bring Back Ovation campaign. We just want to use this platform to help out a network that directly supports the arts and artists.
OK, on to some good New Year news!
Another of our recent partnerships has, so far, been developing behind-the-scenes ever since I met Catherine Tully (of 4dancers) in person at the annual Dance/USA conference in San Francisco last June.

We've devised a shared calendar for our content to help you read and learn and share in a more focused way. Over the first quarter of the year (January through March), we'll be diving into the following topics on both sites:
Summer Intensives
Commercial Dance and Broadway
Footwear, Foot care, and Fashion
Competitions and Conventions
Career and Auditions
These won't necessarily be the only topics covered during the next few months, but you can expect them to be a major focus.
Each site will still do what it does best, with the same caliber articles and methods of approach you've come to expect. We've just decided to get ourselves in step.
We think it's a duet you'll appreciate!
Got specific questions or concerns in any of the above areas?
Suggest the article topics you'd like to see covered in our comments below!
Kindly follow, like or share:
Nichelle Suzanne is a writer specializing in dance and online content. She is also a dance instructor with over 20 years experience teaching in dance studios, community programs, and colleges. She began Dance Advantage in 2008, equipped with a passion for movement education and an intuitive sense that a blog could bring dancers together. As a Houston-based dance writer, Nichelle covers dance performance for Dance Source Houston, Arts+Culture Texas, and other publications. She is a leader in social media within the dance community and has presented on blogging for dance organizations, including Dance/USA. Nichelle provides web consulting and writing services for dancers, dance schools and studios, and those beyond the dance world. Read Nichelle's posts.