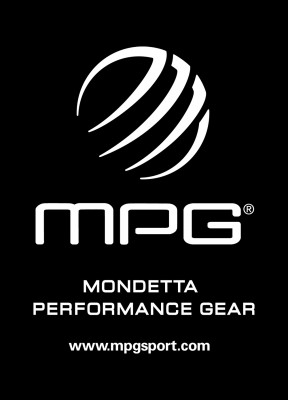 MPG® seamlessly fuses performance and technical fabrications in fashion forward and stylish applications to create a full collection of activewear apparel that is unparalleled in conception and construction.
The Mondetta brand strives to bring nations and people together. The name, Mondetta, is synonymous with harmony and diversity: 'Monde' is French for 'world' and the Latin suffix 'etta' means 'small' – thus, 'small world'.
Founded nearly twenty-five years ago, the Mondetta brand has evolved into an established collection of casual wear, outerwear and specialized niche apparel.
Mondetta Performance Gear, MPG, continued Mondetta's tradition of always evolving by taking its Mondetta Sport line one step forward to create a line of clothing that could both meet the demands of athletes, while still adhering to the company's core principles of fashion forward styling. Accentuated with active details such as stretchability, moisture wicking and breathability, MPG activewear apparel strikes a perfect balance between form and function.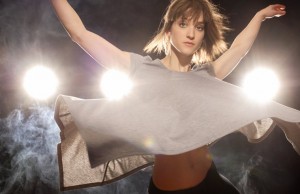 Ash Modha, CEO and Head Designer, gleaned much of the initial inspiration for MPG from his wife, a ballet dancer with the Pacific Northwest Ballet, and her friends' desire for activewear that performed well but didn't sacrifice comfort. The dancers became their focus group, test market and, because of their heavy involvement in the arts, could be trusted for their aesthetic sensibilities. MPG has continued to use dancers, instead of models, in nearly every photo shoot since its inception. These MPG Messengers are dancers from across North America including New York City Ballet principal, Ashley Bouder (pictured above left), dancers of the Pacific Northwest Ballet including principal, Maria Chapman (pictured below), and contemporary dance companies, RUBBERBANDance Group, Spectrum Dance Theater, and Whim W'Him Dance company.
Consistently meticulous attention to superior quality and design of its product and a continual commitment of marketing resources has allowed Mondetta to enjoy very high recognition in its native Canada. In recent years, as yoga and active lifestyle apparel has grown in popularity, MPG has begun to make waves right across North America.
Notably, four principal members of the Mondetta Clothing Company were born in Uganda and Kenya. Therefore unable and unwilling to stand by and watch as thousands of young children succumb to the ravages of the AIDS epidemic that has devastated so much of the African continent, the Mondetta Clothing Company joined the efforts of individuals and organizations such as Bono, lead singer of rock group U2, Stephen Lewis, UN Special Envoy for AIDS in Africa, and The Bill and Melinda Gates Foundation.

With compassion and hope to raise awareness of the daily and lifelong struggles children face against the AIDS epidemic in Africa, the Mondetta Charity Foundation (MCF), a completely separate entity from the Mondetta Clothing Company, was established.

To date, MCF has adopted the New Life Home orphanage in Nairobi, Kenya and the Kamwokya Primary School in Kampala, Uganda. By supporting these two facilities directly, children left without homes or living with HIV/AIDS have access to the security, education and medical attention they need and deserve.

MPG proudly features the MPG Gives Back program. This benefit speaks of Going Forward by Giving Back, as 1% of annual gross revenue from this clothing line is pledged to the MCF.

The Mondetta Charity Foundation was created on the mandate that all operating and administrative costs would be born by the parent company thereby allowing all donations to be utilized in a strictly charitable capacity.
The Giveaway
Mondetta Performance Gear wants to give away the Savvy Tank to TWO DA readers.
Savvy is a sparkle jersey workout tank with contrast laser cut details, a built-in full-support Coolmax bra liner with removable cups, a high visibility logo, and a unique back key pocket with invisible zipper.
With four-way stretch, moisture wicking, and quick-drying fabric, Savvy is recommended for light to heavy workouts, yoga, running, tennis, or training but this subtle, attractive design would even look sharp worn casually with a great scarf, blazer, and dark denim.
The MPG giveaway is open to residents of the U.S. and Canada, ages 18 and up and closes at Midnight EST on Tuesday, February 21.
How To Enter
This giveaway is closed but find more great-looking and functional activewear, including the soon-to-be released Spring 2012 collection at www.mpgsport.com

Sign-in with the Rafflecopter form below using Facebook or your name and email. The widget will reveal multiple ways to earn entries.
The first, commenting on this post, is mandatory for entry (as always).
In this case, you'll be asked to comment, and tell us:
What qualities are most important to you when purchasing activewear for practice or rehearsal?
Sign in, and click on Do It and you'll see.
Upon entering, optional tasks for earning up to 10 additional entries will be revealed.
Complete as many as you like. Come back and Tweet once every day of the MPG giveaway.
Just make sure after each task you return and let us know you DID IT in the Rafflecopter form (don't worry, it'll save your other entries).
If you're having trouble seeing the form, I suggest updating or trying another browser.
Winners will be announced within days of the giveaway's close and will be contacted directly.
Please read our Giveaway Policy.
Tomorrow's Giveaway:
A positively awesome dance prize from Rhee Gold.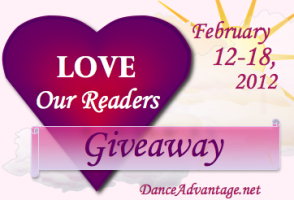 Kindly follow, like or share:
Nichelle Suzanne is a writer specializing in dance and online content. She is also a dance instructor with over 20 years experience teaching in dance studios, community programs, and colleges. She began Dance Advantage in 2008, equipped with a passion for movement education and an intuitive sense that a blog could bring dancers together. As a Houston-based dance writer, Nichelle covers dance performance for Dance Source Houston, Arts+Culture Texas, and other publications. She is a leader in social media within the dance community and has presented on blogging for dance organizations, including Dance/USA. Nichelle provides web consulting and writing services for dancers, dance schools and studios, and those beyond the dance world. Read Nichelle's posts.