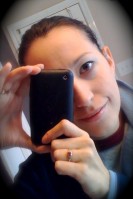 When it comes to iPhone® applications, there are some really great ones and others that aren't even worth their zero-dollar price tag. Apple® customer reviews are helpful for deciding where to spend your money but, as most dance-related apps have a smaller audience, there are many that haven't received visible feedback. So, I went in search of dance apps that I could share with you! Some I had already, others were generously offered by the makers for review on this site.
My Favorites
Freeze Dance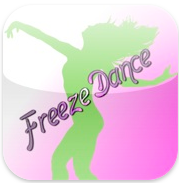 Move and, when the music stops, freeze! Educators can get very specific, asking students to move and freeze in certain ways. However, it's a fun activity for parents and other caregivers as well because anyone can play.
This app by Bombing Brain Interactive retrieves the music you already have on your phone (or iPod Touch) for use in the game. Its creator Tim told me that he created it for his 4 year old daughter. He says, "She loves to dance (in her 2nd year of lessons) and has a lot of fun playing with this."
Drawing from your playlists, artists, or albums, you start by choosing a song. The app will stop the song at random intervals for a period of seconds and then continue the song. A nice feature of Freeze Dance is that you can turn the automatic stop and/or the restart on or off (if for some reason you want to be in control), adjust the random interval between stops, and tweak the length of time frozen. My toddler finds it hard to freeze for very long so I love that I have some choice with the app. I also love that I don't have to be holding the device for it to work (meaning I get to dance with my son) and, since it pulls songs from my library, a huge list of songs are available to play Freeze Dance.
Verdict: Great app for anyone working with kids of all ages and you can't beat 99 cents!
Get It On
Ballet Lite/Ballet Index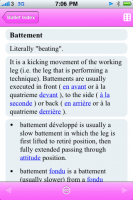 This app by Australian software developper, Cannonade is a ballet dictionary. Ballet Lite (the free version
) was already in my iPhone arsenal when I began my app research so I'm focusing on this version. It is my understanding, however, that they are identical except that Ballet Index (99 cents) is loaded into your device. That means it A) requires no network to work and B) can retrieve definitions instantly, with no delay.
At best count, the app looks to have over 200 terms. Some have photos but it is a pleasant surprise to come across one (you don't know until you open it). There is also a flashcard feature that pops up a random term. State the answer to yourself (unless you want to turn a few heads) and then push the reveal button to see if you were right. It appears that the dictionary uses an assortment of sources including the Wikipedia Ballet Glossary page. The author of the app goes into more detail in this forum thread.
Pros:
A relatively large and useful index of terms.
Cross-referenced terms (links from one definition to another) are a plus
Often includes a literal translation and a description of the movement
On the info page you can trade the hot pink border for black
Cons: None really – you can always try the free version and if you like it and use it a lot, buy the 99 cent version!
Verdict: No hand-held, fit-in-your-pocket dictionary is going to be perfect for everyone – there are thousands of ballet terms and definition sources vary. This works and is often being tweaked by the developer. More photos or video would make it more useful for students I think, but it is a handy reference for those who are somewhat familiar with the terminology. Can't go wrong at this price!
Get It On
P.S. Cannonade also offers Tap Index –

and Tap Lite –

. I'm not enough of a tap aficionado to know how useful or accurate this dictionary is. Keep in mind that tap terminology is highly variable from region to region and the developer is Australian so there may be differences. But again, Tap Lite is free to try!
Nifty Notables
Say Ballet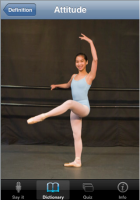 Say Ballet is a glossary of over 140 ballet terms that includes video or photographs for at least half of the definitions. What is unique about this app, however, is that voice recognition can be used to search the glossary. Browse the alphabetical list of terms, watch the accompanying video or listen to the pronunciation. It also has a quiz feature that requires answers via voice recognition. The app is based upon flash cards developed by a dance teacher from Carmel Academy of Performing Arts and features two of its students in the videos and photos. [more in this news item]
Pros:
A large list of terms
The voice recognition feature is unique among dance apps; speaking a search term comes in handy for those unsure of spelling
The movements on video are performed clearly and accurately
Quiz results can be saved with a name to keep track of scoring for multiple players
Items with video are noted with an icon
Cons:
The voice recognition (like most voice recognition programs I've found) is finicky – I sometimes had to try repeatedly and copy the accent and inflection of the speaker exactly to get the correct term to come up and occasionally one syllable words were a problem – this affects getting an accurate quiz result as well;
At $9.99 it is a bit pricier than most dance apps;
Some users may prefer video of a professional dancer performing the steps;
Some of the terms are pretty rare (faire le tiroirs, anyone?), and others are a bit redundant (sauté, sauter, sautillé).
Verdict: The voice recognition works about as well as I would expect but not as well as I would like. This is still a pretty solid app and could be useful for students to practice terminology on the go. With video included, this is one of the more useful dance dictionary apps out there. Worth the price? A $10 pricetag would be outrageous to some and minor for others. Too individualized to call it – you'll have to decide for yourself.
Get It On
Shop4Dance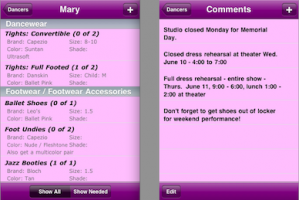 This is a unique and quite specialized shopping organizer. The developer, John Sepulveres says "The app was developed after my daughter's Spring Dance Performance. My wife was making endless lists of tight colors, the exact lipstick color, and packing of accessories, etc.!" They say necessity is the mother of invention… in the case of iPhone apps, however, it seems the fathers are the ones giving birth.
There is a detailed feature list at John's website, but basically you can add a dancer by name with the plus/add icon, then under that dancer's name you can add dance-specific supplies from an exhaustive list or create your items and categories for inclusion. Once you've added items you can add other info like brand, size, color, etc., save it add notes, alter your needs and "haves" as needed, and add notes or reminders.
Pros:
Convenience – no need to scribble down or carry around your dancer's instructions. For families with multiple children competing in dance this might be a must if for no other reason than to keep track of brands and ever-changing sizes throughout the year.
Versatile – you can create fully customize your own categories and items. Who says you can't put your son's sports team requirements in there too? Come recital time, teachers may also be able to keep track of each of their classes' required accessories and costumes this way too.
Low cost (99 cents)
Cons:
The application is so simple that it needs a tutorial or instruction page. Sounds crazy but it's true. I had to play around with this a while to know when to hit the 'add,' when to hit save, and on which screen I needed to push what. I'm pretty intuitive and it was still confusing at first.
Verdict: Not everyone will find this essential, but because it is customizable, you may find additional uses for this shopper's helper.
Get It On
Room for Improvement
Dancer QuickQuotes
Quotes for, by, and about dancers and dance. You can add favorites to a list, search for keywords, and share via email. What's missing is sharing via social networks and/or the option to copy a quote to your clipboard. Also some quotes are not exactly noteworthy – more like a random sentence torn from a paragraph. Verdict: Eh! Still waiting for a really good dance quote app. The cost isn't bad (99 cents) but I am just not that impressed.
Ballet News
A pre-loaded feed aggregator of dance blogs. For someone who has no desire or who has no idea how to set up their own feed reader, this might be really useful. Unfortunately, I haven't had much luck with this particular app. It's pretty buggy. Upon opening, it updates the feeds but I found at least one of the feeds was causing the whole thing to stall. I removed it (you can add to or delete the feeds available) and that helped but I've also noticed that some feeds get misplaced. For instance, Dance Advantage happens to be second on the list but often my posts will show up under other blogs. Verdict: This would not replace the dance blog smorgasbord I've created for free via Google Reader, which I access easily on iPhone with the Google services app. If it weren't for the glitches, this 99 cent app might be worth it to someone who wants a ready-made list of dance blogs to follow.
American Tap Dance
This app lists 15 tap steps including waltz clog, bombershay, and buffalo which are demoed with a foot diagram and tap sounds. Using your finger, you can tap out the rhythm and receive a score. The goal of this may be more tap game than teaching gadget for tap dance, however it does make an attempt at showing actual tap steps. The game has a very short time lapse between each repeat – a very spastic experience. Verdict: If you want to see how fast your fingers can tap you could give it a try. The cost ($2.99) is more than I would pay for a game like this.
More Dancer Goodies
Pilates for Dancers
Get It On


Video guide featuring 24 Pilates exercises including the hundreds, bridge, and double/single leg stretch. A clear and well-executed introduction to pilates for anyone. This series is not super challenging but if you are new to pilates or need a handy primer, this provides DVD quality video that can travel with you. You can watch the videos in sequence, play random installments, or organize your own "playlist." Verdict: Good for beginners and not a bad price for a video app ($1.99). You might also want to check out other dance apps by Nexstudios such as Learn to Dance Swing –
So You Think You Can Dance Vote
Get It On
I haven't had the chance to try this out yet since the new season of SYTYCD has not started. If you are a serious voter this app keeps you updated on when voting begins and ends in your time zone. The point is go anywhere voting: the contestant's names and photos are listed and during voting time, you tap your favorite's image and the correct number will be displayed for you to call and cast your vote. During voting the app also shows the current voting tally among users. I have checked out the Tropic Apps' American Idol (AI) Vote –
– and the app has worked well. Verdict: If you can't bear to miss your chance to vote, 99 cents is definitely not too high a price.
When downloading apps for your iPhone or iPod Touch, be sure to check their compatibility. Not all apps are made for or work best on all devices!
**All the little
buttons are indeed affiliate links. You'll notice I didn't add them to the ones for which I gave a poor grade (doesn't seem right). However, purchase one of the others via this link and it's a little 5% tip for the referral. No extra charge for you. Thanks in advance!**
What are your favorite dance apps?
Which non-dance apps make your dance life easier?
Kindly follow, like or share:
Nichelle Suzanne is a writer specializing in dance and online content. She is also a dance instructor with over 20 years experience teaching in dance studios, community programs, and colleges. She began Dance Advantage in 2008, equipped with a passion for movement education and an intuitive sense that a blog could bring dancers together. As a Houston-based dance writer, Nichelle covers dance performance for Dance Source Houston, Arts+Culture Texas, and other publications. She is a leader in social media within the dance community and has presented on blogging for dance organizations, including Dance/USA. Nichelle provides web consulting and writing services for dancers, dance schools and studios, and those beyond the dance world. Read Nichelle's posts.