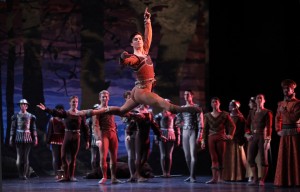 I do a bit of writing and reviewing in Houston and it has been my pleasure to have the opportunity to interview some of the area's finest dance talent. I don't always cross-post my stuff here but when I get to talk with someone about their training and experiences, I like to share that with Dance Advantage readers. Last season I interviewed graduating HBII dancer Garrett Smith. This season I was fortunate to speak with one of Houston Ballet's rising stars. Enjoy!
Houston Ballet corps de ballet member Joseph Walsh is having a great season so far.
This summer it was announced that he had been recognized as an emerging talent in dance with a Princess Grace Award. As a recipient he'll be joining the esteemed company of past winners such as Ethan Steifel, Robert Battle, Gillian Murphy, as well as five previous winners from Houston Ballet (Yin Le, Carlos Acosta, Tiekka Schofield, Li Cunxin, and Martha Butler).
Now, hot on the heels of a performance in Manon which kicked off Houston Ballet's 40th Anniversary season,  Walsh will perform this weekend as the company unveils Without Boundaries. The program features three works that traverse that sometimes tenuous line between classical ballet and modern dance and will include the world premiere of Artistic Director Stanton Welch's Elements, as well as company premieres of Twyla Tharp's In The Upper Room and Jiří Kylián's Falling Angels. Despite his busy schedule, Walsh took a moment to speak with me about developing as an artist, performing classical versus contemporary works, and attracting young audiences to ballet.
Dance Advantage: First of all, congratulations on being honored with a Princess Grace Award.

Joseph Walsh: Thank you so much! This has been quite the whirlwind start to the season. I cannot say enough about how honored I feel to have even been nominated for this award by our artistic director, much less how amazing it feels to receive it! I will be attending the award ceremony in New York City next month, which is extremely exciting.
DA: I read your essay which was part of the application process for this award and was impressed with your candor. You describe the feeling that the stage sometimes feels safer than the studio. It is said that we are our own worst critics, do you think that is particularly true for dancers?
JW: Absolutely!  Dancing professionally, there is not as much instruction or coaching on a daily basis as there might be in the school in terms of really showing the dancers exactly what to do.  In that respect, self-critique is important because there are so many company members and our instructors can't possibly focus on every individual as much as they would like. As a student we become accustomed to getting critique in class, but in a company you are in charge of your development; it is up to the dancer to understand how their body is working, what he or she needs to work on.  The mirror is sometimes the tool that helps us to understand that.
"The lesson for me to learn is how to bring the stage to the studio. It is finding the same level of confidence that I have on stage even with all of those "faces" in the studio standing before me, including the one I see in the mirror." — To view Walsh's essay visit Houston Ballet's blog.

DA: You give examples of lessons you are working to internalize so that you can more fully trust your instincts as an artist. Are there steps you take or things you say to yourself to stay focused and confident when doubts creep in?
JW: Although I am still figuring out better ways to keep my focus throughout the process of rehearsing and performing in roles, something like the Princess Grace Award has really shown me that I can have confidence in myself and in the choices I make in classical or contemporary roles, so long as I deliver them in a way that I understand. Also trying to really open myself up to feedback from the artistic staff and other dancers from Houston Ballet has helped tremendously.
DA: In your essay you also mentioned overcoming a fear of leaving home to attend a boarding school for the arts in Massachusetts. I'm a Pennsylvania native and to my younger self, I might well have gone to school on the moon as to leave home for Boston. How old were you?
JW: I was 15 at the time.  I knew ballet was what I wanted to do.  I also knew I had to leave home to achieve my goals in dance by getting exposure to the best training I could. The initial fear was really a perceived fear.  Once I became fully involved in the program there was no time for fear, only hard but exciting work and a chance to perform in a significant way.
DA: Where did your interest in ballet originate?
JW: I have been attached to ballet for virtually my whole life, starting at age three when I was exposed to it while my sister was dancing.  It is actually hard for me to think that there was a time in my life when I did not dance. My interest in dance flourished over the years through intense training and exposure to amazing instructors and great people in the profession.
DA: You are certainly flourishing at Houston Ballet, this weekend you'll be dancing in two of the three works on the Without Boundaries program; Stanton Welch's world premiere of Elements and Twyla Tharp's acclaimed In the Upper Room. Can you tell me a bit about your role in Elements and how it differs from the more classical works you've performed?
JW: I am the Element "Air."  As Stanton Welch recently explained to us, Elements is a minimalist ballet piece, where character is not conveyed so much through acting, but through dancing.  When I contrast that to classical ballet pieces where there is a story line, the dancer thinks of giving more in terms of acting. In Elements we are trying to give exactly what the choreographer wants.  If we give any less or any more, it will lessen the integrity of the piece.
| | | |
| --- | --- | --- |
| Dancer: Ian Casady // Photo: Pam Francis | Dancer: Jonathan Davidsson // Photo: Pam Francis | Dancer: Peter Franc // Photo: Pam Francis |
DA: In the Upper Room originally premiered in 1986 and is one of Tharp's signature works. Why is it significant for Houston Ballet to finally have a Tharp piece in the repertory? And how is this opportunity significant for you personally?
JW: In my view, the introduction of Tharp's work continues the efforts to bring to Houston Ballet world-class choreography.  Tharp is in that category and it is great to have her work as part of the resume of the company. For the same reason, it is just as important for a dancer personally, to dance in pieces of as many great choreographers as possible.
DA: The work can be pretty fast and furious, driven by the Philip Glass score. What has been the biggest challenge in learning and executing the choreography?
JW: As in most Philip Glass scores it is minimalist, but with much repetition.  Tharp also went along those lines In the Upper Room by introducing a lot of repetition and speed to go along with the score. There are many moments throughout when I will almost lose my place in either the choreography or the music purely because of the repetition in both. It can be a little disconcerting at points, but as we have started to put the piece on stage it has become much easier to handle.  It is an exciting and challenging piece.
DA: Do you think works like those being premiered in Without Boundaries can serve as a gateway for younger audiences to discover and delve deeper into the art of ballet?
I think what you are saying is really the basis of our company at this point; keeping the integrity of the art form while improving on it by bringing new life and energy through these types of pieces.
DA: Offering a little incentive doesn't hurt either. In fact, Houston Ballet has been trying some new things lately to reach out to a younger audience. They recently launched their Young Professionals program for the "under 40" crowd. And they have Under 25 Friday night performances for which 18 to 25 year-olds get a steal on tickets – $15 for one or $25 for two. I don't think it is a secret that patrons of ballet and often dance in general are a more "mature" crowd. Why do you think it is harder to get younger "butts in the seats?"
JW: Young people are simply not as exposed to ballet as they are to popular sports and other forms of entertainment.  There is not the same level of cultural awareness of ballet.  Many younger people still see ballet as a stale art form. This is one reason Houston Ballet is doing exciting and fast paced ballet pieces like the triple bill next weekend.  And of course, approaches like the Under 25 program are helping to make it much more affordable.
---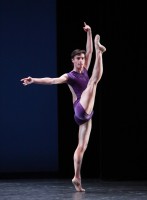 Originally from Pennsylvania, Joseph Walsh trained at Walnut Hill School for the Performing Arts near Boston, American Ballet Theatre and Houston Ballet's Ben Stevenson Academy. He was a member of Houston Ballet II prior to joining the professional company in 2007, and since then has been featured in a variety of contemporary and classical roles including Lensky in John Cranko's Onegin, Charles d'Artoise in Stanton Welch's Marie, and William Forsythe's The Vertiginous Thrill of Exactitude.
Houston Ballet will give six performances of Without Boundaries at Wortham Theater Center in downtown Houston. Tickets may be purchased by calling 713 227 2787 or by visiting www.houstonballet.org
Kindly follow, like or share:
Nichelle Suzanne is a writer specializing in dance and online content. She is also a dance instructor with over 20 years experience teaching in dance studios, community programs, and colleges. She began Dance Advantage in 2008, equipped with a passion for movement education and an intuitive sense that a blog could bring dancers together. As a Houston-based dance writer, Nichelle covers dance performance for Dance Source Houston, Arts+Culture Texas, and other publications. She is a leader in social media within the dance community and has presented on blogging for dance organizations, including Dance/USA. Nichelle provides web consulting and writing services for dancers, dance schools and studios, and those beyond the dance world. Read Nichelle's posts.