In the throngs of vigorous dance training, rarely do we stop to consider the idea of not dancing, or having a plan B if it doesn't work out.  I always considered myself a careful dancer, if not a rational one.  I am meticulous about technique and proper form to prevent the chance of injury, but when the occasional sprained ankle or ingrown toenail came up my instinct was always to dance through it, or "walk it off", as the saying goes.
What I didn't and couldn't prepare for was that one injury that got the best of me.  The one I couldn't walk off. Five days before graduating from college, I was bright-eyed, full of dreams, and dancing as an apprentice for a reputable modern dance company in Chicago.  At a dress rehearsal that evening I turned wrong on my left foot.  I felt something slip out of place in the ball of my foot and for nearly every step for the rest of the run my foot collapsed underneath me.  After finishing the piece I sat down with my foot elevated and thought for sure it was broken.  It began to swell, but I could still wiggle my toes and walk with a limp.
I spoke with the artistic director I was working for, and he referred me to a sports medicine physician who often did pro-bono work for the company.  The next day, she took an x-ray and indicated that my foot wasn't broken.  I pleaded with her to find a way to get me through the performances, since they would be the final shows of my college career – have I mentioned that I do not have a history of rational thinking with regard to injury?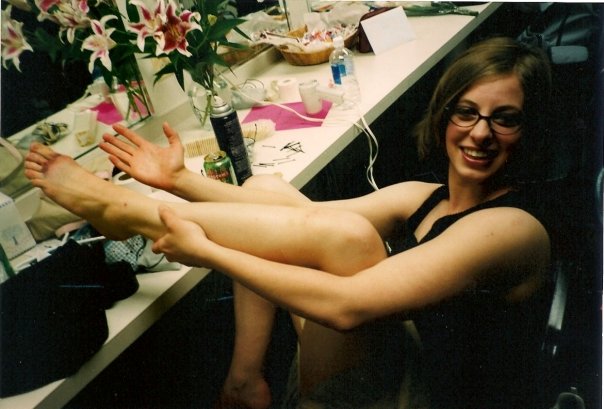 The physician gave me anti-inflammatory drugs, a shot of cortisone, and acupuncture on the foot, which by this time had developed a nasty bruise around the injury site.  I went away without a diagnosis (other than it not being broken), and a band-aid, promising myself that after the shows I would take a good 4-6 weeks to heal.  With the performances opening the next day, I went off to my job at a coffee shop to stand for 6 hours and was told that I could not wear athletic shoes on the job in case a mystery shopper came in and reported it.  A girl's got to make a living, right?
I made it through the shows, and did take a fair amount of time off until the swelling and bruising subsided.  I had medical insurance through my job at the coffee shop, but couldn't afford the co-pay and deductible to seek out further medical advice and establish a treatment and rehab plan.  Returning to dance was sheer guess work, and over the first year out of college I was essentially in a revolving door, continually going back, re-injuring the foot, taking a week off, and going back again.  The sporadic training schedule made it difficult to maintain my weight; I was depressed, broke, and asked to leave the company.
Plan B
Ultimately, that foot got the better of me, and my career.  Plan B ended up being working full-time at the coffee shop and spitefully separating myself from the dance community that I had worked so hard to be a part of.  I later found out that I had torn a ligament between my first and second toes, triggering the second toe to dislocate (the "collapse" I experienced).  Barefoot dancing is especially difficult in this case because of the amount of torque placed on the joint in rotational movement.  To this day, twisting at a certain angle causes the second toe to pop out of place from time to time.  No amount of rest will fix this; torn ligaments are notoriously slow and tricky to heal without some sort of surgical intervention.  Aside from the expense and inconvenience, there is also the possibility that a surgery could limit the range of motion in my arch and metatarsals, making it difficult or impossible to rise to demi-point.  The alternative is leaving it the way it is, and rationalizing the fact that I'm a barefoot dancer who can't dance barefoot.  At first I figured it was a sign that I wasn't meant to dance.
Plan C
However, after six years and a series of random career changes, I would eventually return to the stage.  Ultimately, dance is what I'm supposed to do, and I was recently given the opportunity to present some of my choreography with a small modern dance company.  I discovered that it's much easier for me to continue dancing if I wear shoes or tape to provide some sort of support to my metatarsals (the exact formula is still a work in progress…).  By performing in my own work, I have the option to wear ballet shoes instead of dancing barefoot, which greatly reduces the chance of dislocating my toe.
At the end of the day, what I went through (and on many levels am still going through) is fuel to my fire.  My experience was the catalyst for my interest in kinesiology, and is the passion behind Art Intercepts.  Instead of wallowing in what might have been, I spend the better portion of my time and energy seeking out safe teaching practices to prevent injury and advocating for injured dancers who need treatment and rehabilitation from medical professionals who understand their craft and their careers.
As a young dancer, I felt pigeonholed into thinking that I only had two options (dance or don't dance), when plan C was as simple as being a barefoot dancer who wears shoes – and it took me six years to figure that out.
Aside from medical treatment, there is a wealth of services out there in career counseling, vocational rehabilitation, and physical therapy.  Utilizing these resources gives the dancer more options and a fresh perspective on what a dance career actually looks like (which is different for every dancer).  The dance community desperately needs access to these resources, and at a price dancers can afford to pay.  Furthermore, many company directors, teachers, and choreographers often share the distorted conviction that injuries that aren't fixable through a week of rest are an inconvenience that renders the dancer expendable and replaceable.  Regardless of artistry or aesthetic, dancers are people, and their health and well-being must come first.
Are you struggling with a potentially career ending injury?
Here are a couple of links to some fabulous organizations and resources:
Rehabilitation Institute of Chicago
Occupational Health Service Institute at the University of Illinois at Chicago
International Association for Dance Medicine & Science
Performing Arts Medicine Association
Information on Worker's Compensation
Kindly follow, like or share:
Lauren Warnecke is a freelance writer and editor, focused on dance and cultural criticism in Chicago and across the Midwest. Lauren is the dance critic for the Chicago Tribune, editor of See Chicago Dance, and founder/editor of Art Intercepts, with bylines in Chicago Magazine, Milwaukee Magazine, St. Louis Magazine and Dance Media publications, among others. Holding degrees in dance and kinesiology, Lauren is an instructor of dance and exercise science at Loyola University Chicago. Read Lauren's posts.