When the new year comes around, it's time to crack open those fresh, new calendars and date books.
If you are super organized like me (sarcasm intended), you get around to this… in late January. But, it's never too late to mark the days of the year you'll spend dancing!
Unfortunately, (again, if you're like me) those annual dates that offer a chance to celebrate your favorite pastime have a way of sneaking up on you. No more, friends!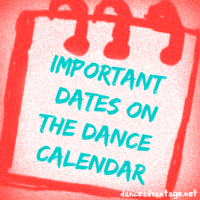 Here's a list of important annual dance events and celebrations worldwide.
(You're welcome.)
Days to Recognize Dance and the Arts
World Tutu Day is as an annual world wide fundraising event in support of ballet education.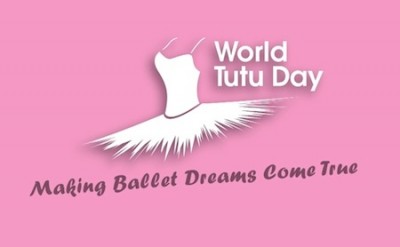 World Tutu Day began in 2014 as an initiative of  The Australian Ballet School and has leapt to New Zealand this year. The idea is that funds raised in other countries will support top ballet schools all over the world and enable them to offer their programs to students who have talent but not the means to follow their dreams.
February 2 (2/2) annually
Arts Advocacy Day is an advocacy training opportunity hosted by Americans for the Arts and cosponsored by 85+ national arts organizations, National Arts Advocacy Day is the largest gathering of its kind, bringing together grassroots advocates from across the country in Washington DC to meet with members of Congress in support of issues like arts education policy, the charitable tax deduction, and funding for the National Endowment for the Arts.
March 23-24, 2015 (dates for this event vary annually)
dance anywhere® is a simultaneous worldwide public art performance. Beth Fein created this event in 2005, making 2015 the 10th anniversary of dance anywhere®. People of all ages and artistic capacities have made dances in parks, museums, street corners, schools, work places, community centers, offices, and just about anywhere you can imagine. Participants have been professional dancers and artists, plumbers, doctors, soccer players, teachers and politicians. Some dances are choreographed, some are improvised, and some stretch the definition of what dance is.
March 27, 2015 (Last Friday in March) at Noon (Pacific U.S.); 3pm (Eastern U.S.) click here for your time
Why Dance Matters is a Dance Advantage initiative that started in 2010.  Leveraging short-form social media messages and the hashtag #whydancematters we rally dancers online to affirm the impact dance has on the lives of individuals and communities. It's really a task we take on year-round via Twitter, Facebook, and Pinterest, though organized "virtual" events have been fun and effective over the last few years.
This year, two event days have been selected to stir up a flurry of testimony about why dance matters. The first date coincides with the anniversary of Dance Advantage – the 1st of April. We think it will be a fun way to commemorate a day of the year that is already special for us. Then, we'll do it again on the 1st of August as dance schools and companies begin to gear up for their respective seasons. It's a one-two punch of #whydancematters!
April 1 and August 1
Dance Day has been celebrated by dancers all over the world every year since 1982. It is an initiative of the International Dance Council CID, UNESCO. The main purpose of Dance Day events is to attract the attention of the wider public to the art of dance. Emphasis is given to addressing people who do not follow dance events during the course of the year. These events may be special performances, open-door classes, lectures, articles in newspapers and magazines, parades, and more.
April 29 annually
National Dance Week was formed in 1981 when a group of dance-related organizations began a strong "grass roots" movement to bring greater recognition to dance. National Dance Week Foundation was established as a non-profit institution in 2011. Its purpose is to expose and introduce as many people as possible to the enjoyment and benefits of dance through promoting dance in schools, expanding community awareness, and increasing professional development.
April 24-May 3, 2015 (dates for this event vary – usually in late April or early May)
In the United States Teacher Appreciation Week is held during the first week in May. Around the country thousands thank their educators. Last year the National Education Association encouraged the use of the #ThankaTeacher hashtag with thousands showing their support for the nation's teachers on Facebook, Twitter, and elsewhere.
Many dance students and parents also choose to show dance teacher appreciation on this day.
May 5, 2015 (Tuesday of Teacher Appreciation Week — first week in May annually)
Tap Dance Day
It has no official website but you can learn about the history and purpose of National Tap Dance Day right here on Dance Advantage. The idea of National Tap Dance Day was first presented to U.S. Congress on February 7, 1989 and was signed into American law by President George H.W. Bush on November 8, 1989. Its only official observance was that year but Tap Dance Day continues to be celebrated in the U.S. and other countries, and is significant also as the birthdate of Bill Bojangles Robinson.
May 25 annually
World Lindy Hop Day encourages people from all different backgrounds to enjoy and share the many benefits of this joyous and enduring dance. The 2014 celebration marked Lindy Hop legend, Frankie Manning's 100th birthday and was the formal inauguration of May 26th as World Lindy Hop Day. Record of the momentus centennial celebration can be found at Frankie100.com.
May 26 annually
Launched in 2010 by "So You Think You Can Dance" co-creator and Dizzy Feet Foundation co-president Nigel Lythgoe, National Dance Day is an annual celebration that encourages Americans to embrace dance as a fun and positive way to maintain good health and fight obesity. NDD achieved national recognition when a congressional resolution was introduced declaring the last Saturday in July to be the country's official National Dance Day.
July 25, 2015 (Last Saturday in July annually)
World Ballet Day
Last year on October 1, 2014 five of the the world's leading ballet companies: The Royal Ballet, The Australian Ballet, Bolshoi Ballet, The National Ballet of Canada and San Francisco Ballet, joined together to stream exclusive rehearsal footage for a worldwide audience over a period of 20 hours. It was a chance to see how the different companies warm up for the day and interviews with choreographers and leading figures in the dance world.
Is anything in the works for this year? We don't know, but we'll keep you posted!
TBA?  
Ballet Day in February?

February 7 has been cited in a few locations as "Ballet Day". One source noted this date as important to ballet because February 7 was the date Dutch Prince William III danced in the premiere of "Ballet of Peace" in 1668, and as the day that french dancer, Mme Francisque Hutin "introduced ballet to the US" [quotes are my addition] with a scandalous 1827 performance of The Deserter, staged at the Bowery Theater in NYC. A bit of that story can be found in this book on burlesque and american culture. I can't find any sources offering validity of Feb. 7 as an officially recognized Ballet Day, however.
In 1994, United Nations Educational, Scientific and Cultural Organization (UNESCO) proclaimed October 5 World Teacher's Day. It is a day devoted to appreciating, assessing, and improving the educators of the world, and provide a time to look at and address issues pertaining to teachers. WTD is a natural extension of UNESCO's all year round work of promoting teachers, ensuring that this profession, so vital to the healthy functioning of society, is itself "healthy".
October 5 annually
The birthdates of legendary dancers and choreographers are often a chance to recognize not only their contributions to the dance world but to celebrate dance itself.
The list of 40 dance luminaries below is by no means complete but a sampling of individuals from ballet, modern dance, and jazz dance who made significant contributions to the art form before passing from this life.
Birthdays of Dance Icons
January 5 (1931) – Alvin Ailey
January 12 (1908) – Jose Limon
January 15 (1862) – Loie Fuller
January 22 (1904) – George Balanchine
January 23 (1906) – Lester Horton
January 24 (1925) – Maria Tallchief
January 27 (1879) – Ruth St. Denis
February 12 (1881) – Anna Pavlova
February 14 (1946) – Gregory Hines
March 12 (1889) – Vaslav Nijinsky
March 31 (1872) – Sergei Diaghilev
April 4 (1908) – Antony Tudor
April 16 (1919) – Merce Cunningham
April 23 (1804) – Marie Taglioni
April 27 (1911) – Jack Cole
May 7 (1840) – Pyotr Ilyich Tchaikovsky (ballet composer)
May 10 (1899) – Fred Astaire
May 11 (1894) – Martha Graham's Birthday
May 25 (1878) – Bill "Bojangles" Robinson
May 26 (1914) – Frankie Manning
May 27 (1877) – Isadora Duncan
June 14 (1937) – David Howard
June 21 (1850) – Enrico Cecchetti
June 22 (1909) – Katherine Dunham
June 23 (1927) – Bob Fosse
July 6 (1879) – Agrippina Vaganova
July 10 (1923) – Gus Giordano
July 22 (1901) – Charles Weidman
August 23 (1912) – Gene Kelly
August 28 (1925) – Donald O'Connor
August 29 (1958) – Michael Jackson
September 18 (1905) – Agnes DeMille
October 2 (1927) – Jimmy Slyde
October 11 (1918) Jerome Robbins
October 17 (1895) – Doris Humphrey
October 21 (1891) – Ted Shawn
November 13 (1886) – Mary Wigman
November 21 (1912) – Eleanor Powell
December 15 (1879) – Rudolf Laban
December 24 (1930) – Robert Joffrey
We hope you'll find this list useful.
Now go celebrate dance… every day!
Kindly follow, like or share:
Nichelle Suzanne is a writer specializing in dance and online content. She is also a dance instructor with over 20 years experience teaching in dance studios, community programs, and colleges. She began Dance Advantage in 2008, equipped with a passion for movement education and an intuitive sense that a blog could bring dancers together. As a Houston-based dance writer, Nichelle covers dance performance for Dance Source Houston, Arts+Culture Texas, and other publications. She is a leader in social media within the dance community and has presented on blogging for dance organizations, including Dance/USA. Nichelle provides web consulting and writing services for dancers, dance schools and studios, and those beyond the dance world. Read Nichelle's posts.