National Tap Dance Day — The Bill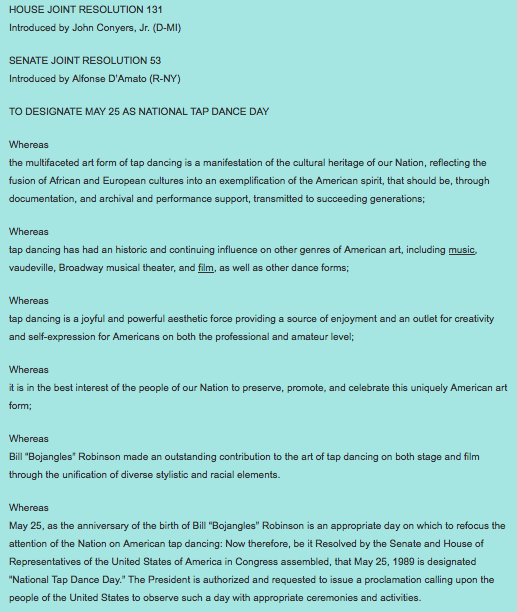 When was the bill passed?

On November 7, 1989 the bill was signed into law by President George Herbert Bush
Who was involved?
Nicola Daval, Carol Vaughn and Linda Christensen of the Tap America Project (TAP) were all very active in the promotion of the U.S. Joint Resolution declaring May 25th National Tap Dance Day that was introduced and overseen by Congressman John Conyers and Senator Alfonse D'Amato.
Gregory Hines, Harold Nicholas, Savion Glover, Sandman Sims and many other tap dancers and supporters were present when Congressman Conyers announced the bill into affect.
Why May 25th?
May 25th is the anniversary of Bill 'Bojangles' Robinson's birthday.
Who is Bill 'Bojangles' Robinson?
Bill 'Bojangles' Robinson (May 25, 1878 – November 25, 1949) is best known for his appearances as an American tap dancer on the stage and in film. Many recognize him for his dancing with child star Shirley Temple during 1930s. Tap dancers recognize his steps and dancing style as a tap dancer who was always on the balls of his feet.
"Robinson gained his nickname because of his reputation as a "jangler" and is immortalized in the song "Mr. Bojangles." He arrived in New York in 1898 and, within ten years, was a vaudeville soloist and star, billed as Dark Cloud of Joy. His Stair Dance was perfected in the early 1920s, but Robinson's number became classic as performed with Shirley Temple in The Little Colonel (1935), one of fourteen movies. The first of six Broadway shows was Blackbirds of 1928. Robinson reached an entirely new audience with Michael Todd's Swing Mikado, when the production moved from the Great White Way to New York's 1939 World's Fair. The first black soloist to star on white vaudeville circuits, he was a headliner for forty years, known for strict tempos and smooth shifts executed on his toes. Robinson coined the word "copasetic," to signify "all is fine." Formed in 1949, the black dance fraternity became the Copasetics in his honor." — Dance Heritage Coalition
More on Bojangles:
Tap Dance Hall of Fame – Online Bio || National Tap Dance Foundation
Some Excellent Film and Documentary Clips || Robinson Theater
Bojangles (film) starring Gregory Hines || Netflix (or via Amazon: Bojangles
)
Rap A Tap Tap, Here's Bojangles – Think of That!
(children's book)
Mr. Bojangles: The Biography of Bill Robinson
How do tap dancers celebrate National Tap Dance Day?
In the United States, many workshops are offered as well as performances and jam sessions.
To mention a few events taking place this year:
"Tradition In Tap" – May 29th-31st in NYC. Honoring Bill Scheerer. www.traditionintap.com
"Tap Extravaganza" – May 30th in NYC. Honoring ATDF, BDC, Steps on Broadway, Randy Skinner and David Gilmore. www.nytap.org
"Tap Jam at Skipper's" – May 25th in NJ (304 University Ave, Newark NJ  8:00PM-midnight)
"Hoofer's Night" – May 22nd in Los Angeles at Universal Dance Design
"So You Think You Can Tap?" – May 25th in San Francisco, special guest Arthur Duncan www.soyouthinkyoucantap.com
National Tap Dance Day has evolved into an international celebration
To mention a few events taking place this year:
How can YOU celebrate National Tap Dance Day?
Attend one of the events listed above
Watch a tap dance movie or documentary (Tap, White Nights, Singin' in the Rain, The Cotton Club, Been Rich All My Life, By Word of Foot, No Maps on My Taps)
Read a tap dance book (Inside Tap, The Souls of Your Feet, Tap Roots: The Early History of Tap Dancing, Gabriella's Tap Shoes, Tap Dancing America)
Look up Bojangles and other tap dancers on YouTube
Visit www.famoustapdancers.com and watch footage
Learn how to tap dance
Spread the word about National Tap Dance Day
Donate to an organization that supports tap dance
Put your shoes on
Register for a tap festival [Jersey Tap Fest (NJ), LA Tap Fest (CA), Rhythm World (IL), Motor City Tap Fest (MI), Tap City (NY), St. Louis Tap Festival (MO), Tap Into A Cure (Canada)…  and many more!] Visit the listing of summer festivals on Dance Advantage and check out www.tapdance.org for more tap festivals taking place internationally
Thanks to Hillary-Marie for her contribution to Dance Advantage on this special day! Be sure to check out the Jersey Tap Fest website and stay updated via their page on Facebook. Register TODAY (5/25/10) and get a 10% discount on packages.

A Native of New Jersey, HILLARY-MARIE is best known throughout the Tri-State area as a tap soloist, performer, choreographer and teacher who specializes in the American art form of rhythm tap dance. She established an entrepreneurial stance at a young age by managing local musicians in the tri-state area under Fireshot Promotions and is now the Founder and Director of Jersey Tap Fest, an annually fantastic New Jersey tap dance even that will educate and serve diverse students with great passion for tap dance. As a reputable tap dance instructor, Hillary teaches weekly tap dance classes across the state of New Jersey. In addition to the dance, look forward to seeing her featured in the Crystal Glass Cosmetics catalog.
Tell us how you are celebrating National Tap Dance Day in the comments!
Kindly follow, like or share:
Nichelle Suzanne is a writer specializing in dance and online content. She is also a dance instructor with over 20 years experience teaching in dance studios, community programs, and colleges. She began Dance Advantage in 2008, equipped with a passion for movement education and an intuitive sense that a blog could bring dancers together. As a Houston-based dance writer, Nichelle covers dance performance for Dance Source Houston, Arts+Culture Texas, and other publications. She is a leader in social media within the dance community and has presented on blogging for dance organizations, including Dance/USA. Nichelle provides web consulting and writing services for dancers, dance schools and studios, and those beyond the dance world. Read Nichelle's posts.