You can definitely have a little musical fun with Halloween, and last year I added a list of over 30 songs, plus a few album ideas to Dance Advantage.
This year I've topped that with 40 MORE songs that you can use for parties or for dance class. Go way beyond the Monster Mash with tracks from True Blood, The Ramones, David Bowie, and Kanye West. And check the widget below, for your immediate gratification, they are all available for preview and download via the Amazon widget below.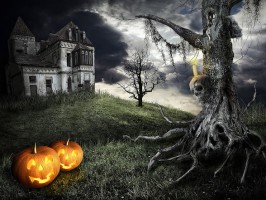 Please allow me to introduce my… songs
Sympathy for the Devil – The Rolling Stones
Abracadabra – Steve Miller Band (or try Sugar Ray's version)
Pet Sematary – The Ramones
After Dark – From Dusk Till Dawn Soundtrack
Frankenstein – The Edgar Winter Group
Werewolves of London – Warren Zevon (or try Adam Sandler's rendition)
Werewolf – Cat Power
Disturbia – Rihanna
Devil Inside – INXS
Welcome to my Nightmare – Alice Cooper
(Don't Fear) The Reaper – Blue Oyster Cult
Vampires Will Never Hurt You – My Chemical Romance (get the Vitamin String Quartet's instrumental version, too)
Do the Vampire – Superdrag
Dead Man's Party – Oingo Boingo
Scary Monsters (And Super Creeps) – David Bowie
Boris the Spider – The Who
Dream Scream – Death Cab for Cutie
X-Files – Mark Snow
Full Moon – Black Ghosts
Full Moon – Brandy
Zombie Zoo – Tom Petty
A White Demon Love Song – The Killers (check out the piano instrumental)
Wizard Wheezes – Harry Potter and The Half-Blood Prince soundtrack
See You in my Nightmares – Kanye West
Theme from Amityville Horror (Remix) – Horror Movie Madness
Ghost I-IV – Nine Inch Nails (get the whole album of ambient instrumentals for only $5)
That Old Black Magic – Rod Stewart (or your crooner of choice)
Night on Bald Mountain (Remix) – Ultimate Halloween
O Fortuna from Carmina Burana (Remix) – Halloween Dance & Party
Trick or Treat – Otis Reading
Bleed 2 Feed – CC Adcock & The Lafayette Marquis
Bones – Little Big Town
Looking for Dracula* – Charlotte Diamond
When I'm Booin'* – The Backyardigans
Howling at the Moon – The Ramones
Prologue – Little Shop of Horrors
Blood on the Dance Floor – Michael Jackson
Haunted – POE
Haunted – Evanescence
Beauty of the Dark – Mads Langer
Especially kid-friendly tunes are marked with a star (*). But you can find more selections for children in the Trick or Treat Tracks article.
Preview the tracks here:
Hard as it is to imagine, I know there's more where that came from. Add to the list with your comments and suggestions below.
Kindly follow, like or share:
Nichelle Suzanne is a writer specializing in dance and online content. She is also a dance instructor with over 20 years experience teaching in dance studios, community programs, and colleges. She began Dance Advantage in 2008, equipped with a passion for movement education and an intuitive sense that a blog could bring dancers together. As a Houston-based dance writer, Nichelle covers dance performance for Dance Source Houston, Arts+Culture Texas, and other publications. She is a leader in social media within the dance community and has presented on blogging for dance organizations, including Dance/USA. Nichelle provides web consulting and writing services for dancers, dance schools and studios, and those beyond the dance world. Read Nichelle's posts.