A grandma came to watch her granddaughter in class a few weeks ago and on her way out she commented to Amelia. "Amelia, you did so much thinking and dancing in your class. I really enjoyed watching you!"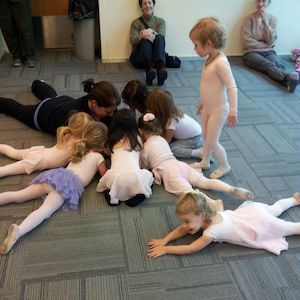 Even though she didn't tell that to me, I felt proud that grown-ups from the outside were noticing that my class is encouraging "thinking dancers." That's our goal as teachers, right? That is my goal for sure.
The key to getting your young dancers to think while they're dancing is to ask them questions. If you know me from my past writing, I do my best to take movement ideas from the students. They are the leaders, I facilitate and guide so the lesson makes sense. Sometimes it even takes on a mind of it's own.
Here are some ideas to help you generate movement from your dancers and get them to think while they dance:
Ask Questions to Introduce the Dance Lesson
Let them come up with the answers instead of telling them what the lesson is all about. I found lessons go much better this way, and when they generate the answers learning is in their hands.
Let Dancers Move Around
I am a firm believer in using the space and letting the dancers choose where they want to go as they dance.
Standing in one spot, the same spot, in my opinion, stifles creativity. Teach dancers about space and moving safely in the dance studio, and then encourage them to move around as they create.
Ask Dancers More Questions
Questions and movement possibilities are endless. Let's pretend we are creating a dance about a spider. Here is just a sample of questions I might ask my students to generate their own movement.
How does your spider move?
How does it walk?
Does it hang upside down?
Does the spider jump?
Crawl?
Slide?
Does your spider make noise?
What does it sound like?
Is it a boy or a girl?
What color is your spider?
What shape is your spider?
How many legs does it have?
How does it sleep?
How does it move slowly?
Does it go fast?
Say What You See
While asking the questions to generate the movement, I would call out the movement I see that is "outside of the box." When students are really thinking and doing movement that is different and new, I call it out.
I try to be as specific as possible.
"Viva, I love how you are spinning your spider with your head upside down."
What you will notice happening next is that some of the students will try the movement that Viva is doing or they will create their own version.
I also try out the movement they are creating.
"Maddie, your spider walk looks so interesting" Can I try it with you?"
It's important for you as the teacher to know what their creations feel like on your body.
Sometimes I make a general comment to the group.
"I am seeing such wonderful movement today. I can tell you are really thinking about it."
Getting young students to generate interesting movements takes practice. Start out small by adding a small exploration to your class. Write down a few questions and hang them on the wall. When you and your students are exploring you can ask those questions every time. Once you are comfortable with those, start adding more.
I guarantee your class will be full of movement and creativity if you give these ideas a try.
Thank you to all who participated in Maria's Toddler Dance Curriculum Giveaway! If you are needing more ideas for your youngest dancers, this is a 24-week 'Grown-up and Me' curriculum we at Dance Advantage know you'll just love. Be sure to check out the Maria's Movers blog, too!
How do you generate movement with your preschoolers?
Do you ask questions? Call out what you see? I would love to hear!
Kindly follow, like or share:
A passionate advocate for early childhood dance education, Maria Hanley Blakemore specializes in teaching ages 0 months to 6 years. She left NYC, where she designed and implemented programs at Manhattan's Jewish Community Center, Dancewave Center and The Mark Morris Dance Group, to teach dancers in the greater Cleveland area. Maria holds a Master's degree in dance education from New York University (2007) and a Bachelor's degree in dance performance from Slippery Rock University in Pennsylvania (2005). Maria authors the blog Maria's Movers (www.mariasmovers.com) where she shares creative ideas and strategies for teaching young dancers. Maria served on the Dance/NYC Junior Committee for 2 years and presented at the 2012 Dance USA Conference. She also presents at the Dance Teacher Summit in New York City. Read Maria's posts.