This giveaway is now closed.
We're back!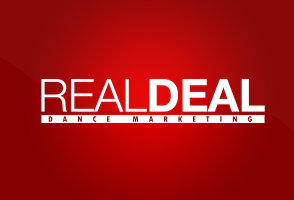 Today's second giveaway is brought to you by Real Deal Dance Marketing.
This one should make the ears of studio owner's perk up a little because Chad Michael Lawson, the guy behind Real Deal, offers direct response internet marketing for dance studios (and other dance business).
A'wha now?
Okay. Most people, 70% according to a recent survey, go to the Internet first to find, and find out about, businesses in their area.. If you've ever felt your studio might benefit from having more students, it's important to recognize that though some will be referred by friends or relatives, a good portion of your paying customers are going to find out about you first online… if they can find you that is.
Since you're here, I know that you use the Internet and can probably see that it's a very crowded and noisy place. Becoming "visible" online is rarely as easy as it seems – trust me, it takes quite a bit of work. Gradually things started clicking here at Dance Advantage but it's taken me a lot of time, trial, and error to teach myself what I didn't even know I'd need to know (you know?). The self-teaching never really ends since there are always new things to learn. You didn't know this online stuff could be so much like dance, did you?
Chad is the guy that's staying on top of things so you don't have to. He consults with dance studio owners who want to grow their business via online means but don't know where to start, what is worth their energy, and don't have the time, patience, or know-how to make it all click.
I met Chad in person at the Dance Teacher Summit this summer, and I'd say he's a bit of a Renaissance man – lots of ideas, interests, and good-natured too. You can read a bit about him at his website but, in short, he's a web development guy who is also an avid Lindy Hop and Swing dancer and competitor. He first stepped into online marketing for dance studios when he helped out a friend and studio owner who admitted to Chad he'd had trouble getting people in the door. Chad's efforts got results and he found helping other studios was a great way to combine his passions.
So now that you kind of have a picture of what Chad does,
Here's what you could win:
Chad wants to give ONE Dance Advantage reader access to Get Your Dance Studio Found in GoogleMaps/GooglePlaces (valued at $147).
This is a tested formula for getting your studio to show up in the map when a potential student (or parent) types in something like 'dance studio [your town]'. In other words, a top ranked GooglePlaces – GoogleMaps listing. And, it's easy enough that even a technophobe can follow along and see results.
Chad says, "There isn't anything like it out there right now and even the stuff that's out there now for other markets, say.. plumbers, isn't a formula. It's just recommendations that may or may not work." Chad is so sure it works, he guarantees it with your money back if it doesn't.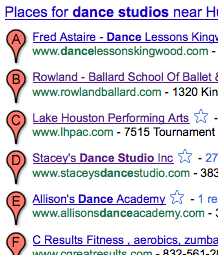 I'm not a local business so I won't claim that I've tested this formula. I have taken a peek at the program, and agree that Chad has laid out the process of getting to that top listing simply and straightforwardly; great for anyone that doesn't have the time or knowledge to be messing around with this.
Chad has not yet released Get Your Dance Studio Found in GooglePlaces to the general public. The winner will be first to get their hands on this formula. And being first is the edge you need.
The cool thing is, you can get a taste of winner pie even if you don't win. Chad wants to give Dance Advantage readers first dibs, releasing the formula to you a week before he releases it to everyone else. And he wants to knock $47 off the price, too!
Just email chad@realdealdancemarketing.com with the subject line "GooglePlaces Secret Discount." Don't worry – no e-mail list funny stuff. Chad is even now sharpening and perfecting this guide and wants to be able to shoot you an email with the special discount link the moment it is ready for it's close-up.
Be one of the few studios who will know exactly which steps they need to take to get a top listing in GooglePlaces.
How to enter:
Leave a comment at this post, answering the question: What would it mean for your studio if you were listed at position A when someone typed in 'dance studio' for your town into Google?
This giveaway is open to readers worldwide and lasts until Saturday, November 13.
Best of luck! I hope you win.
Kindly follow, like or share:
Nichelle Suzanne is a writer specializing in dance and online content. She is also a dance instructor with over 20 years experience teaching in dance studios, community programs, and colleges. She began Dance Advantage in 2008, equipped with a passion for movement education and an intuitive sense that a blog could bring dancers together. As a Houston-based dance writer, Nichelle covers dance performance for Dance Source Houston, Arts+Culture Texas, and other publications. She is a leader in social media within the dance community and has presented on blogging for dance organizations, including Dance/USA. Nichelle provides web consulting and writing services for dancers, dance schools and studios, and those beyond the dance world. Read Nichelle's posts.