Every year we like to share a few items for your holiday wish- or gift-list.
This year's clothing items come straight from my own closet and have been time-tested.  Plus, we've got a great selection of books for you to choose from.
I hope you (or the dancer in your life) will love these gifts as much as I do!
GypsyWears Zip Wrap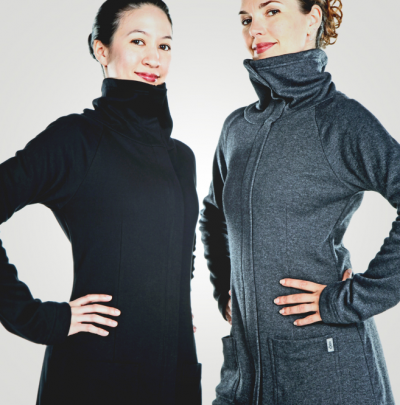 Last year, our friend Lorry of Bead109 introduced GypsyWears to me and to Dance Advantage readers with a giveaway of the Barre Buddy®. At that time, GypsyWears owner, Rebecca Ruschell, was incredibly gracious and offered me samples of her Bun Buddy® and the Slate/Cranberry Zip Wrap.
I can't tell you how in love I am with the Zip Wrap.
It doesn't get super cold here in Houston, but on colder days this wrap works as outerwear and keeps me warm in a chilly studio.
It is cozy, even after a year's worth of washings. The fabrics are quality.
The cut is classic and flattering, making the zip wrap extremely versatile. It works as well with jeans and heels as it does over comfort clothes. I can't say that about my hoodies.
The sleeves, which reach to my palm, are perfect.
And the two-way zipper is genius. It's all about options. You can zip up and then "unzip" the bottom fora little more wiggle-room at the hips. You can also zip the slouch collar all the way up for the snuggly burrito look, or let it fold down for a peek at the (in my case) attractive, red inner lining.
As I said, I received the zip wrap primarily for review but I've been wearing it happily for a year. Dancers will be forever grateful for a lasting, useful, and fashionable gift like GypsyWears' Zip Wrap.
designer4dance Etsy
Another item form my own closet I'd like to share is one from Etsy shop owner, J.D. Karam. He sent me a review sample of the pictured Dolman-style (wide-sleeved) top back in May.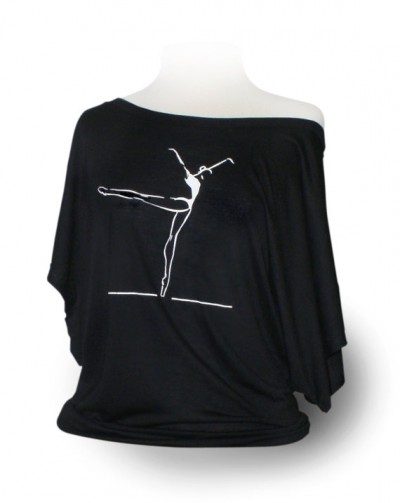 I've been actively wearing it for teaching dance classes ever since. The fabric is very soft and has stayed soft through many washings. The printed design has also proved very durable. I'm a fan of J.D.'s more sophisticated dance designs, but even his more youthful designs have a certain elegance.
Maybe that's because J.D. had a career as a fine artist before taking up dance.
"I enjoyed pretty good success with my abstract prints, but I felt that my figurative work looked too masculine. So one day, I worked up the courage to walk into a dance studio near my home and it changed my life," says J.D.
J.D. stayed in dance for 20 years and says he looked forward to every single day, every single class, and every single performance. He has studied under Cindy Saillant, T. J. Maheras at the Phoenix School of Ballet, and Nadia Zubkov and Sergei Perkovskii at The School of Ballet Arizona, and considers himself not a professional, but a "trained dancer with a trained eye".
He's been designing for dancers since 1998 and grew his business attending dance conventions. Eventually, J.D. had eight employees and several sales reps around the country but the recession of 2008 and a need to care for his aging parents changed things. Etsy has helped J.D. remain in business at a much smaller scale.
J.D. has more ideas for his Etsy shop, including dance-related printables, gift cards, and jewelry. Dance Advantage encourages support of small business owners. Consider a purchase from J.D.'s designer4dance shop.
Biographies of Three Black Ballerinas
| | | |
| --- | --- | --- |
| Life in Motion: An Unlikely Ballerina by Misty Copeland | Taking Flight: From War Orphan to Star Ballerina by Michaela DePrince | Night's Dancer: The Life of Janet Collins by Yaël Tamar Lewin and Janet Collins |
Any or all of these titles should be on a dancer's to-read list.
In Life in Motion, ballet prodigy and well-known ballet star, Misty Copeland tells of her unstable childhood which was thrust into the spotlight when she sought emancipation from her mother. The late-starter is only the third-ever African-American soloist for American Ballet Theatre and she's the first after a 20-year gap.
We will review and live chat about Misty's memoir December 19 on Dance Advantage, with the aim of discussing many of the books' themes including:

Racial diversity in ballet
Economic discrimination in ballet
Teachers: external challenges we face with students
Students: dealing with and overcoming family obstacles
Parents: How far should parents go to encourage their children?
Curves and growth; how do we handle body changes in young dancers?

…. Don't miss it!
Michaela DePrince wrote Taking Flight with the help of her adoptive mother. She first came to our collective attention in the documentary First Position, went on to become a principle dancer at Dance Theater of Harlem, and currently performs with Dutch National Ballet. Not yet 20 years old, she tells the devastating story of her beginnings as a shunned and abused war orphan in Sierra Leone with elegance and courage beyond her years.
Janet Collins began it all. She was the first black ballerina to be hired by a major American ballet company and is a role model beyond the ballet world for her work with deaf students. The author of Night's Dancer incorporates, Ms. Collins' own writings an intimate details of her life. A fascinating read about a fascinating life.
If you have younger dancers in mind for gift-giving this season. Check out Firebird
, a picture book beautifully written by Misty Copeland (illustrated by Christopher Myers), or Ballerina Dreams
, a Step into Reading version of Michaela DePrince's Taking Flight.
These titles aren't doing it for you? No problem. Check out these dance book reviews.
Journal Your Way to Dance Success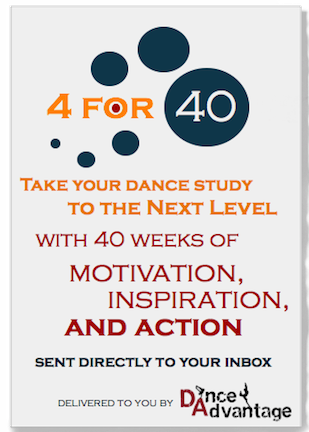 I'd be remiss if I didn't mention that our 4 for 40 e-mail course is still on sale through December 31st.
4-for-40 is a 40-week motivational, dance journaling guide that includes an inspirational quote, must-know dance terminology, an action challenge, and a writing or list prompt in every colorful, easy-to-read email. It is sent to you personally or makes a great digital gift for the dancer in your life.
Don't miss your chance to get all 40 weeks for less than one 30-minute private lesson!
Kindly follow, like or share:
Nichelle Suzanne is a writer specializing in dance and online content. She is also a dance instructor with over 20 years experience teaching in dance studios, community programs, and colleges. She began Dance Advantage in 2008, equipped with a passion for movement education and an intuitive sense that a blog could bring dancers together. As a Houston-based dance writer, Nichelle covers dance performance for Dance Source Houston, Arts+Culture Texas, and other publications. She is a leader in social media within the dance community and has presented on blogging for dance organizations, including Dance/USA. Nichelle provides web consulting and writing services for dancers, dance schools and studios, and those beyond the dance world. Read Nichelle's posts.