I have never performed in The Nutcracker.  I have never worn a tutu and am fascinated with the ones that stick straight out.
I have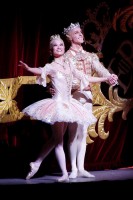 taken pointe class. It was in college and I was 19 years old. I never performed en pointe, never performed ballet for that matter. I was a trained modern dancer that took ballet.
I found my love for The Nutcracker when I was teaching at a local dance school and was helping the directors of the school choreograph and direct it. There was a magical buzz about the ballet, about keeping the tradition alive and putting our own stamp on the production.
In college, I studied dance history and learned about The Nutcracker on an historical level. Now I was feeling my own personal connection to its history by indoctrinating young dancers into the world of Clara. No matter what your own personal feelings are about The Nutcracker, it is a mainstay in dance schools, it is a holiday tradition and has a firm place in dance history.
How do you teach little ones about this iconic ballet? How do you prepare them to watch the production? What should they come away with?
The First Act – The Synopsis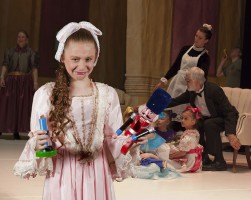 The first act of the ballet tells a story.  A story that every young child can relate to; a story about a party!  Clara's family is having a holiday party. She and her brother are excited. The guests come. They dance. Presents are opened. The boys and girls tease each other.
Clara gets a special present: a Nutcracker.  Her brother Fritz breaks the present. She is sad and the present is repaired. The guests leave and she falls asleep. She has a dream that her Nutcracker has a great battle against a mighty Mouse King.  The Nutcracker and his soldiers fight the Mouse King and the mice army. She saves the Nutcracker by throwing her shoe at the Mouse King and she disarms him. The Nutcracker magically becomes a prince and takes her to his kingdom to celebrate the victory.
The first act is an example of narrative dance. It tells a story. Each dance in the first act moves the story along. Your students can dance the story too! You don't need to choreograph the entire first act for them. You need only to focus their movements.
The Party:
How do you move when you are excited?
How do you dance at a party?
How do you dance with others?
What gestures do you do when you get and open a present? (hand movements like hugging yourself, reaching up to the sky, pumping your fist)
How can you show teasing and chasing each other with dance steps?
The Toy Breaks:
How do you feel when a toy you love breaks?
How would you move?
How would you move with it when it was repaired and fragile?
The Nutcracker Comes to Life and Battles with the Mouse King:
With movements, how can you show the Nutcracker coming to life?
How can you dance a battle? (opposite sides of the room,  dance towards and away from each other, gestures of kicks, sword slashes, etc.)
How can you show your happiness that the Nutcracker won the battle and you are going to visit his magical land?
By creating your own dance narrative of the first act of The Nutcracker, your students have learned the story through their own movement experiences. They will be excited to watch the choreographer's interpretation of the party scene and your students might remember their own movement choices for when the guests arrive or when Clara's Nutcracker breaks.
The Second Act – A Synopsis
The second act is a divertissement or a dance or group of dances that does not advance the plot. The people of the land dance for Clara. Each dance has a theme. Some of the characters that greet Clara are:
Angels
Sugar Plum Fairy
Spanish Hot Chocolate Performers
Arabian Coffee Performers
Chinese Tea Performers
Russian Candy Cane Performers
Flowers
Sugar Plum Fairy
The dances show off the skill, beauty, grace, athleticism and expertise of the dancers. At the end of Act II Clara goes back home.
Explore how the characters from Act II could dance for Clara.
How would an angel dance differently than a flower or a high spirited Russian dancer specializing in high jumps?
Give your students tambourines and see how it makes them want to move.  Shake the tambourine and then hit it. How does the shaking sound make you want to move? What about the sharp bang of the drum?
The Sugar Plum Fairy wears a crown.  How do you think she would dance?
Play some of the music from the second act and see if your students can create their own characters based on the sounds they hear.

The second act can be abstract for some young children.  By introducing the characters and music beforehand it can help them understand how Act I and Act II are connected.
It is never too early to teach children about the art of choreography or creating dance.
By exploring the Nutcracker your students are being introduced to narration, divertissement, characters, and themes. As young dancers and audience members, they are getting an enriching experience that will enhance their dance appreciation and beginning understanding of dance history. No tutu required!
Kindly follow, like or share:
Stacey Pepper Schwartz is the Founder and Director of Leaping Legs Creative Movement Programs. The focus of Leaping Legs is to help people regardless of age, experience or ability, become educated about their movement potential, develop kinesthetic awareness, and become more physically fit and healthy together as a family, and community. Leaping Legs promotes its goal through its original Up Down & All Around DVD, teacher training, and school and community workshops. The Up Down & All Around DVD received Dr. Toy's 100 Best Children's Products 2009 Award and 10 Best Active Products 2009 Award. The DVD has also been featured in many magazines including Dance Teacher and Dance Retailer News. In its August 2009 issue, Dance Teacher called the DVD "an essential tool for teaching the fundamentals of movement with daily adult-child interactions." Come visit www.leapinglegs.com to learn more about Stacey and her programs.