As a dancer, you know it's essential to care for your feet – but what about your dance shoes?
As one of dancers' main essentials, dance shoes require proper care to provide maximum support, protection and performance. Just as every dancer is unique, however, dance shoes and their needs are equally unique from the average street shoe.
Learn how to store, repair, wear and clean your dance shoes the right – and wrong – way.
 Storage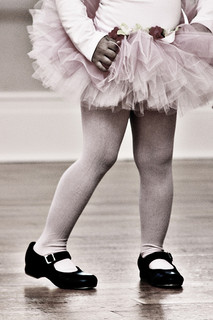 Do store dance shoes in a cool and dry location. Fibers in damp shoes often deteriorate more quickly.
Don't keep dance shoes in a plastic bag, such as the one they might come in when purchased. Shoes that are unable to breathe = shoes that sweat and ultimately decay and smell.
 Repair
Do search out the correct materials if you're planning on fixing them yourself. While the precaution may not necessarily be convenient, it does pay off in the long run. For instance, use wood glue when repairing stripped tap shoe screws. Superglue and other adhesives, while possibly already available in your supplies closet, will eventually crack.
Wearing
Do be gentle when putting your footwear on and taking it off. The life span of toe paws, for example, is considerably affected by how carefully you put them on and remove them.
Do wear the proper clothing with your shoes. Pointe shoes, for example, should be worn with tights and the type of toe pads, if any, that your teacher instructs you to wear (there should not be room in your shoe to wear other kinds of foot coverage, like toe paws or socks). Socks worn with tap shoes can help prevent the growth of bacteria.
Don't ever dance in broken shoes, as it can cause serious consequences. Dancing in broken pointe shoes, for instance, can lead to hairline fractures in the foot.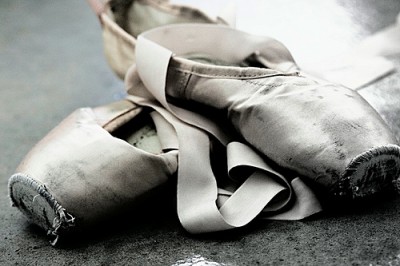 Cleaning
Do wash canvas shoes, like ballet shoes, in the washer if they need to be cleaned.
Do use a shoe brush on suede-bottom shoes – it will keep them clean and help them maintain their texture.
Do use polish or silicon oil on patent shoes, such as ballroom shoes, to prevent cracking and sticking.
Do clean dirt off leather shoes, like jazz or tap shoes, using melamine foam.
Don't put canvas shoes in the dryer after washing, as this could cause them to shrink.
Don't ever wear your dance shoes outside the studio. Not only will they get dirty, but it can damage the soles. Most dance shoes don't provide proper support for wearing as a street shoe, either. Plus, your teacher surely doesn't want dirt from outside tracked into the studio.
What tips and tricks do you have for keeping your dance shoes in tip-top shape? Share them in the comments below!
Kindly follow, like or share:
Elizabeth is a dance minor and journalism major at Southern Illinois University – Edwardsville. A dance student since the age of six, she has danced in the studio and on dance team, as well as at Radio City Music Hall as part of the Rockette Summer Intensive. She currently teaches at a studio in her college town.