It's been almost three years since I stepped onto the Jacob's Pillow grounds nestled in the Berkshire mountains of Western Massachusetts. I've visited several times, mainly during my pre-mommy, 2004-06 term as Dance Director for a nearby summer camp. Three years feels too long.
Jacob's Pillow is the only dance institution recognized as a National Historic Landmark by the federal government and the woodsy retreat has been drawing legendary dancers since Ted Shawn purchased the property in 1930. As friend and fellow writer, Nancy Wozny observed "It's hard to walk around on these hallowed dance grounds and not think about all the icons who traveled these very paths."
At the same time, it's thrilling to share the same fresh Berkshire air as the current and up-and-coming stars of dance who come to perform in the Jacob's Pillow Dance Festival (which on March 2, 2011, received a National Medal of Arts from President Barack Obama for its contributions to the creation, growth, and support of the arts in the United States) or study in the Pillow's historic studios each summer.
The rustic atmosphere of Jacob's Pillow is definitely part of its allure but I'm glad to report that visitors worldwide now have access to a brand new website, Jacob's Pillow Dance Interactive, and can experience Pillow dance – both artists of bygone eras and present-day dancemakers – without making the trip to Massachusetts.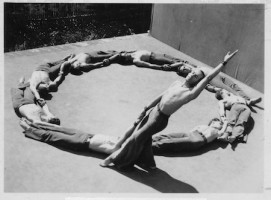 Dance Interactive is how I've been getting my Pillow fix lately. The project provides a tremendous opportunity for educating students and encouraging appreciation for dance on a global level. Drawing from the extensive Jacob Pillow Archives, it is a collection you won't find elsewhere online. It is an offering of Virtual Pillow, a series of digital programs produced by Jacob's Pillow that provide unique, insightful, and entertaining online dance experiences.
Thanks to Virtual Pillow project manager, Lisa Niedermeyer, I got a sneak peek of this project back in February. It features brief video clips ranging from incredible 1930s footage of Ted Shawn and His Men Dancers to HD videos of 2010 performances, including Jacoby and Pronk in choreography by Christopher Wheeldon, Trey McIntyre Project, Lucy Guerin Inc, and dancer/choreographer Kyle Abraham. There are corresponding facts about the artists, a quiz feature, and a button for sharing the videos across the web.
Dance Interactive Producer and Jacob's Pillow General Manager, Connie Chin took some time to talk some more with me about the project.
Dance Advantage: This is a wonderful collection of incredible excerpts but it must have been a challenge to narrow the extensive Jacob's Pillow archives and decide what would be made available. How were the clips chosen? Can you describe the process or criteria?
Connie Chin: Our Director of Preservation Norton Owen curates the online collection. Through his brilliant choices and descriptions, he helps users see connections to other clips and artists, and shows us moments which are important both to the artist and Jacob's Pillow history.
DA: Which is your favorite clip?
CC: For me personally it changes day to day. I am always delighted when I discover a video I have never seen before! Other times I enjoy looking back at performances I attended, reliving the moment. And I am in awe of some of our earliest and rare clips which cannot be seen anywhere else such as Asadata Dafora, who is known as the first artist to present authentic African music and dance on American stages, and Anna Duncan, of Isadora Duncan's "Isadorables".
DA: How do you see this project developing or expanding over time?
CC: In future years, we're looking forward to posting video clips all of the Festival artists, at least 20 dance companies per season. Having the time and funding to do so will make the resource that much more comprehensive, and artists performing at Jacob's Pillow Dance Festival will know they will also all be represented in Dance Interactive.
Dance Interactive is designed so that we can add infinitely to the collection and that is absolutely our intention. We'll go both backward and forward in time with new additions and artists. At the same time, this is a brand new resource and we are learning a great deal as we go. We'll be listening to feedback to determine what viewers might find useful and enjoyable as new developments. For example, some of our oldest clips including Ted Shawn and His Men Dancers are the most popular!
DA: How do you hope dance teachers or students might be able to use the clips, quizzes, and other interactive elements?
CC: It's an important part of our Jacob's Pillow mission to ensure that more people learn about and enjoy dance; whether they are new to it, young students, or dance aficionados. Dance teachers and students are particularly hungry to see the work of a wide range of artists to deepen their understanding of dance history and the breadth of dance today.
We've already heard from teachers around the globe, from New York City to the West Coast to New Zealand, who plan to use Dance Interactive in their lesson plans and classes. Teachers plan to project videos on classroom screens to encourage discussions and discoveries, and students can use Dance Interactive for research and inspiration. We hope the guessing game and ability to compare and contrast a variety of artists and forms makes learning about dance all the more interesting and fun.
Which is YOUR favorite clip?
Browse by Genre, Era, or Artist and be sure to share your favorites in the comments.
It's National Dance Week! A great time to explore and share the rich history and artistry of dance. Share Dance Interactive video clips with others on Facebook, Twitter, and more.

.
Kindly follow, like or share:
Nichelle Suzanne is a writer specializing in dance and online content. She is also a dance instructor with over 20 years experience teaching in dance studios, community programs, and colleges. She began Dance Advantage in 2008, equipped with a passion for movement education and an intuitive sense that a blog could bring dancers together. As a Houston-based dance writer, Nichelle covers dance performance for Dance Source Houston, Arts+Culture Texas, and other publications. She is a leader in social media within the dance community and has presented on blogging for dance organizations, including Dance/USA. Nichelle provides web consulting and writing services for dancers, dance schools and studios, and those beyond the dance world. Read Nichelle's posts.