A crossover dance artist is a dancer that works in multiple genres or in both the commercial and concert worlds.
Classically trained ballerinas are trying their hand at music videos while break dancers are experimenting with modern dance companies. Crossover is common for dancers, especially in a rough economy!
If you are considering a career as a crossover dance artist, here are some pros and cons to consider:
PRO: Heightened Exposure
One of the perks of being a crossover dance artist is the heightened exposure that comes with the territory. Dancers who crossover into the worlds of commercial and concert dance are seen by a wide range of diverse audiences.  They are also seen by influential choreographers, directors, producers, and agents who can grant them their "next big break!" This heightened exposure grants crossover dance artists with larger fan bases and professional networks.
What dancer couldn't benefit from more visibility?
PRO: Diversified Income
Crossover dance artists benefit from having multiple income sources.
It is common for professional dancers to supplement their primary income by taking side jobs at cafés, fitness centers, and offices. However, crossover artists can enjoy a lucrative career when strategically combining income from commercial and concert dance gigs.
They also can rest in the fact that they haven't put all of their eggs in one basket — their compensation comes from multiple sources.
PRO: Increased Marketability and Versatility
Choreographers, from both the commercial and concert dance worlds, enjoy dancers who are "moldable" and have a strong working knowledge of several dance genres. In today's contemporary dance world where multiple styles are often fused together, professional dancers are expected to be able to adapt to the changing choreographic climate.
Professional dancers who excel in multiple genres are more marketable than their competition. These crossover dance artists develop skills that make them more versatile and attractive to potential employers.
Becoming a versatile dancer is just one of the right steps towards a career in dance.
 CON: "Selling Out"
 While there are several pros to being a crossover dance artist, there is a con: being labeled a "sell out."
Although sticks and stones may break bones and words may never hurt, this particular label throws a powerful punch!
In the music world crossover artists are often celebrated for tapping into several markets, increasing their audiences, and generating more income for their record labels. However, the dance world has been slower in celebrating the success of our crossover artists. We tend to label our crossover dancers as "sell outs" that care more about money and entertainment than artistry.
Why can't dancers be artistic, entertaining, and financially secure all at once?
I am determined that we can! The first step is to have the support of our dance peers without the unnecessary judgment.
Along with the "sell out" label, many crossover dancers are seen as indecisive, unfocused, and generalists. Some see crossover dancers as surface level artists who are satisfactory at everything, but outstanding at nothing. These artists are also said to have a foggy identity in the industry: a brand that is not distinct enough for survival. These are just some of the less desirable views that are still associated with crossover dance artists—even in 2012!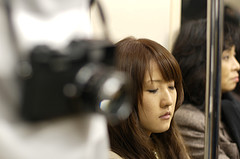 CON: Travel Fees
A crossover dancer who performs with a modern dance company in Pennsylvania while doing commercial work in New York will most likely live in either one of these locations. For many, it is just too expensive to live in two locations.
This means that the dancer will have to travel back and forth on a regular basis — something that can become both tiring and expensive when factoring in demanding schedules, lodging costs and monthly bills — yet avoid spending all of their hard earned money on travel fees.
Crossover dance artists have the unique challenge of financing their travels in an affordable way.
When you weigh the pros and cons, how do you feel about dance crossover?
What pros and cons would you add to the list?
How might your locale, background, or other factors change the way crossover is viewed?
Kindly follow, like or share:
Roger Lee is a professional dance writer, instructor, and studio consultant from Philadelphia, PA. His writing has been published nationally in Dance Magazine, Dance Magazine College Guide, Dance Studio Life Magazine, and The Dance Journal. Roger has taught hip-hop at The Rock School of Dance Education, Koresh School of Dance, Mid-Atlantic Ballet, Philadelphia Ballet School, and Drexel University Recreation Center. Roger also directs and choreographs Roger Lee Dance Company and provides dance studio marketing, communications, and publicity at www.rogerleedance.com