One of the final touches for any new piece is the dance costume. For the audience, thoughtful costumes enhance the choreography, help communicate the emotion and storyline of the dance and increase confidence and enthusiasm for the dancers. Our attire on stage is often the first thing our fans see, and, like it or not, we may be judged before we even begin to move.
Despite the importance of costumes, choreographers are sometimes constrained by time, limited by budget or may even be the victim of circumstance when a selected costume doesn't arrive or is compromised right before a perfomance. Having often found myself in need of a polished and professional costume posthaste, I've started to develop "recipes" for creating quick, easy and inexpensive costumes. A costume recipe provides inspiration for combining "ingredients" often found in one's closet. Following are some of my go-to "dishes," complete with a list of ingredients and suggested servings.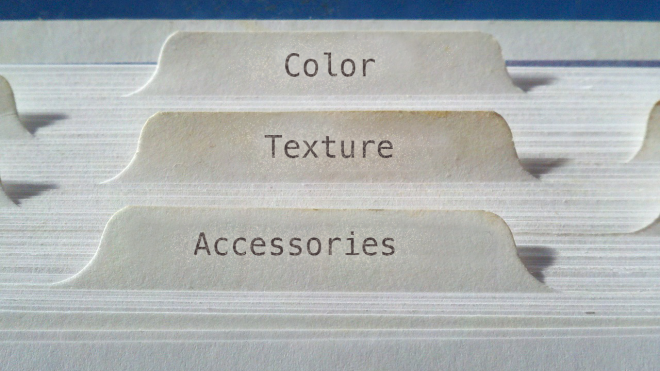 Common Color Scheme
Perhaps the simplest of all approaches to a quick costume is setting a defined color palette. Limiting it to a maximum of three colors helps to minimize the risk of a messy hodgepodge. It's interesting to play with the amount of each color: Picture the impact of a small, bright purple accent against a drab, grey base.
Ingredients
Any combination of clothes within a defined 1-3 color palette
Suggested Servings: Brighter color combinations are nice for jazz, hip hop and tap pieces. More muted tones pair well with modern, contemporary and lyrical. Examples:
Black, white and red.  In equal proportions, this combination comes across lively, bold, and energetic. Reducing the amount of red to an accent makes a more subtle statement. Black pants, a white tank top and a red beret comprised one of my favorite simple costumes for a jazz piece.
Try a mix of tan, green and brown to convey an earthy, rooted vibe. I've used it multiple times for pieces with more serious messages.
Hot pink, silver and black feels girlish and fun, with a pinch of sass.
A Touch of Texture
Playing with texture is a great way to adjust the mood and character of a piece. It brings depth and adds interest to an otherwise boring look.
Ingredients:
Solid color base.
1 – 2 pieces with a specific texture (think furry, smooth, sheer and so forth).
Serving Suggestions: Depending on the texture selected, this combination can be edgy, making it a good fit for jazz and hip hop pieces. Certain materials like leather/pleather and faux fur prove very stifling to dance in; either keep such additions to a minimum, or limit use to shorter pieces. Examples:
Black crop top and booty shorts with lace accents like tank tops, skirts, or fingerless gloves deliver a rebellious feel.
Add some pop to an all black base of any kind with shiny accents like belts, wide band bracelets, or gold sneakers.  (Be sure to test this costume under your performance lights; sometimes the accessories can reflect in distracting ways.)
Pair ripped tights with a simple, solid-color flowy dress for an angst-ridden lyrical dance.
Fishnets with a black leotard shouts classic jazz.  Or, consider transforming fishnets or leggings into a top with nothing more than a pair of scissors.  Slide it over a leotard or crop top with jazz pants for an ultra feminine vibe.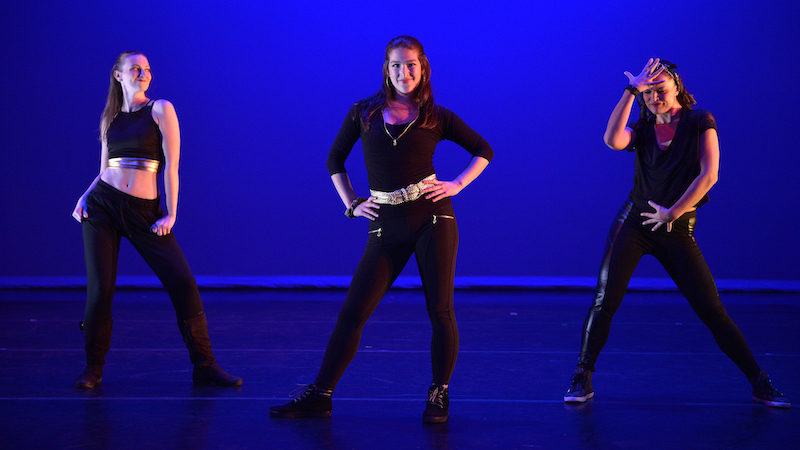 The Art of Accessorizing
Adding a thoughtful accessory to a costume is a creative (and budget friendly) way to draw attention to a particular part of the body. One of my favorite finishing touches is a subtle pair of sparkly stud earrings. They help bring focus to the dancer's face and pull the look together. Or, be daring by donning a more striking accessory, such as a mask. The effect is intense and haunting (for the audience as well as the dancers).
Ingredients:
Basic base
Common accessory
Serving Suggestion: The accessory choice plays a strong role in determining with which styles of dance this recipe plays well. Keep the overall costume proportions in mind when selecting accessories: the more basic the base, the more audacious you can be with accessory and vice versa. Examples:
Suspenders. Trousers with a white tank and suspenders create a nostalgic, dance theater atmosphere.
Headband. A white sundress with a delicate headband is a simple, lovely look for lyrical pieces.
Bandana. Hoodies, baggy pants and a bandana – worn any which way – make a fun combination for hip hop.
Black hat. A sleek black base with a black hat will showcase the lines and style nuances of your favorite Fosse-eque number.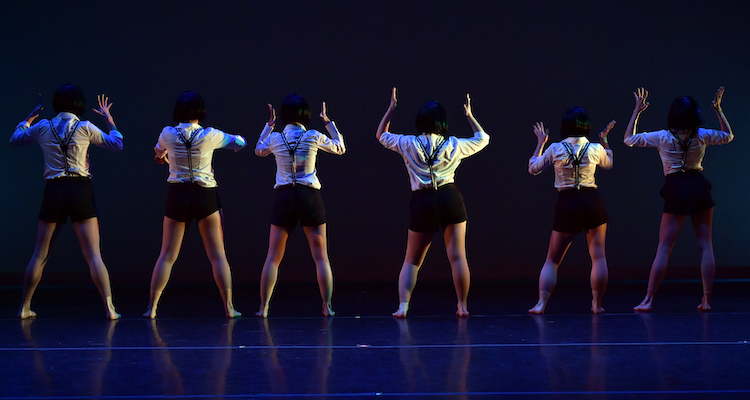 Shape Shifting
We take great care crafting the lines we make with our bodies while dancing.  Why not extend this concept to costume selection? Playing with shapes and silhouettes can bring certain forms and body parts to the foreground while deemphasizing others.  A loose empire-waist dress makes a piece feel carefree and light, while a structured shape conveys more drama and strength. I prefer to keep the formula straightforward and simply juxtapose a fitted top with a loose bottom or the other way around, but there are lots of other avenues to explore with this technique.
Ingredients:
Fitted top with a loose bottom or vice versa
Serving Suggestions: I've seen and used this concept for many styles of dance including contemporary, hip hop and jazz. I love its flexibility, but, particularly for larger group pieces, it tends to work best when paired with one of the other costume recipes – such as a defined color palette.
Examples:
Try a poofy skirt paired with a crop top for a graceful air.
A black leotard and booty shorts combined with an oversized shirt make an effortlessly cool statement.
Coupling a long flowy tank with capris keeps the major lines of the body clear while adding a touch of fluidity.
A boxy, long blazer matched with booty shorts or leggings conveys boldness and strength.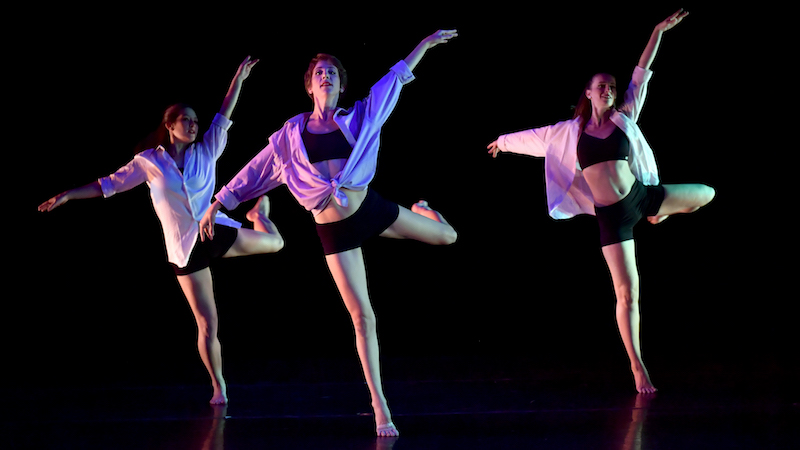 One of the most beautiful qualities about dance is that every piece is unique.  As such, there is no single costume solution or formula for what will best support all of your work. There are endless exceptions and variations, and that's what makes each costume so special.  Consider these low-budget recipes a framework, a point of departure. Just as you would tweak your favorite cookie recipe, consider these recipes flexible guidelines, and adjust to meet your taste. And, just as the experienced host will test a recipe before serving it at a big event, I recommend experimenting with your costume idea during the rehearsal process. Improvise and explore the idea a bit, and when the flavor is just right, your ensemble is ready for the stage.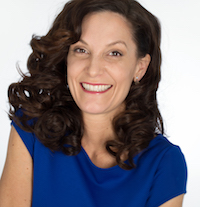 Jessica Goepfert has been choreographing, teaching and performing professionally for over 15 years throughout New England.  She is the co-founder and executive director of Cambridge Dance Company and currently runs the Suffolk University Dance Company.  Prior to founding Cambridge Dance Company, Jessica worked as the managing director and treasurer for Rainbow Tribe, Inc. She was also the assistant coach for the Boston College Dance Team.  Jessica has an MBA from Babson College and a BA in Dance from Connecticut College.  Follow Cambridge Dance Company on Facebook, Twitter, Instagram and Youtube @CambridgeDance.
Kindly follow, like or share: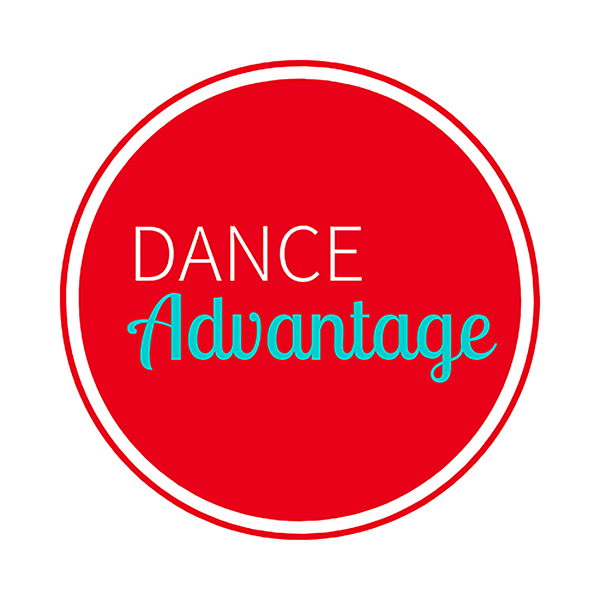 Dance Advantage welcomes guest posts from other dance teachers, students, parents, professionals, or those knowledgeable in related fields. If you are interested in having your article published at Dance Advantage, please see the following info on submitting a guest post. Read posts from guest contributors.