It never seems to fail.
Whenever I introduce a new composition assignment that leads to a performance opportunity, about 30 seconds in to the discussion, students stop talking about their choreography and start talking about costuming.
I have now reached a place that I finish my introductory sentence with, "and this will be created in 'blackout' " which means we'll present these works in black leotards and pants. If in the end I feel the students have sufficiently navigated the creative process and their dances do speak for themselves, I lift the restriction and allow them to costume their dances.
I chose the phrase "blackout" to reference the cutting of lights after a piece, a moment filled with closure and potential for the next creation.
My point is that I want students to momentarily forget everything that they've created before, and start with a blank slate. A black out brings us back to neutral – a place of honest investigation and motivation. Hopefully.
It is important that young choreographers dress the movement before dressing the body to ensure their composition is doing the communicating.
Other Neutral Spaces
The luxury of teaching in a theatre allows for the moments of inception to take place in black out, too. I can ask the students to begin moving in darkness and find something of interest to them in that moment that may inform how they fulfill the assignment I am about to unfold.
Now that I no longer teach in a theatre, and am working with younger students, I plan to take them to neutral spaces in the school, such as the gym or cafetorium, to do the same….somewhere dance can but doesn't usually exist and therefore dispells their pre-conceived notions of what their works should "look" like.
Choosing Words, Choosing Movement
One of the best tools for coaching composition is to consider the writing process. In dance, we can get really carried away with descriptive words that when translated to movement can fill a span of time without actually saying very much. When critiquing these works, it can be difficult to find a substantive response that does more than describe what the viewer has seen.
So, I invite dancers to think of their movement as parts of speech and edit accordingly. A progression of thought can offer rich context for the stylization of movement and all of a sudden there is something to really discuss, analyze, and further refine.
Imagine:
The girl walked to the park.
The small girl walked quickly and happily to the park.
The young girl surged to the park in anticipation.
The duration of the movement phrase could roughly stay the same but the volume of information dramatically increased. We now have a better understanding of her motivation as well as narrative.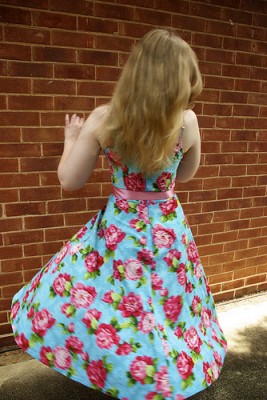 If we'd started with the costuming, it is possible that the girl's walk may be limited to the way the dancer feels inside the clothes. A swirly skirt could kill the audience's chance to care about what this character is anticipating.
Dressing the Part
Soon we have a better understanding of "the girl" and we can glean a better sense of her personal style. Once we appreciate what she is anticipating, we can support her mission: a baseball game may indicate jeans or a uniform, a picnic with friends could be supported with capri pants and a button down. For a first kiss, she may don a simple dress.
Delivering the Message
The meaning driving these choices finally reflects more than "I liked it". The uniqueness of the choreographer's choices supports a true exchange of ideas, impressions, opinions, and perspectives. This is how choreographers and dancers develop their "eye" and start to interact more thoroughly with the world around them- a main mission in art-making.
This type of approach also invites the audience to engage in an experience that does more than scratch the surface. With more attention to how ideas are conveyed, as well as the exploration of more complex notions, we arrive at a place prepped for meaningful discourse and the development of a community's aesthetic.
For additional discussion of the creative process, specifically costuming and critiquing, check out these articles:  The Art and Expectations of Performance Time and How to Write an Observation Paper or Critique.
How do you get students to focus on the creative process?
Tell us about a time when costuming altered or affected the intent of a piece or the way you danced in it.
Kindly follow, like or share:
Heather Vaughan-Southard MFA, is a choreographer, dance educator, and performer based in Michigan. She currently directs the dance program at the Everett High School Visual and Performing Arts Magnet in Lansing. With the philosophy of teaching dance as a liberal art, Ms. Vaughan-Southard collaborates with numerous arts and education organizations throughout the state. She has danced professionally in Chicago, Detroit, Los Angeles, and New York and has performed works by Mia Michaels, Lar Lubovitch, Donald McKayle, Billy Siegenfeld, Alexandra Beller, Debra Levasseur-Lottman, and Bob Fosse. As a choreographer, her work has been credited by the Los Angeles Times for "creating heat." She has recently choreographed for the dance programs at Michigan State University, Grand Valley State University, Lansing Community College and is the former dance professor at Albion College. She is a regular guest artist and blogger for Dance in the Annex, an innovative dance community in Grand Rapids. Heather received her MFA in Dance from the University of Michigan, BFA in Dance from Western Michigan University and K-12 certification in Dance from Wayne State University. Read Heather's posts.