Chloe Arnold is confident in her life's journey, as is evident in her one woman show, "My Life, My Diary, My Dance," that debuted in New York City on February 11th at 'The Club' at La MaMa. The stage was devoid of scenery, except for three musicians and a blonde, wooden floor. (You can see for yourself in the video at the bottom of the page.) Through entries of Chloe's 'diary' we come to understand the relationships and circumstances that developed her into the powerhouse performer that she is today.  While the style and flow of the evening was uniquely Chloe Arnold, she makes it very clear that this show is not just about her. Through a first-hand account of her performance and from my one-on-one correspondence with Chloe, I aim to prove just that.
Through home videos and spoken word accounts, we come to understand Chloe's dance lineage completely. At 10 years old she began working with Savion Glover. She studied under him for several years and would develop friendships that would continue to shape her dancing. One of these friends, Bakaari Wilder, introduced her to the cast of Bring In Da'Noise, Bring In Da'Funk, a production that many consider the pinnacle event in contemporary tap. Chloe credits the spontaneous jam sessions that would break out backstage of the production as her initiation into the tap community as well as her trial by fire.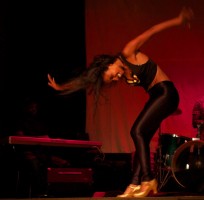 It is through her experiences growing up as an adopted, African-American female coupled with the talent that she surrounded herself with that forged the dancer and entrepreneur that she is today. Her attack is ferocious, and it is her fearlessness that aids in her rapid growth as a performer. In tap dance terminology, Chloe has a deep pocket.
What do you mean, deep pocket?

By pocket, I refer to a wealth of stored movements, rhythms, and styles.

Are you familiar with your favorite dancers' signature moves? That's their pocket. For those of you who are just beginning to explore choreography and improvisation, you may find yourself going back to certain movements or rhythms repeatedly. That's your pocket. This memory technique gives your choreography and improvisation a flavor that is unique to your personal experiences. Developing the pocket is essential for anybody who is seriously considering a career in tap dance and/or cares to participate in the tap community and communicate effectively.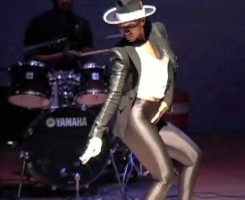 Early Influences
The lights dim as Chloe recalls the musical influences of her youth. She is no longer the strong, confident performer. She has become more introverted. Her shoulders slump a little bit. Her voice tightens and becomes whinier. Her entire attitude is in stark contrast to the Chloe we have come to know. But a spark ignites in her eyes and all the while she is morphing into a new outfit and a new attitude. She first dons a sequenced coat cut short above the waist, followed by a black fedora. She puts on a single, white, sequenced glove and the audience becomes uproarious. With a mischievous grin Chloe crosses the stage, ending dead center, her head down.
"…So I would go to my room. By myself.  I would reach under my bed and pull out my favorite record." Chloe straightens the brim of her hat and pops her upstage knee. "And it was on…"
The drums kick in, played by Choclatt Jared (Crawford), and the familiar rhythm prompts excited squeals from the audience. With her first thrust of her hips, it seemed for a moment that Chloe would have to fend off people rushing the stage, but as soon as the popping bass line, played by Kenny Alston, begins a familiar sequence of notes, a straight-legged kick sends audience members reluctantly back to their seats. The cries grow louder as she delves deeper into nostalgia. The theatre became a concert stage from 1983, and while we all knew the moves, we were content to leave the dancing to Chloe.
What followed was an homage to the King of Pop and is a great translation of Jackson's pop-style into the tap dance idiom. Woven into the texture of the evening's performance are several styles of music: pop, jazz, rhythm and blues, hip hop and rap. Chloe Arnold graciously performs to pieces in each genre, proving that she can hold her own alongside some of today's top rhythmists.
But rhythm alone doesn't teach you how to emulate Michael Jackson's highly stylized upper body movements, or how to write the book for an hour-long performance, much less how to produce one. Chloe credits her mentor, Debbie Allen, who cast her in her original production, 'Brothers of the Knight,' at the age of 16. Perhaps best known for her role as Lydia Grant on the 1982 television series Fame, she was also known in the dance community as the show's principal choreographer. Debbie Allen has served the arts and entertainment community as a performer, director, choreographer, and producer, traits passed down to Chloe Arnold, who currently assists Ms. Allen on many of her projects.  When asked about her mentor, Chloe regarded Debbie Allen as a key figure in her professional development, saying,
"Debbie Allen is an incredible influence as a renaissance woman.  Someone who has shown me that you can be a dancer, choreographer, director, writer, producer, singer, actress… I love art and creating and while tap dance is my primary voice, I explore and appreciate all Art."
The role of family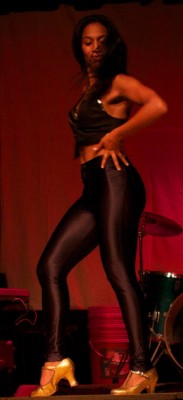 While her work ethic is impressive, if not exhausting, what packed the lobby of the La Mama theatre to 'standing room only' capacity was not solely Chloe Arnold's film editing skills or her acute fashion sense, but simply that we like to see Chloe Arnold. Her personality is warm, yet strong and confident, and it comes through completely in her dancing.
Perhaps the most credit is given to Chloe's family, whom she cites as the foundation for her personality. She recalls stealing her older brother's clothes and music and collaborating with her younger sister, Maud. She laments about her adopted father's battle with alcohol dependence and appears to grow ten feet tall when recalling her adopted mother's tribulations with single parenthood. Chloe testifies that her family was crucial to her development both professionally and personally:
"My family's role in my life has really influenced my morals, ethics, values, and has shaped my character. My mom is an incredibly intelligent and giving woman.  She inspired our creative thinking, writing, and taught us to share everything. My brother taught me that there is no dream or goal too great, and that we can achieve whatever we put our passion, discipline, and focus on. My sister lives with a joie de vivre that keeps a smile on my face and inspires my perpetual youthfulness. My father's intellect and political perspective greatly influenced the fighter for a cause in me. His sobriety has shown me that we all can find a better way when we make up our minds to do so."
The collaborations with her sister didn't stop at adolescence and have culminated in the production company that the two have begun together, Chloe and Maud Productions, which hosts a number of classes, performances, and an annual tap dance festival in Washington D.C.  The aspirations of Chloe and Maud Productions are best summed up by Chloe herself, who explains,
"We would like to expand to creating tap projects for film, TV, and theater. We both studied film at Columbia and hope to put tap dancing on a more visible platform. We plan to provide opportunities for professional tap dancers to perform and teach. I spend so much time training dancers, and I want to create venues for them to work as professionals. We also hope to forge relationships and collaborations with recording artists and demonstrate the link between tap and music. We are fortunate that this year's D.C. Tap Festival will feature Grammy award winning singer Mya in collaboration with a tap dancer."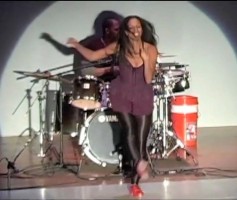 Build your pocket with "quotes"

But getting back to the tap, the influence of other tap dancers is obvious in Chloe's style and numerous dance 'quotes' were dropped. It is not uncommon to hear other tap dancers comment on each other's choreography and improvisation. "There's some of that Chuck Green," and, "…some of that Slyde," are common expressions. If you don't know the names and styles of Chuck Green and Jimmy Slyde, then get on Youtube and start stealing! There is no better place to start building your pocket then quoting those two legendary hoofers.
When I watch Chloe Arnold tap dance, her lineage shines like a commemorative beacon. Her ear for music is strong, a product of training with the hyper-musical Savion Glover at a young age. However, her phrasing is much tighter than Savion's, an attribute gained by dancing alongside tap dance nobility like Ted Levy and Diane Walker, as well as innovators like Jason Samuels Smith and Derick Grant. Through Levy and Samuels-Smith, there are hints of Gregory Hines, Steve Condos, and Lon Chaney Jr., coupled with a strong feminine presence picked up from the vivacious Debbie Allen.
The serious dancer must realize that all aspects of their life include the capacity for inspiration. What music are your friends and family listening to? Have you thought to translate a contrasting medium of art into your dance?  How can you capture your life's influences into your craft? While Chloe Arnold may be the hardest working tap dancer in the world, she does not earn all of the credit for her success. Through an intricately detailed web of relationships and experiences, we can see that her story is not of self-made success, but of the triumph of a community.
The moral of Chloe's story is the realization that our human relationships are our most joyous gift to each other and powerful enough to uplift a person to their highest potential.  The elements of success and happiness already exist in our lives, but sometimes it takes a story like Chloe Arnold's to help us realize that.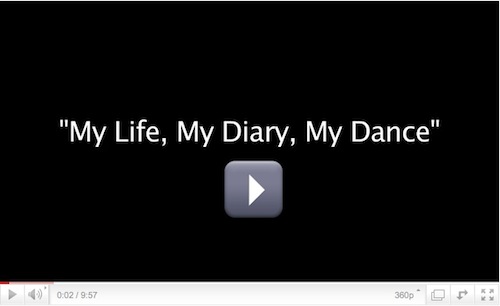 Kindly follow, like or share:
Tristan Bruns has studied the art form of tap dance with Donna Johnson, Ted Levy, Lane Alexander and Martin "Tre" Dumas and has a BA in Music from Columbia College Chicago. Tristan has been an ensemble member of such Chicago tap companies as BAM!, The Cartier Collective and MADD Rhythms. Tristan currently produces his own work through his company, TapMan Productions, LLC, which includes the performance ensemble The Tapmen and the tap and guitar "band" of The Condescending Heroes.