Last year, Stefanie walked away the Editor's Choice winner and a Top 10 finalist in our Top Dance Blog contest for her blog, "Biggest Girl in the Ballroom."
I chose Stefanie for my pick because, despite my lack of ballroom dancing experience, I always find her insights as a student, performer, and human being valuable and completely relatable.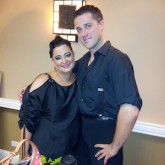 She shares anecdotes about her partner and teachers, and frequently shares technique guidance they've given to her. Her stories about her Bulgarian pro instructor are funny and endearing. The blog includes information about pro/am competitive ballroom that can be difficult to find elsewhere: pointers on first competitions, buying shoes, choosing an instructor and more.
Writing openly about her journey to lose weight and to become the best dancer she can be, Stefanie has also built a community of support among other dancers, women, bloggers, and anyone working toward their goals.
Her most recent community-building effort is the Ballroom Village, a growing list of blogs about ballroom dancing. Stefanie says there are so few blogs with this focus, she wants to band together to connect and "play." So, if you aren't blogging about ballroom, Stefanie wants you to get going! If you already blog about ballroom, she wants you to join the village.
If you aren't familiar with Stefanie's blog yet, you should at least get to know to her.
Honestly, the video above may tell all you need to know about lovable Stefanie. However, she stopped lip-syncing and gliding around the ballroom for a moment to answer some of my questions, too, and her answers are worth the read!
On Dance Blogging:
Dance Advantage: When someone asks you what your blog is all about, how do you answer?
Stefanie: My blog is about a real person doing competitive pro/am ballroom dancing, and all the struggles, triumphs, and insights that happen during the process.
When it comes down to it, the blog is where I basically share me, my journey, my experiences in life from the gym to the ballet barre to ballroom lessons to competitions.
My tagline is "Ballroom dancing, Weight loss, Inspiration, Community," and I think that pretty much sums it up!
DA: Please share with readers what 2 things have most helped you develop an audience for your blog.
S: One, being authentic and interacting with others on my blog, via their blogs, and via other social media outlets.
Two, sticking with it. People find me, I don't even know how most of the time. I keep writing and tagging posts and the more I write, the more tags I put on the blog, the easier it is to find me on a web search.
DA: Sticking with it, is a BIG one! Speaking of, what's the hardest thing about keeping a blog active?
S: Creating the time to write. My blog posts are way, way longer than the average post so they take a big chunk of time to complete. I usually have so much to say and life moves at a fast past so keeping up with all I experience in a week is quite a challenge, but so worth it!
DA: What's so great about blogging about dance, anyway?
S: Blogging about my dancing has been another way I have found, reclaimed, strengthened and developed my voice. I bottled up so much when I was dancing as a kid with self-esteem and body image issues, but now as an adult, the blog is a place where I can process all I experience while dancing.
I'm just doing what I'm doing and people seem to connect with my experience. So, the best part is that not only am I working out my own stuff, but I've found a community of like-minded people, other dancers, others who inspire me and who are inspired by me.
DA: What experience in your dance study best prepared you for your dance blogging experience?
S: Honestly, there was no preparation for this! I just started writing thinking that my mom and maybe, if I was lucky, my best friend would read the blog, while knowing that my husband had already fulfilled his quota listening to me blather on about dance.
All I do is share from my heart. That's all the preparation needed. Well, that and a (somewhat) firm grasp on the English language.
It is kind of like dancing – you need a base of technique, but what moves people is the heart you put in it.
On Dancing: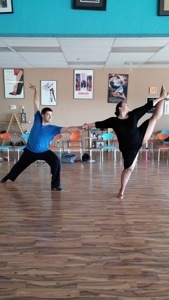 DA: You've talked candidly about weight and body issues. Have you ever felt judged by fellow students or even teachers when you begin a new class?
S: I am blessed that in the environments I dance in now, I am encouraged and supported.
As a kid, I certainly felt more judged, and the honest truth is we are all judged, and judging others, and judging ourselves, all the time. Of course I am being judged when I compete. In fact, I am deliberately putting myself in a position to be judged.
More than anything, I think it has to do with the attitude I bring to the situation. Over the years I have gained a modicum of confidence in myself and my dancing, which at some moments can be fragile, but most times I trust in it and figure that those who have the eyes to see, will see.
Those who can't see beyond their judgments of my outward appearance, well, I have no power over that, so I don't put too much thought into it. It is a larger problem the judgment I place on myself, when I reject myself for not being as I think I should be or wish I were.
I do not actively seek to please others but rather focus on fully expressing myself as best as I am able, which means dancing as I am. Dance, being a subjective art form, will always involve a level of judgment – that is part of the game I have chosen to play. So I accept that and seek to please myself, and my instructor/pro dance partner. As long as we feel we do our best, feel the dance, tune into the connection, and stay present in the moment, I am satisfied with that.
On Perceived Shortcomings:
DA: Amen. If you had only a few lines to convince someone afraid of beginning a dance class because of their perceived shortcomings, what would you write?
S: I would say if you have a desire in your heart to dance (or anything else in this world for that matter) then do it! Life is a journey and we all have to start somewhere. Dancing, especially, is a process of self-discovery, experimentation, and a practice.
I think it is incredibly sad when we limit ourselves or deny ourselves experiences due to perceived shortcomings and it is really a matter of choosing to engage in life, to say yes and risk it, or to say no, and slowly waste away. Courage is not the absence of fear but rather getting on with it anyway in the face of it. And that is where the growth is, outside our comfort zone.
It is amazing what one choice to step out into a new experience like taking a dance class for the first time can blossom into. It is worth the 45 minutes of courage. The journey of a thousand miles begins with one step.
On Being Awesome:
DA: What's the most wonderful, exciting, or inspiring thing a reader of your blog has ever said to you?
S: My readers inspire me all the time. It is difficult to pinpoint one particular example because I have been blessed and surprised by the many kind words sent to me.
However, I was most surprised to receive a letter in the mail once. The author mentioned things she admired about me – that in her eyes I am a warrior, an athlete, someone who could write a book or speak about my experiences, that I have mental strength and determination. That she took the time to write that letter this day and age is so incredibly special.
Even so, I value and appreciate all the interactions I have been fortunate enough to experience along the way, and sometimes the encouragement is what gets me through. Just to know people care, that they are even rooting for me as I take on my life, like no kidding, is a gift beyond measure.
This article wouldn't be complete without sharing Stefanie's fantastic dancing with you.
Check out her sexy, showcase Cha Cha!
If that doesn't inspire you to leave your comfort zone, nothing will!
Kindly follow, like or share:
Nichelle Suzanne is a writer specializing in dance and online content. She is also a dance instructor with over 20 years experience teaching in dance studios, community programs, and colleges. She began Dance Advantage in 2008, equipped with a passion for movement education and an intuitive sense that a blog could bring dancers together. As a Houston-based dance writer, Nichelle covers dance performance for Dance Source Houston, Arts+Culture Texas, and other publications. She is a leader in social media within the dance community and has presented on blogging for dance organizations, including Dance/USA. Nichelle provides web consulting and writing services for dancers, dance schools and studios, and those beyond the dance world. Read Nichelle's posts.