A few weeks ago a mom asked me, "How many of these classes do you teach a week?"
I said "I teach 12 of this toddler age group."
Her response: "It doesn't feel like it. It always feels like this is the first one you have taught all week."
I was impressed to hear that because sometimes it feels like if I sing I'm A Little Tea Pot one more time my head will explode!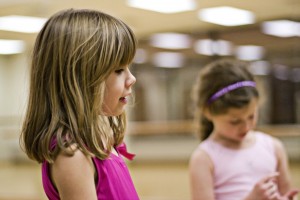 Facing burnout while teaching toddlers and preschoolers is the worst. I actually feel guilty when it happens to me. Millions of thoughts go through my head– I love my job, why do I feel burnt out? I'm still working on smoothly working my way through each month, but this year I have adapted some 'rules to live by' that have helped get me through my busiest days and sleepless nights.
Here is a list, try any or all that you think might help make you feel less like a robot and more like a dance teacher!
1) Meet Them Where They Are:
Taking the time to assess the class at the start will help determine how much of a fight the next 45 minutes will be.
If they have just come from the playground, straight to dance, it's possible they are still wound up. Start with an exercise that channels the energy elsewhere. I like doing it through voice.
For example, I say, "Every time you see our hands go up in our warm-up, say "sky," really loud." As you make your way through a warm-up keep adding sounds or words. It sounds chaotic, but it works!
On the contrary I have done an entire warm-up without saying anything. They just have to follow along. It really focuses them in and encourages them to 'watch and do' as best as they can.
2) Don't Be Afraid to Veer Off Course:
I ALWAYS go in with a lesson plan, but sometimes it just doesn't work out.
Part of being an attentive, engaging dance teacher is to be able to think quick on your feet and turn around ideas to make them work. It will be much more fun for you and your students if you are flexible on how you teach them arabesque. Yes, we all know what an arabesque looks like, but there are one hundred and one different ways to teach arabesque.
Explore ways of giving your students their own paths to learning. Every class is different and therefore, should be taught differently, no matter how many times a week you teach that particular age group.
3) Create Different Versions of The Same Class:
This year I took my curriculum for my 3-4 year olds and broke it down.
Since I teach so many classes of the same age group, I was going completely crazy teaching the same class over and over. So, I created 2 different warm-ups incorporating different songs. I also have different music for across the floor and many story dances to pick from.
I break it down by days. On Tuesdays, Thursdays and Saturdays I teach version A and on Mondays, Wednesdays and Fridays I teach version B. I feel really good about this method. I don't get sick of the songs or the stretches and both warm-ups are equally loved by the students. I feel less like a robot!
4) Theme Days/Weeks:
I create silent themes. It could coincide with a holiday or a season or perhaps what they are learning in school. This helps me breath some life into my class.
"Today, lets dance about the snow." The warm-up incorporates snow, across the floor incorporates snow, prop dances have something to do with snow, we do a story dance about snow. You get the idea.
What I like about it is that you can adapt it to anything! Plus it energizes the students and takes class to a whole new level!
5) Write It Down, Draw:
Most nights I can't sleep because my brain is just buzzing with ideas. Ideas about how to engage the student that is so shy and quiet. Ideas about what to write my next blog post about. Ideas about my schedule.
Through out my day I try to write my ideas down. I like to write down quotes from my dancers or their responses to particular dances. I use my iPhone and jot them down between classes or I have a little notebook I carry around.
This way when I get to bedtime, I'm not buzzing and thinking so much. It's not full-proof, but it helps.
Also, while I am on the train commuting from place to place, I draw pictures of how my classes went for the day. One time I tried it for a whole week and it was so interesting to look at my lessons through my drawings. No, I am not a good drawer but I am a visual person, and looking at pictures helps me process information so much better.
So there you have it — 5 ideas to incorporate.
Perhaps you are incorporating some or all of them already. This could be a good refresher to tune into how you are feeling. I feel so much better when I recognize what the problem is and then take steps to fix it.
Like I said above, I never thought I could get burnt out since I am completely in love with my job, but I was wrong. Until I stopped denying it, I was setting myself up for failure.
I know I'm not alone –Nichelle has written some tips on how to Get Out of Your Dance Teaching Rut, too.
And, I would love to hear YOUR ideas on beating burnout.
Have you adapted any of the things I have mentioned?
What are your tried-and-true ways to feel like less of a robot?
Kindly follow, like or share:
A passionate advocate for early childhood dance education, Maria Hanley Blakemore specializes in teaching ages 0 months to 6 years. She left NYC, where she designed and implemented programs at Manhattan's Jewish Community Center, Dancewave Center and The Mark Morris Dance Group, to teach dancers in the greater Cleveland area. Maria holds a Master's degree in dance education from New York University (2007) and a Bachelor's degree in dance performance from Slippery Rock University in Pennsylvania (2005). Maria authors the blog Maria's Movers (www.mariasmovers.com) where she shares creative ideas and strategies for teaching young dancers. Maria served on the Dance/NYC Junior Committee for 2 years and presented at the 2012 Dance USA Conference. She also presents at the Dance Teacher Summit in New York City. Read Maria's posts.