Barre makes healthy snacks for dancers and anyone who wants to perform their best!
In the spring of 2010 Julia Erickson, Principal Dancer with Pittsburgh Ballet Theatre, was rehearsing for the lead role in Swan Lake, Odette/Odile, and needed a convenient, healthy snack to power her through tough swan rehearsals.
Julia and her partner, Aaron (formerly with PBT) had both given up on eating "energy bars" many years prior due to the fact that most of them were glorified candy bars.  So Julia pulled out her Cuisinart and some ingredients from the cupboard and set about making her own nutritious snack designed specifically for the needs of a dancer.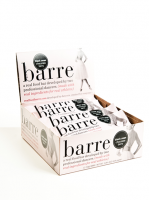 Julia took her concoction to work at Pittsburgh Ballet Theatre and ate it before class and rehearsals.  Her colleagues at PBT and the students at PBT School tried it and liked it —can you say light bulb moment? Shortly thereafter Barre began supplying dancers all across the country with healthy snacks.
Barre donates a portion of its profits to arts education and currently offers their real food bars in two delicious flavors, Black Swan Chocolate Berry and Pirouette Cinnamon Pecan. Keep a look out for their next flavor, White Swan, coming soon!
Read more of the Barre story in our review here.
The Giveaway
Barre would like to give away a box of 12 bars to THREE Dance Advantage readers.
Barre real food bars are made from all natural, whole food ingredients.  Unlike some other bars, you can pronounce all of the ingredients that make up Barre.  Barres real food bars are specifically designed for dancers as a pre-class or rehearsal snack.
A box of 12 Barres retails for $27.48. Winners will receive 6 Black Swan Chocolate Berry and 6 Pirouette Cinnamon Pecan bars.
The Barre giveaway is open to U.S. residents (including Hawaii and Alaska) to those 18 and up and closes at Midnight EST on Monday, February 20.
How To Enter
This giveaway is closed but learn how and where to purchase these healthy and tasty snacks at www.RealFoodBarre.com
Sign-in with the Rafflecopter form below using Facebook or your name and email. The widget will reveal multiple ways to earn entries.
The first, commenting on this post, is mandatory for entry (as always).
In this case, you'll be asked to comment, and tell us:
What flavor of Barre would you like to see in the future?  And what would you name it?
Sign in, and click on Do It and you'll see.
Upon entering, optional tasks for earning up to 10 additional entries will be revealed.
Complete as many as you like. Come back and Tweet once every day of the Barre giveaway.
Just make sure after each task you return and let us know you DID IT in the Rafflecopter form (don't worry, it'll save your other entries).
If you're having trouble seeing the form, I suggest updating or trying another browser.
Winners will be announced within days of the giveaway's close and will be contacted directly.
Please read our Giveaway Policy.
Tomorrow's Giveaway:
Feel great and look great as you dance wearing Mondetta Performance Gear.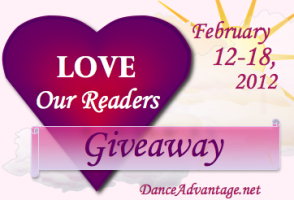 Kindly follow, like or share:
Nichelle Suzanne is a writer specializing in dance and online content. She is also a dance instructor with over 20 years experience teaching in dance studios, community programs, and colleges. She began Dance Advantage in 2008, equipped with a passion for movement education and an intuitive sense that a blog could bring dancers together. As a Houston-based dance writer, Nichelle covers dance performance for Dance Source Houston, Arts+Culture Texas, and other publications. She is a leader in social media within the dance community and has presented on blogging for dance organizations, including Dance/USA. Nichelle provides web consulting and writing services for dancers, dance schools and studios, and those beyond the dance world. Read Nichelle's posts.