Sometimes your students need to hear someone else's voice to know you are speaking the truth.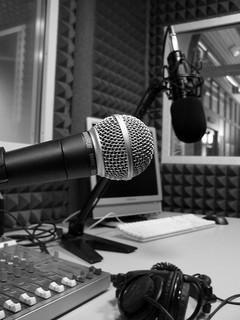 Teaching composition, dance history, and theory can be among the trickiest topics for a middle school dance class. Attempting to share with 11-14 year olds what you, as a dance-lover, hold dearest is hard.
Dance Appreciation has a Back Door
Do you show students clips of a choreographer's work and then spend time trying to convince them it changed the world as we know it? I suspect most of us present the work of iconic choreographers this way.
This semester, I have been sneaking in the back door to dance appreciation and bringing my students in with me.
Listen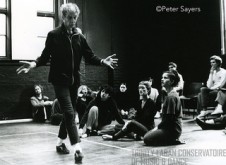 Rather than starting our Merce Cunningham indulgence by watching, we started with some old-school listening. I played an interview of Bill T. Jones from NPR's Talk of the Nation in 2009. (Preview this before playing it in your own class.)
My students tracked their questions, the things they didn't understand, and the people they'd never heard of before. I filled in some of the gaps for them and helped them sift out the most important details.
Look
Then, I asked them to share their imaginings of what Cunningham's work might look like.
In the interview, Jones mentioned the works of visual artists Cy Twombley and Jackson Pollack. So I shared images of two of their works.
Imagine
We attempted to imagine how this translates to dance and what this means for movement and the arrangement of time, space, and energy.
At this point, a sixth grader offered,
"I think his work is an oxymoron; it looks random but is completely organized."
Wow!
Create
Next, I showed student pictures from selected works and they set to work creating brief movement phrases that feature the three elements they, the class(es), selected as the most important:
Intention without plot
No hierarchy of space
Any movement can go into any other movement
The result was the most sophisticated, varied, and thoughtful movement compositions my middle school students have ever made.
Ever.
Apply
In week 2, we applied chance operation and had great fun rolling dice to determine order, music, and costuming.
Their responses included:
"You really have to pay attention to what is happening on stage while you are performing."
"Interesting relationships happened at random that looked planned."
"I get now what you mean when you talk about exploring movement."
Believing is Hearing
Throughout the week we continued to listen and watch – Cunningham, his dancers, other artists, and each other.
This time there is no "convincing" students that Cunningham changed the world. Because Bill T. Jones said so, they were curious to know what all the fuss is about. Because they were curious, they were much more willing to go on the journey and explore.
You don't need to take my word for it, either! Try teaching dance appreciation by listening first.
Kindly follow, like or share:
Heather Vaughan-Southard MFA, is a choreographer, dance educator, and performer based in Michigan. She currently directs the dance program at the Everett High School Visual and Performing Arts Magnet in Lansing. With the philosophy of teaching dance as a liberal art, Ms. Vaughan-Southard collaborates with numerous arts and education organizations throughout the state. She has danced professionally in Chicago, Detroit, Los Angeles, and New York and has performed works by Mia Michaels, Lar Lubovitch, Donald McKayle, Billy Siegenfeld, Alexandra Beller, Debra Levasseur-Lottman, and Bob Fosse. As a choreographer, her work has been credited by the Los Angeles Times for "creating heat." She has recently choreographed for the dance programs at Michigan State University, Grand Valley State University, Lansing Community College and is the former dance professor at Albion College. She is a regular guest artist and blogger for Dance in the Annex, an innovative dance community in Grand Rapids. Heather received her MFA in Dance from the University of Michigan, BFA in Dance from Western Michigan University and K-12 certification in Dance from Wayne State University. Read Heather's posts.