This is just a quick anouncement to say thank you to all who participated in Dance Advantage's first giveaway! Nine winners have been chosen, contacted, and confirmed.
Congratulations to…
Amanda D., Heather, and Isabelle – winners of Music for Movement and Imaginations!
Mary Susan, Karen, and Sarah – winners of Ballet Studio Inspirations: Volume Three!
Amanda L., Jill, and Angel – winners of The Garden Within!
I am so happy to be sharing this great music with you!
If you did not walk away with a CD this time, be sure to check out Richard's website (click the image below). You can preview many of his tracks and make purchases online. Plus he's got even more new music on the way, so bookmark his page! Also, stay tuned here. There will be other chances to win in the future as I explore opportunities to give away free stuff to readers! Yay (look out Oprah lol)!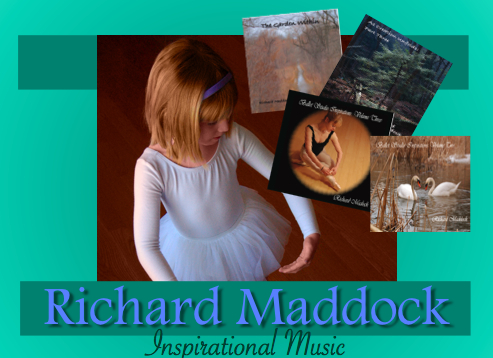 Kindly follow, like or share:
Nichelle Suzanne is a writer specializing in dance and online content. She is also a dance instructor with over 20 years experience teaching in dance studios, community programs, and colleges. She began Dance Advantage in 2008, equipped with a passion for movement education and an intuitive sense that a blog could bring dancers together. As a Houston-based dance writer, Nichelle covers dance performance for Dance Source Houston, Arts+Culture Texas, and other publications. She is a leader in social media within the dance community and has presented on blogging for dance organizations, including Dance/USA. Nichelle provides web consulting and writing services for dancers, dance schools and studios, and those beyond the dance world. Read Nichelle's posts.