I've posted WHY it's a good idea for dance teachers to make continuing their own education a priority (particularly during the summer months when many schools break from the regular schedule). Today we're talking about WHERE, teachers might do so. These are just a few of the many programs and events out there. I've tried to include a range of activities with a variety in focus, scope, and cost. If you have experience with any of these or want to add your own, please do so in the comments below!
Teacher Training and Workshops
Dance Teacher Summit – 3 days in New York City at the Hilton in Midtown Manhattan. Classes with renowned artists, seminars on teaching and the business/administration side of things. [Update: DTS has taken place in Los Angeles, too]
Dance Teacher Web Conference & Expo – 4 days the Ritz Carlton on Lake Las Vegas (about 17 miles from downtown Vegas). Curriculum and choreography, business tips and tactics, teaching workshops, led by industry leaders.
The Pulse/Broadway Dance Center Teacher Workshop – 3 days in New York City. Classes and seminars with BDC faculty, The Pulse faculty, and more. Choreography, music, and costume ideas.
DanceLife Teacher Conference – Once every two years, spend 4 days in classes, marketing seminars, Rhee Gold's famous motivational workshops, and some truly unique sessions. (Location varies)
Musicworks Dance Teacher Connection – 3-day schedule. Original syllabus, music and choreography resources and a small but experienced faculty.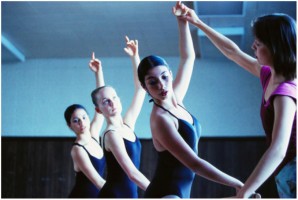 American Academy of Ballet Teacher's Intensive – 4 day workshop/training held at SUNY Purchase. Program highlights curriculum and choreography for different age groups, including very young dancers. Discussion, Q&A, how to sessions with faculty. The chance to observe teachers in action as they instruct students participating in Summer School of Excellence program.
Leap 'N Learn Teacher Workshops – This three-day workshop (or four-day if you're an existing LNL member) covers everything you need to know to implement and use the Leap 'N Learn program before the school year starts back up.
Boulder Jazz Dance Workshop – A weekend workshop and a two-week intensive at University of Colorado. Special teacher seminars and completion certificate. Jazz and Modern Dance Focus.
Canada's National Ballet School Teacher Training – This program includes several full-time and part-time Teacher Training Programs for those interested in obtaining a Registered Teacher Status with the RAD, a Cecchetti or ISTD teaching qualification, NBS accreditation and a university degree.
Ririe-Woodbury Dance Company Move-It Summer Teacher's Workshop – Designed for teachers who are working in the university, professional, and secondary school settings. A mixed group of educators will facilitate sessions in technique, choreography, improvisation and experiential anatomy.
There are so many more!!
Not finding something in your area? Try the links here or check Google.
Why Stick to Just Teacher Workshops?
Between summer dance festivals which happen all over the country and the world and drop-in dance classes or dance jams in cities all over, there are plenty of opportunities to gain inspiration and rejuvenate your spirit for dance. You just have to look for them!
Headed somewhere on vacation? Look for art and culture opportunities in the area before you go. Research area schools – some may even be keen to let you observe or visit their school or summer sessions. This kind of work-related stuff feels more like play because it will rejuvenate and inspire you!
[The links above are up-to-date as of October 2015 but should they no longer connect, it may only mean the presenters have altered the URL. Google it, if you're interested!]
Got more ideas?
Have you been to some of the workshops above?
Want to share some other experiences or ideas for continuing dance teacher education over the summer?
Share, share, share below!
Kindly follow, like or share:
Nichelle Suzanne is a writer specializing in dance and online content. She is also a dance instructor with over 20 years experience teaching in dance studios, community programs, and colleges. She began Dance Advantage in 2008, equipped with a passion for movement education and an intuitive sense that a blog could bring dancers together. As a Houston-based dance writer, Nichelle covers dance performance for Dance Source Houston, Arts+Culture Texas, and other publications. She is a leader in social media within the dance community and has presented on blogging for dance organizations, including Dance/USA. Nichelle provides web consulting and writing services for dancers, dance schools and studios, and those beyond the dance world. Read Nichelle's posts.