If you're dancing today, chances are, it's because you've had a great teacher somewhere along the way.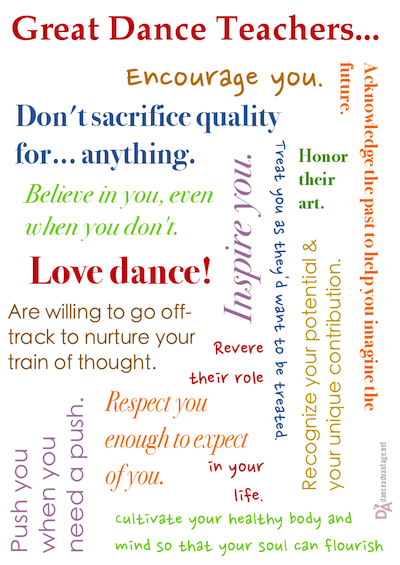 Here's what some of our blogging friends and DA readers have to say about the Qualities of a Great Dance Teacher:
Maria gives four of her best qualities she thinks shines through when teaching her young students; the qualities her littles love her for! And, she asks what qualities make you great.
See her post at mariasmovers.com.
Bead109's quick post about the two most important things necessary in a good ballet teacher. Dash off a laundry list of descriptives, but it all comes down to two simple qualities!
Check it out and see if you agree at bead109.com.
A list of important qualities for teachers from Sheena Jeffers, author of Ballet Shoes & Bobby Pins, and currently pursuing her Masters in Dance Education from Old Dominion University.
Accept the responsibility of being a great teacher… and change lives at every level of dance education.
See Sheena's post at www.sheenajeffers.com.
Joy In Motion's article outlines the seven habits that bring life and spirit to the words and actions of every effective dance teacher, with a special bonus link to the author's favorite quotes about teaching!
Read it at joy-in-motion.com.
We want to know what you think!
What are the qualities of a great dance teacher?
What makes your dance teacher great?
ADD your thoughts in the comments below.
Then, SHARE these four awesome posts and the Great Teachers graphic from our Circle today.
And, JOIN us next month! Upcoming Circle topics are listed here.
We welcome your submissions!
Kindly follow, like or share:
Nichelle Suzanne is a writer specializing in dance and online content. She is also a dance instructor with over 20 years experience teaching in dance studios, community programs, and colleges. She began Dance Advantage in 2008, equipped with a passion for movement education and an intuitive sense that a blog could bring dancers together. As a Houston-based dance writer, Nichelle covers dance performance for Dance Source Houston, Arts+Culture Texas, and other publications. She is a leader in social media within the dance community and has presented on blogging for dance organizations, including Dance/USA. Nichelle provides web consulting and writing services for dancers, dance schools and studios, and those beyond the dance world. Read Nichelle's posts.