In The Nutcracker's second-act calorie bomb, The Kingdom of Sweets, we're introduced to a parade of characters. Not all of whom seem to make much sense when you think about it – an assortment of hot drinks, Russian dancers (they're only sometimes listed as candy canes), and a bouquet of flowers? And right in the middle, Tchaikovsky throws in a tune about… mirlitons?
What in the world is a mirliton?
Google the word mirlitons and your first hits are all about a squash native to Mexico and popular in New Orleans cuisine. Hmm, somehow I don't think our beloved Russian composer spent much time in The Big Easy.



Dig a little deeper and you'll discover that a mirliton is also a simple tube-shaped instrument, sometimes known as a eunuch flute or onion flute. Humming through the tube causes a thin membrane (of animal skin or onion or paper) to vibrate. These little "flutes" have been popular children's toys for centuries. In America we call them kazoos. Take one listen to the flute-based melody of Danse de Mirlitons (which is of course sometimes called Dance of the Reed or Pipe Flutes) and, eureka, things are coming together in The Land of Sweets. Except what does a toy instrument have to do with candy?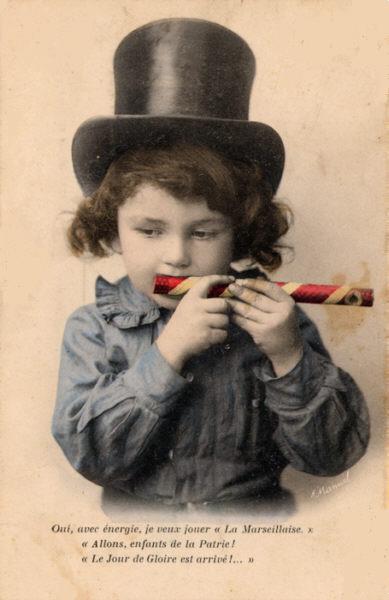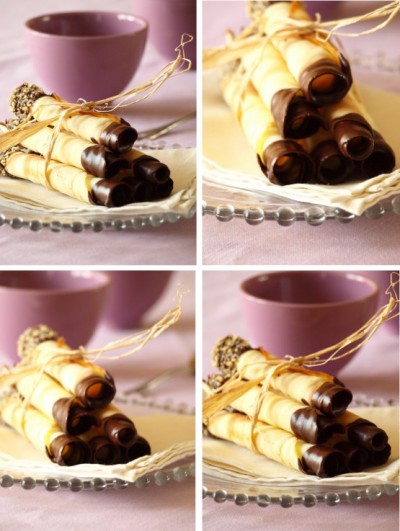 It turns out that Tchaikovsky (or Petipa and Ivanov) may have been employing a double-meaning within Dance of the Mirlitons. Mirliton du Pont-Audemer is a French pastry that is rolled into a tube, filled with chocolate praline mousse, and dipped in chocolate, not unlike Cigarettes Russes cookies (see recipe), or the mirliton flute. Clever.
Interestingly, there are other kinds of mirlitons, too. Mirlitons de Rouen are almond-topped puff pastries, tarts, or cakes. Maybe all this almond and praline business is how we've made the gargouiallade leap to marzipan, which is an almond paste that can be formed into just about anything and is also a popular Christmastime treat.
Now, why are the Mirlitons/Marzipan dancers sometimes costumed as shepherds or shepherdesses? Well, maybe it's because shepherds are often depicted in folklore playing a flute to herd their flock!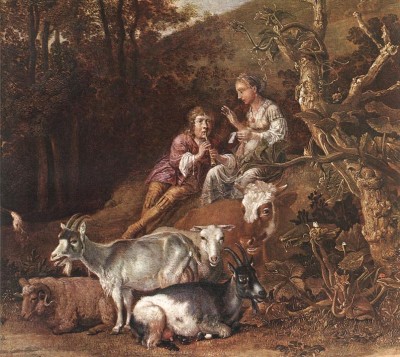 How The Other Comfiture Fit In The Kingdom of Sweets
In this day and age, hot chocolate, coffee and tea may not qualify as exotic confections but in 19th century these imports were increasingly in demand in Europe. Sugarplums, which are simply candy-coated nuts or seeds, probably filled the sweetmeat dishes at gatherings. And the story on Mother Ginger is that a Russian confection company sold a metal tin shaped like a woman with a large skirt. Lift her "skirt" (the lid) and there were bonbons inside!
The Trepak dance was titled Danse des Bouffons in the Imperial Ballet's 1892 Nutcracker program. That's Dance of the Buffoons… jesters, clowns. It was common for court jesters to perform Russian folk dances for czars but in regards to the choreography, in Nutcracker Nation: How an Old World Ballet Became a Christmas Tradition in the New World
, author Jennifer Fisher writes,
"Petipa's written instructions called for: '"Trepak, for the end of the dance, turning on the floor,' referring to the athletic feats of Russian character dance. But evidently Ivanov didn't like the variation he came up with in rehearsal, and when someone suggested a hoop dance instead, the dancer Alexandre Shiryaev choreographed his own solo."
Balanchine carried on the tradition of the hoop dance for his New York City production but "sweetened" the deal by calling his jesters Candy Canes. (See Ballet 101: A Complete Guide to Learning and Loving the Ballet
)
Then, we get to… Waltz of the Flowers? Flowers and dew drops seem more at home in an enchanted wood than in Candyland.
In The Life and Ballets of Lev Ivanov: Choreographer of The Nutcracker and Swan Lake
, a review of the first performance of The Nutcracker reveals that "The grand ballabile of the gilded sweetmeats is not bad as regards groupings, but the excellent soloists are completely lost in the mass." (Yeah, the first reviews weren't so great). Interestingly, the book notes that this line about gilded sweetmeats refers to The Waltz of the Flowers, in which the dancers were costumed in gold, not the pinks, purples, oranges, or blues that we often see onstage today.
Sweetmeats is just a word for any sweet delicacy of the confectionery or candy kind – candied fruit, sugar-covered nuts, sugarplums, bonsbons, etc. Gilded sweetmeats is a term used occasionally in literature and prose but never fully explained. It may be a particular type of sweet or it could describe any decadent candy.
Maybe the original waltzing dancers represent sugared flowers, which are edible flowers dusted in sugar. Perhaps they mimicked the gold floral designs that delicately intertwine along the edges of ornate candy dishes. Or maybe they've nothing to do with flowers at all and just depicted gold-wrapped candy.
Whatever the original intent, perhaps the mirlitons, flowers, and other inhabitants aren't so out of place in The Nutcracker's Kingdom of Sweets after all.
Kindly follow, like or share:
Nichelle Suzanne is a writer specializing in dance and online content. She is also a dance instructor with over 20 years experience teaching in dance studios, community programs, and colleges. She began Dance Advantage in 2008, equipped with a passion for movement education and an intuitive sense that a blog could bring dancers together. As a Houston-based dance writer, Nichelle covers dance performance for Dance Source Houston, Arts+Culture Texas, and other publications. She is a leader in social media within the dance community and has presented on blogging for dance organizations, including Dance/USA. Nichelle provides web consulting and writing services for dancers, dance schools and studios, and those beyond the dance world. Read Nichelle's posts.