A few years ago, I dreamed up a social media initiative called Why Dance Matters. It wasn't the first time the question had been asked or answered in one way or another but, with the help of a handy hashtag (#whydancematters), I hosted a "virtual event" and the concept caught on. Soon people were sharing their thoughts on why dance matters to them, to their communities, and to the world.
The great thing about #whydancematters is that, because of its simplicity, it has a life outside of anything I do or have done with it. I wouldn't dream of claiming responsibility for every time someone tweets or tags something with the phrase, but when I see dance lovers use the hashtag (with or without any knowledge of our 2010 experiment), it makes me smile every time.
Dance matters because it builds community. Why does dance matter to you?#whydancematters #whydancemattersday pic.twitter.com/VPqrp3vGEx

— Tallahassee Ballet (@TTBallet) August 1, 2015
This month we invited you to share Why Dance Matters in our Dance Circle. Topical submissions are included below, along with some other great examples of #whydancematters from around the web.
Why Do We Dance?
straight2thepointe.blogspot.com
All In One Experience
"Performing in story ballets =Artistic expression + physical expression + dramatic expression + physical exercise…" AND MORE!
clarascoffeebreak.wordpress.com
What Better Use Of Time?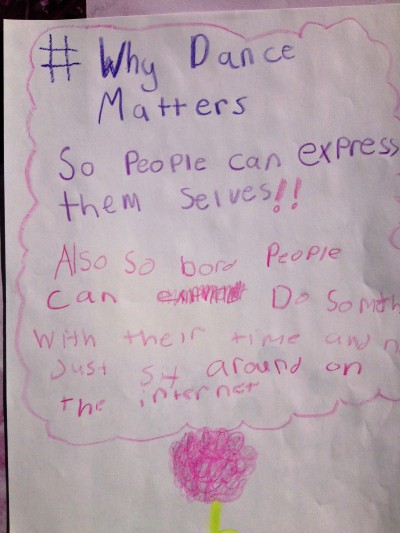 "A surprising insight from a 11 year old who just started dancing this year. So glad she found dance and proud she realizes it is a better use of her time!"
Generosity Of Self
"Are you just going to be stingy? Just keep yourself to yourself for the rest of your life? In case you fall? In case you fail? In case you make a fool of yourself? In case we see how imperfect you are? OR: are you going to choose to just be generous anyway? To just take up as much space as you actually take up? To be as big, as graceful, as long, as gorgeous, as enormous as you actually are?"
"How Generous Are You Willing To Be?" –Huffpo
New Yorkers For Dance
This YouTube channel is full of New Yorkers, including Misty Copeland, David Hallberg, Bill T. Jones "putting faces and voices to why dance matters."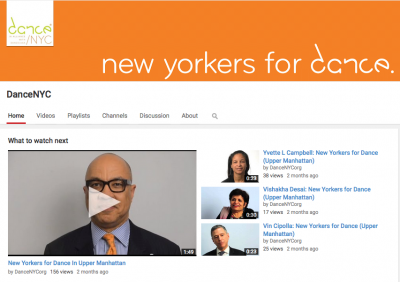 WDM at Sadler's Wells
Dance's power to enrich and transform lives was at the centre of the Why Dance Matters debate, hosted at Sadler's Wells yesterday as part of the BBC and What Next? Get Creative campaign – a year-long celebration of British arts, culture and creativity.
TapWorld
"Tap World does what the rest of U.S. dance could and should do. It shows why dance matters to this society and to our world. It reaches past the official arbiters of what's important about dance and instantly, solidly connects with the public. It moves people. Just like the best tap does." — Eva Yaa Asantewaa, InfiniteBody
Miss Hill: Making Dance Matter
Tells the inspiring and unknown story of Martha Hill, a visionary who fought against great odds to make dance a legitimate art form in America. In a career spanning most of the 20th century, Hill became a behind the scenes leader of the field and the founding director of The Juilliard Dance Division. Stylistically weaving together over 90 years of archival footage, the film is a celebration of dance and an examination of the passion required to keep it alive.
"Dance allows us the chance to express and release all of the emotions that our bodies carry on a daily basis. It's a safe and non-judgmental place for whatever we have felt during our day and whether it's joy, sadness, anger, or fear, dance is always there to listen." – Kendra Antosh, Dance Barn Instructor and Administrator

Posted by Dance Barn on Friday, July 31, 2015
Kindly follow, like or share:
Nichelle Suzanne is a writer specializing in dance and online content. She is also a dance instructor with over 20 years experience teaching in dance studios, community programs, and colleges. She began Dance Advantage in 2008, equipped with a passion for movement education and an intuitive sense that a blog could bring dancers together. As a Houston-based dance writer, Nichelle covers dance performance for Dance Source Houston, Arts+Culture Texas, and other publications. She is a leader in social media within the dance community and has presented on blogging for dance organizations, including Dance/USA. Nichelle provides web consulting and writing services for dancers, dance schools and studios, and those beyond the dance world. Read Nichelle's posts.