32 blogs entered this year's

Top Dance Blog

competition:
Some are returning from last year. Some very new (but very good) blogs are in the mix. All are worth a look!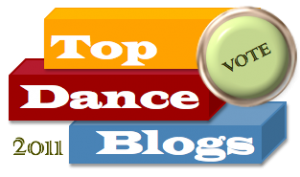 Now that their readers have spoken, supporting each blog with nominations, it's time to see which have made it to our finals round and CAST YOUR VOTES BELOW!
You may vote for only ONE blog in each category, including your #1 of our Top 20.
(tough choice, I know!)
Please look over the list carefully and choose the single blog you feel is your favorite of the 20.
In each category we chose the 3 blogs that received the most nominations. Now, it's time to pick your favorites. You may cast your vote only ONCE in each of the six category polls below! Make sure you hit the Vote button when you've decided.
Special mention goes to the site flying solo in the Business Blog category: Kiner Enterprises Inc. You'll find owner, Ashani Mfuko, blogging about social media marketing and advice for dance studio owners and professionals. She's behind the #letstalkdance Twitter chats and The Kiner Hour, a weekly live show, streaming online.
Since the holidays are such a busy time, I've decided to give readers a bit more time than initially planned to cast their votes…
The polls will close at NOON on January 4, 2012.
Thank you for voting!
Dance Advantage would like to thank all of the participants and YOU the readers!
We are thrilled to once again be hosting this event. We hope you found some new blogs to follow in the process.
What do you think about the Top Dance Blog contest?
Share it in the comments!
Kindly follow, like or share:
Nichelle Suzanne is a writer specializing in dance and online content. She is also a dance instructor with over 20 years experience teaching in dance studios, community programs, and colleges. She began Dance Advantage in 2008, equipped with a passion for movement education and an intuitive sense that a blog could bring dancers together. As a Houston-based dance writer, Nichelle covers dance performance for Dance Source Houston, Arts+Culture Texas, and other publications. She is a leader in social media within the dance community and has presented on blogging for dance organizations, including Dance/USA. Nichelle provides web consulting and writing services for dancers, dance schools and studios, and those beyond the dance world. Read Nichelle's posts.