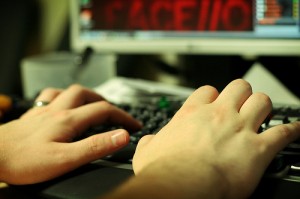 Update! Winners of this year's contest have been named. Check 'em out here.
Over the last year I've been contacted by a handful of websites who have created lists of 50 Best Ballet Blogs, Best Blogs for Dancers, etc. Usually… well, always, they come from outside the online dance community and are designed to get links back from the blogs they list. No offense to the list-makers – it's nice to be included, but it got me thinking that it's high time readers of dance blogs voted on their own list.
So, I'm grabbing the bull by the horns, as we say (especially here in Texas 😉 ) The number of dance-related blogs have certainly grown in 2010. No time like the present!
Here's the plan:
If you have a blog and roughly more than 60% of your posts revolve around DANCE (any form or genre), you are eligible to participate.
Each blogger or blog owner will enter their own blog into the competition by publishing a blog post that links back to this one.
In your post, you will ask readers to show support of your blog with a comment on YOUR post. You will have until December 22 to round up as much comment support as you can.
Only blog posts with the most comments will qualify for the voting round.
Voting will take place between December 27 and 30.
The votes will be tallied and the results posted during the first week of the new year.
What to do first:
Decide which of the following categories is the best fit for your blog:
Dance News/Criticism
Artistic Process/Investigation
Dance Company/School

Dance Education/Training
Dancer Musings
Dance Student/Beginner

I know that these do not perfectly cover every unique voice in the dance blogosphere. In reality you may be in a category of your own but for this competition, you must choose the ONE category listed that suits you best. You may feel that you fit into multiple categories. You must choose only ONE.
The TEN most supported blogs (according to comments) will qualify for the voting round of each of the above categories.
All blogs entered will be eligible to compete for the Top Dance Blog of 2010 title. Comment support will be compared in all participating blogs and the 20 with the most support will qualify for the voting round. Readers' votes will decide the winner and ranking.

How to enter your blog
1. Write a post on your blog about the Reader's Choice Top Dance Blogs of 2010 competition.
DO link back to this post. Here's the URL: https://danceadvantage.net/2010/12/08/top-dance-blog/
DO add the cute little button over there (right click, save as)
DO encourage your readers to rally their support by commenting on YOUR post about the competition.
DON'T be sneaky about comments. If it is discovered you are padding your comment count by encouraging your readers to make multiple comments, accepting or creating bogus comments, or offering incentives to commenters, you will be disqualified.
DON'T throw your support to any other blog and suggest that readers vote for them as well OR suggest that readers withhold votes for another blog OR even mention another competing blog (positively or negatively) in your post. This one is all about you, baby, or you'll be disqualified.
2. Come back here and place in the comments below a link to your post about the competition AND the category under which you'd like to be considered.
3. Start promoting your post and drumming up your comment support.
Answers to questions you haven't asked
Is Dance Advantage throwing its hat in the ring?
No,  I'm just the ringmaster for this circus. If Dance Advantage is your favorite dance blog, help out by sharing this post on Facebook, Twitter, in forums or statuses and encouraging worthy dance blogs to participate. You'll also have a chance to show your love to DA later on.
Why should I enter my blog?
I'm delivering an opportunity for you to engage your readers and find out why they love you. This is valuable no matter your readership or chances. Even if you don't qualify for the top ten or twenty, you'll enter 2011 with encouragement to keep blogging!
What do I get for being a Top Dance Blog?
Read the above question… you'll get that. Plus, you'll have the satisfaction of knowing you were chosen by actual dance readers as a Top Dance Blog, and you'll have the opportunity to display and leverage your ranking. Winners will also be announced and linked to from this site. Beyond this, 2010 is a trial year. Help me grow this community event and new developments like prizes for winners may be possible in the future.
What does Dance Advantage get out of it?
Like the list-makers I mentioned at the start, I get linked to by participants, reach new types of readers, and thereby grow my audience.
I get to be a connector. I connect readers with new blogs that suit their interests. Readers like that, so it is a win for me.
I get to give back and step up. New dance blogs pop up every day but enter a more crowded blogosphere than the one I stepped into nearly three years ago. In this environment, it is easier to miss the interdependent nature of blogging but blogs depend on each other to grow and survive. This contest is a chance to build a stronger sense of community. Yes, this is a competition. But a successful, positive, and friendly competition indicates that dance occupies a significant, healthy, and thriving corner of the blogosphere,
What didn't I answer? Feel free to comment below or contact me with your question.
Kindly follow, like or share:
Nichelle Suzanne is a writer specializing in dance and online content. She is also a dance instructor with over 20 years experience teaching in dance studios, community programs, and colleges. She began Dance Advantage in 2008, equipped with a passion for movement education and an intuitive sense that a blog could bring dancers together. As a Houston-based dance writer, Nichelle covers dance performance for Dance Source Houston, Arts+Culture Texas, and other publications. She is a leader in social media within the dance community and has presented on blogging for dance organizations, including Dance/USA. Nichelle provides web consulting and writing services for dancers, dance schools and studios, and those beyond the dance world. Read Nichelle's posts.