Dance video has been an important (and often, required) part of the performance world for quite some time.
Filming a dance documents choreography for a dance-maker's archives, offers clips for a company to show their repertoire to presenters, foundations and individual donors, and lately, making promotional films, documentaries and intriguing video series can create excitement and anticipation for an upcoming show and share a different side of the company to fans and followers.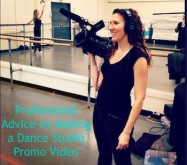 Dance studios often hire videographers to record recitals and student showcases, but how often do they consider the advantage of having a promotional film to highlight their classes, teachers, studio atmosphere and accomplishments?
As owner and dance filmmaker at Nel Shelby Productions in New York City, Nel has created promotional videos for a variety of dance companies and schools like the one shown below about Covenant Ballet Theatre in Brooklyn.
Covenant Ballet Promo FINAL from Marla Hirokawa on Vimeo.
Covenant Ballet Artistic Director, Marla Hirokawa joins Nel to answer a few questions about their process to give dance studio owners a glimpse at how to make this kind of video work for their business.
Dance Advantage: How much and what kind of preparation is involved in getting a great product which really tells a dance studio's story?
Nel Shelby: With this specific video, Covenant Ballet Theatre had a very quick need. They had a board member that was prepared to fund our work together on this film, and they had an event in January of 2013 that they needed it for. We literally decided to begin at the end of December. So, with this one there was only a few weeks of prep time. When projects move quickly like this, you need everyone on board: you need the head of the studio or artistic director to be there ready to plan, the studio manager ready to help schedule and a willing staff ready to be filmed. It is also very important to choose dancers, students and teachers who speak well and can answer questions, but most importantly, they need to be passionate about the studio.
DA: How do I identify the right people for testimonials/talking heads?
Nel: This is always tricky. My rule of thumb is thinking about conversations you have had with teachers, parents and students in the past. If they are outgoing and share their views in a positive way, they are usually perfect for interviews.
DA: How much is scripted vs. story-boarded vs. impromptu in the content?
Nel: The way that we work at Nel Shelby Productions is often impromptu. We like to leave the story room to unfold. We do plan and schedule interviews and consider all the b-roll footage we'll need, but we do not often create a strict story board. As an editor and artist I feel more confined by story boards, so I use my instincts and I listen a lot to what people say. That said, you should definitely know (a) who you're trying to reach with this film and (b) what the main message is before you begin filming.
DA: Why is a professional videographer/editor worth it?
Marla: The reason we chose a professional videographer and editor for our company's promo video should be obvious—the need to convey professionalism and showcase a high quality organization was imperative and only possible with a professional. Having worked with Nel Shelby productions on previous projects, I knew I could count on obtaining a high quality product. I also knew how personable and wonderful it was to work with Nel, and therefore, she would be able to understand and capture who and what our organization was all about. And, they did! And they did it in a very short span of time.
DA: Will any videographer (or video-whiz volunteer) do?
Nel: Their past work will really tell you if they are right for you. You also want someone who is passionate about you and your studio and specifically dance.
DA: How much or little are studio heads involved throughout the process?
Nel: If the studio head has a wonderful studio manager that understands their vision then they do not have to be as involved, but if they do not they will be quite involved in the process.
DA: When the video is complete, how does the studio make the most of it?
Marla: The video was originally created to use for an important cultivation event but since has been used for numerous promotional opportunities. We have been told that the video was instrumental in families registering their children at our school. Daily, the video appears and is set up to play at the front of our website.
Learn more about Nel Shelby Productions and get occasional video tips by signing up for her newsletter. See Covenant Ballet Theatre in action by visiting their website, And be sure to leave us a comment with other questions and thoughts!
Kindly follow, like or share:
Nichelle Suzanne is a writer specializing in dance and online content. She is also a dance instructor with over 20 years experience teaching in dance studios, community programs, and colleges. She began Dance Advantage in 2008, equipped with a passion for movement education and an intuitive sense that a blog could bring dancers together. As a Houston-based dance writer, Nichelle covers dance performance for Dance Source Houston, Arts+Culture Texas, and other publications. She is a leader in social media within the dance community and has presented on blogging for dance organizations, including Dance/USA. Nichelle provides web consulting and writing services for dancers, dance schools and studios, and those beyond the dance world. Read Nichelle's posts.