Tomorrow afternoon, Bolshoi Ballet will kick off a season of special events in movie theaters all over the U.S.
They are leading with the ballet The Legend of Love, which, I admit, I knew very little about. How about you?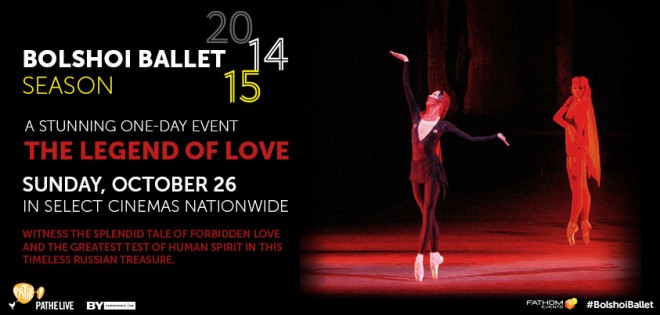 I figured we might all need a little primer before heading out to the Sunday matinée. So, here's what I found out:
A Hint of History
The Legend of Love premiered for the first time in 1961 in St Petersburg at the Kirov Theatre (now Mariinsky) and then in Moscow for the first time in 1965. The cast in this premiere in Moscow featured international superstar Maya Plisetskaya as Mekhmene Banu; prima ballerina, Natalia Bessmertnova as Shyrin; and celebrated male dancer, Maris Liepa as Ferkhad.
The Legend of Love is choreographed by Russian master, Yuri Grigorovich. It is one of his earliest ballets (preceded by The Stone Flower) and secured his promise and status as a famous choreographer, helping to launch a 30-year career as artistic director of Bolshoi Ballet.
What's the Story?
The royal apartments of Queen Mekhmene Banu are plunged into mourning – her younger sister, Princess Shyrin, is dying. The Princess will only be saved if the Queen gives Shyrin her beauty. The Queen decides to sacrifice herself, but later regrets her action when she is disfigured and Shyrin falls in love with the Queen's own lover, the painter Ferkhad.
The overriding theme of The Legend of Love is self-sacrifice. In the story each character sacrifices something. Mekhmene sacrifices her beauty for her dying sister Shyrin. Ferkhad sacrifices his love for Shyrin in order to save the people of his land from thirst. Shyrin gives up her love for Ferkhad, realizing that his mission is more important.
One-day Only Broadcast
The performance of The Legend of Love you'll see in theaters is captured earlier the same day from Moscow. This live broadcast stars prima ballerina, Svetlana Zakharova as Queen Mekhmene Banu, and soloists Anna Nikulina as Shyrin, and Denis Rodkin as Ferkhad.
Zakharova was born in Ukraine and grew up studying at the Vaganova School in St. Petersburg where she graduated. She quickly was given leading roles at Kirov Theatre before joining the Bolshoi as Principal Dancer several years later. This is the first time she is dancing in this role.
The sets, which open up almost like a book on the stage, were designed by Simon Virsaladze, one of Yuri Grigorovich's frequent and most favorite collaborators.
The Legends of Love showing is on Sunday, Oct. 26, 2014 at 12:55 p.m. ET / 11:55 a.m. CT / 10:55 a.m. MT and tape-delayed to 12:55 p.m. PT/AK/HI
Find out where to see the ballet at a theater near you.
Disclosure – Dance Advantage receives compensation for promoting this series
Kindly follow, like or share:
Nichelle Suzanne is a writer specializing in dance and online content. She is also a dance instructor with over 20 years experience teaching in dance studios, community programs, and colleges. She began Dance Advantage in 2008, equipped with a passion for movement education and an intuitive sense that a blog could bring dancers together. As a Houston-based dance writer, Nichelle covers dance performance for Dance Source Houston, Arts+Culture Texas, and other publications. She is a leader in social media within the dance community and has presented on blogging for dance organizations, including Dance/USA. Nichelle provides web consulting and writing services for dancers, dance schools and studios, and those beyond the dance world. Read Nichelle's posts.