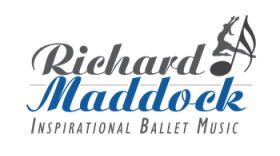 Richard Maddock is a professional pianist/composer and has accompanied dancers for thirty-nine years. He has composed several CDs for ballet classes, choreography and relaxation.
We've featured Richard on the site before. His CD's are among Nichelle's personal favorites for class. Here's a little about Richard's process as a composer for ballet:
When you compose music for class, Richard, what is your primary goal? 
When composing music for class, my primary goal is to inspire both the dancers and teachers with the melodies. Of course, you want the music to be suitable for each exercise with appropriate tempos and rhythms, but I also feel that it is very important to create music that evokes passion within the dancers and teachers.
How do you decide what goes on the CD? 
I try to make sure that my CDs have a wide variety of exercises so that they will be suitable for any standard ballet class. The tracks on my CDs have been given ballet exercise titles, but this is only meant as a guideline. Most of the tracks could be used for a wide variety of exercises depending on what the teacher requires, and what style of ballet they are teaching.
The Giveaway
Richard is giving away ONE Ballet Studio Inspirations: Volume Two CDs to THREE readers.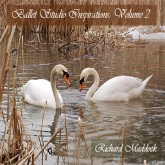 Ballet Studio Inspirations: Volume Two (retail: $23) has 45 tracks, which includes 14 Exercises for Pointe.
Richard recorded this CD in his home in 2008.  "I sat down at my piano with the intention to create a beautiful ballet class CD," says Richard. "Each exercise was composed and recorded in the moment without editing, so what you hear would be no different to how I would compose for a free class in the ballet studio."
How do you create without dancers or a teacher, Richard? 
"I honestly cannot answer this question! I push record, close my eyes and the melodies arrive. I personally believe that the music comes from somewhere that is impossible to define or explain."
"Richard Maddock produces ballet accompaniment of such high quality; it is almost as if he is in the studio with you when you are dancing, as the lyricism of his pieces reach out to you on so many different levels. 'Ballet Studio Inspirations: Volume Two' is certainly a CD that has been aptly named, for it promises to be an 'inspiration' to all who dance and all who have the pleasure of teaching dance." – Rachael Jefferson-Buchanan (Senior Lecturer in Dance and Education Studies at Bath Spa University, UK)
"Richard, my students and I have been enjoying your CD's immensely. Nothing really compares to a live accompanist but because since your music is so good, it's the next best thing. Your Studio Inspirations One and Two have been a real treat for my Intermediate and Advanced level students. I feel I get a higher energy level from my dancers when I use your CD's and am anxiously looking forward to Inspirations Volume Three!"
– John Bishop – Artistic Director – Northwest Ballet Theatre – Washington/USA
This giveaway is open to those Worldwide and will close Wednesday, December 5 at Midnight CST.

Contests must be restricted to those 18 and up. If you are under 18 and would like to win, please have an adult enter and comment for you.

Winners will be drawn and contacted one week from today. I hope you'll be one of our lucky winners!

Once contacted via the email used to comment, winners have only 48 hours to respond and claim their prize. Each giveaway is treated as a separate contest.  PLEASE READ our giveaway policy before entering.
How To Enter:
ONE: Sign-in to the form below.

TWO: Leave a comment responding to the following:
Describe a time when musical accompaniment made all the difference in your class.
Commenting is the only mandatory task for entering!
THREE: Go back to the form and click that you Did It!
That's it! Easy as 1-2-3!
Optional: Earn more entries
The form above includes several more tasks you can complete to earn additional entries in the giveaway, including being (or becoming) a Subscriber PLUS member.
Do any or all of them to increase your chances of being a randomly drawn winner.
More giveaways to come!

Kindly follow, like or share:
Nichelle Suzanne is a writer specializing in dance and online content. She is also a dance instructor with over 20 years experience teaching in dance studios, community programs, and colleges. She began Dance Advantage in 2008, equipped with a passion for movement education and an intuitive sense that a blog could bring dancers together. As a Houston-based dance writer, Nichelle covers dance performance for Dance Source Houston, Arts+Culture Texas, and other publications. She is a leader in social media within the dance community and has presented on blogging for dance organizations, including Dance/USA. Nichelle provides web consulting and writing services for dancers, dance schools and studios, and those beyond the dance world. Read Nichelle's posts.