This giveaway is now closed.
Our next giveaway is from DanceStudioOwner.com.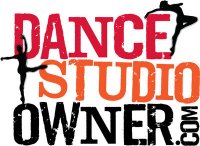 You may already know that I am a member and affiliate of DanceStudioOwner.com, though I am not a studio owner myself. DSO co-founder, Suzanne Gerety and I found each other on Twitter two-and-a-half years ago and I immediately got excited about the resource she and her mom, Kathy Blake, were (at the time) just beginning.
I continue to be excited about DanceStudioOwner.com as a resource to help you start, grow or take your dance studio business to the next level. Suzanne and Kathy consistently lay open the processes they've used to grow and sustain their dance studio business over the last 25 years. That's why I'm an affiliate and why I am thrilled every month to present Suzanne's insights on Dance Advantage.
The story of how DanceStudioOwner.com was born can be found at the website, but here's what Suzanne has to say about why the site and service exists: "We created this resource for dance studio owners so that you wouldn't make costly mistakes or lose more time and energy on the areas of business that drain you and burn you out."
Here's what you can win:
Suzanne and Kathy want to give away a One-Year Membership to DanceStudioOwner.com (valued at $187) to ONE lucky Dance Advantage reader.
If you are already a member, this will be credited toward your account. If you are new to DanceStudioOwner.com, this is going to help you save time, build your business, and learn ways to thrive during the ups and downs of studio ownership. It's like having a support system at your fingertips 24/7/365.
In addition, to a first
and

second runner-up they'd like to offer their Printable Dance Coloring Pages – The Seasonal Collection (retail $19.97).

This CD was recently featured in the 'Holiday Cheer' issue of Dance Retailer News for gift ideas for the holidays. The set of ten coloring pages include: Happy Halloween, Thanksgiving, Jingle Bells, Winter Wonderland, Nutcracker Ballet, Happy Valentine's Day, Easter and more. Each page was custom designed by an artist, studio owner, and dance teacher. They focus on technique, have adorable poems for learning, and encourage creativity beyond dance class.
To win, here's how to enter:
Leave a comment at this post, answering the following question: What is the biggest problem you want to solve at your dance studio?
This giveaway is open worldwide and lasts until Saturday, November 13.
I hope you win!
Kindly follow, like or share:
Nichelle Suzanne is a writer specializing in dance and online content. She is also a dance instructor with over 20 years experience teaching in dance studios, community programs, and colleges. She began Dance Advantage in 2008, equipped with a passion for movement education and an intuitive sense that a blog could bring dancers together. As a Houston-based dance writer, Nichelle covers dance performance for Dance Source Houston, Arts+Culture Texas, and other publications. She is a leader in social media within the dance community and has presented on blogging for dance organizations, including Dance/USA. Nichelle provides web consulting and writing services for dancers, dance schools and studios, and those beyond the dance world. Read Nichelle's posts.