There are many ways to say thank you but here at Dance Advantage, we like to thank our readers with giveaways!
So if you're reading this right now, consider yourself invited to a whole week of them.
Details in 5, 4, 3…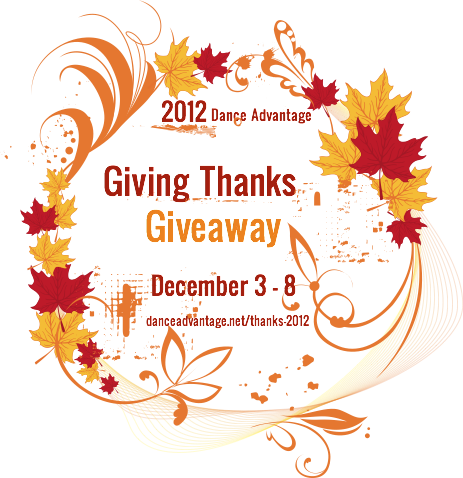 Sponsors
When will it begin?
Monday, December 3.
When will it end?
Saturday, December 8.
What could I win?
We've got music, books, videos, and some surprises too! But stay tuned to this post because the links to each individual giveaway will be posted above in our sponsor list.
What will I have to do?
All you have to do is show up and sign into the Rafflecopter widget for the giveaway (or giveaways) of your choice — each giveaway has its own widget — then comment, and click 'Did it" in the widget.
TWO new giveaways will go up daily so check our home page or check the sponsor list here for the links.
Each contest will be open for only 3 days so don't wait to enter if you want to win!
What are my chances?
It depends. There will be up to three winners on each giveaway. Winners will be chosen randomly from those that enter.
If you want to improve your chances, there are extra tasks in the widget. For each task you complete, just let us know you 'did it' and you'll get an additional entry!
What happens if I win?
After I randomly draw your winning entry, I'll contact you via email. You'll only have 48 hours to get back to me. So stay close to your email throughout the coming week (and a half). When I don't hear back from a winner, I move on to the next drawn winner which makes another person happy (yay!) but another one pretty disappointed. I'd rather that no one be disappointed!!
Any other questions?
Ask now in the comments below!
And, before you go, please read our giveaway policy.
Kindly follow, like or share:
Nichelle Suzanne is a writer specializing in dance and online content. She is also a dance instructor with over 20 years experience teaching in dance studios, community programs, and colleges. She began Dance Advantage in 2008, equipped with a passion for movement education and an intuitive sense that a blog could bring dancers together. As a Houston-based dance writer, Nichelle covers dance performance for Dance Source Houston, Arts+Culture Texas, and other publications. She is a leader in social media within the dance community and has presented on blogging for dance organizations, including Dance/USA. Nichelle provides web consulting and writing services for dancers, dance schools and studios, and those beyond the dance world. Read Nichelle's posts.