It can be a complicated scenario when one teacher tells you to do something one way and another teacher disagrees and wants you to do it completely differently.
Which one is right?  Who do you listen to?
This article will give you some pointers on what do to in this situation, and explain why this happens in the first place.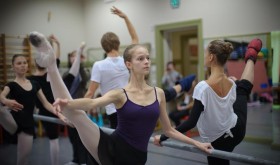 There Are Many Kinds of 'Right' in Ballet
It is easy to think that ballet is an absolute, with 'right' and 'wrong' being the only two options.  Yet, this is not quite the case…
1/ The Major Ballet Schools:
There are 5 major 'Schools' of ballet; the French School, the Italian School (Cecchetti), the Russian School (Vaganova), the Danish School (Bournonville), and the English School.  Each of these Schools can be considered different 'methods of ballet', each with their own (equally correct) rules about technique and style.
Many rules are the same across all the major Schools, but there are also some big differences. Because of this, depending on the training your teachers have received, they may use very different vocabulary from each other, or like movements performed in very different ways.
In addition to the 5 major schools, also worth listing for this discussion is the American 'Balanchine' style of ballet, as introduced by the great choreographer George Balanchine. Whilst not strictly a different method or 'School', the Balanchine style is a particularly distinctive, and is prevalent in America.
2/ Ballet is an Art:
Ballet is not exclusively a physical exertion, it is an art form.  Because of this, different individual teachers (and indeed dancers, choreographers, critics and other experts) often hold their own (sometimes opposing) opinions on the aesthetic/stylistic components of dance; from how a step is executed, to the style of port de bras, to how you hold your hands.
For example, English ballerinas are often criticised by their American or Russian counterparts for their dancing being too reserved, yet many who champion the English style feel American and Russian ballet is often too flamboyant and 'showy' – it is all a matter of cultural influence and personal taste.
Crucially, as with all artistic debates, there is no right or wrong, there are only different opinions.
3/ Individual Interpretation:
Every teacher is shaped by their own training and experience, and their own personal abilities and personality.  Their teaching style will be influenced by the experiences they had as dance students, and their observations of other teachers.  Their understanding of correct technique and their opinions on teaching practices and methodology will have been formed from a conglomeration and amalgamation of everything they have learned throughout their career.  Because of this, in a way, there are as many different types of ballet as teachers teaching it.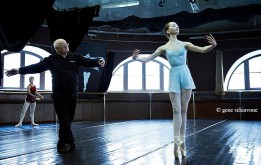 What To Do: Vocational Dance School
Part of training to be a professional dancer is to learn to be versatile and flexible – to be able to comfortably and safely jump from one style of ballet to another.  Not only is this crucial to any freelance dancer, but also ballet company members who may, in a day, have to rehearse anything from 'Swan Lake', to 'Elite Syncopations' or even 'Chroma'.
For the most part then I would suggest to any pre-professional dance student to accept, even embrace the differences, and learn everything you can from each of your teachers. Perhaps ask them which School's methodology they follow, as this can be useful information for later in your career, and can help you separate out the different variations in your mind.
Overall, simply try to remember the preferences and expectations of your different teachers, and adapt accordingly for each class; keeping an open mind, and learning everything you can.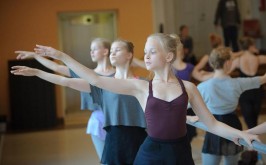 What To Do: Private Dance School
Like the vocational dance student, you also have the option to simply accept different teachers' expectations and adapt accordingly to each class.  However, depending on your situation, you might choose another course of action.
What if your teachers are from different Schools?
If your teachers use different terminology for the basics, such as arm positions, directional numbering, or arabesques, then it is a good bet that your teachers are from different Schools.  If this is the case it might be worth asking your teachers which School they are from, and if that is why they prefer a step done 'like this' when your other teacher prefers it 'like that'; this way you can confirm whether the variations are related to their School, or personal preferences.
To most students I would recommend trying to master multiple methods if you have the opportunity, as this can be both an enjoyable challenge and a great learning experience.
However, if you are finding learning more than one method at the same time is somehow detrimental to your overall progress, I recommend you talk to your teachers about it.
What if you don't know why they have different expectations?
There are potentially hundreds of reasons why you might be asked to do something differently in different classes, some examples including:
You are studying for two different Grades, and the differences are written into the Syllabus,
The classes are supposed to be in different styles

(Classical, Romantic, Neoclassical, Contemporary etc.),

The movement itself can be performed in different ways depending on the music/choreography/mood of the piece,
Your teachers have both been taught differently

how to correctly execute a movement.
If you are unsure why your teachers have different opinions, the easiest option may be to simply ask them.
Also, remember that teachers working at the same school may be unaware they are teaching different things, and sometimes it can be good for differences to be pointed out and discussed so that your teachers can decide together what to do.
Remember: Even professional experts sometimes disagree with each other, in all fields of life.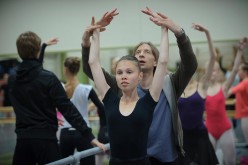 What if you prefer one teacher's way of doing things vs the other?
If you are told to do something in one class, and you think it has improved your work, it makes sense to keep hold of it and do it like that every time, in all your classes.  You may find that your other teacher completely agrees and just hadn't gotten around to teaching you 'that bit' yet.
If, on the other hand, you are in the second teacher's class and they do not approve of the changes you have made, it can be tricky to know what to do.
If the debate is over an aesthetic issue (the style of a movement, or how you use your eyeline etc.), it might be easiest to just swap between styles from class to class, presuming you are happy to do so, again learning what you can from each.
However, if the debate is over an issue with technique, it may be helpful to ask both teachers to further explain their method, and why it is the 'better' option.
Armed with this information you can best choose your next course of action:
To continue to swap how you dance between classes.
To discontinue study with one of your teachers.
To request further information / do some research before making a decision.
There really is no correct answer to this.
Your choice should take into consideration whether or not your teachers are in disagreement about a fundamental element of classical technique e.g. use of turn-out, or posture, and whether it is causing conflict in your physical development.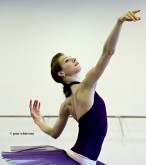 You should consider how you felt about your teachers different explanations and opinions – don't be afraid of using your own judgement, and forming your own opinions.  Did you feel satisfied by your teachers' explanations?  Did they make sense?
Your decision should also be reflective of how strongly you feel about the situation.  After all, while it can be useful to question and think about your teachers methods and opinions, there is no need for drastic action (such as confronting a teacher, or leaving a class), if you are happy to continue as you are.
It may be wise to talk to your parents before deciding what to do.
Long-range Learning
No matter what stage you are in your career, or how old you are, here are 5 key pieces of advice for all dancers:
1.  When looking at videos, photos and performances by other dancers, remember how broad-ranging 'ballet' is, with all its variations, before offering judgment.
2.  Remember that your teachers are human beings, with their own idiosyncrasies.  Remember that they too can make mistakes, but that you can learn from those just as much as everything else they bestow on you.
3.  Always be respectful, but at the same time don't be afraid to ask questions, or to challenge something you do not agree with.
4.  Absorb the best from all your teachers, but don't be afraid to discard anything that doesn't work in favor of something you have learned from another teacher.  Take only the best forwards with you through your career.
5.  Always keep an open mind; be prepared to change your mind in light of new evidence, and stay always open to new information.
Have you run into discrepancies in your training?
How have you dealt with it?
How have your teachers handled it?
Kindly follow, like or share:
Angeline Lucas is a freelance dance writer, teacher and lecturer based in England. She has been awarded Registered Teacher Status with the Royal Academy of Dance (RAD) and is an Approved Teacher of the Council for Dance Education & Training (CDET). Angeline trained at Northern Ballet School (NBS) and holds a Certificate of Higher Education in Dance Education, validated by RAD and the University of Surrey. Previous roles have included working as head of department, outreach coordinator and curriculum manager, and she also has experience in dance research and arts administration. Angeline has taught and lectured at various private dance studios, schools, colleges and on community programmes, and is considered to be a dedicated, experienced and enthusiastic teacher. Angeline's greatest passion is classical ballet, and is devoted to the advancement of the art form, the promotion of accessible high-standard dance education, and facilitating the achievement of her students.