In our introduction to The Great Tap Shoeganza series, Tristan emphasized the variety of tap shoes available on the market and a just a few things you'll need to think about before buying your shoes.
Further considerations include how much room you want to leave for your toes, how tight or loose you like your shoe to fit and how high you want the back of the topline to raise up. Knowledge of the different designs of tap shoes, plus your own awareness of what you consider comfortable, will make the task of buying tap shoes a painless one. Literally.
Shoe Anatomy
Here is a short glossary on different shoe terms, explaining what they are and how they relate to choosing a tap shoe:
Heel – The large heel at the back of the shoe can also be modified for sound and comfort. A plastic heel, found on most entry level tap shoes, is inexpensive, but has a poor sound quality. A thick leather heel will produce a rich, deep tone, though the higher the heel, the more pressure to the front of the foot, which could end up being responsible for discomfort while dancing.

Pattern – The pattern of the shoe, or how the housing material is cut, should be taken into consideration for style and function. The cut of the shoe is important when considering the length and width of your foot. Pay attention to how the pattern is stitched together. More stitching can mean greater durability, while less stitching will mean a more flexible shoe.

Toe Box – A toe box is a reinforcement of the area that houses the toes and can be useful for tap dancers that dance forcefully and/or do a lot of work with the tip of their toe. However, a reinforced toe also means less flexion in that part of the shoe and compacted toes can be painful, in which case a soft leather toe may be more desirable.

Topline – The top edge of the sides and back of the shoe is the topline. A lower top line will enable greater ankle flexibility, while a higher top line will promote ankle stability. The topline can be padded to prevent painful chaffing where it meets the skin, or notched out in the back to give extra room to the Achilles tendon.
The Standard Oxford
The most common tap shoe is an Oxford style shoe with the housing and sole made from leather and the taps made from aluminum. Sounds simple enough, but within those parameters you will find that therein lies a vast array of customizable options. From different types of leather to exotic aluminum alloys for taps to advanced support, you will find that knowledge of what goes into a tap shoe can directly affect what you get out of it.
An Oxford style shoe is a low top, leather shoe that is laced over the instep and has a low heel. Appropriate for casual or formal attire, the Oxford style shoe is as versatile as it is timeless.
While the vast majority of tap shoes tend to look the same, the specialized attention to design and engineering in modern tap shoes gives each brand traits and attributes unique unto itself. A narrow foot may prefer the tight fit of SoDanca's TA715 (the heart shoe), while a wide foot may be more comfortable in the roomy Bloch SO313M (the J-Sam shoe).
Feet are like fingerprints in that no two are identical, but it is easy to diagnose areas on your feet that require extra attention in accordance with your individual needs.
Sole Power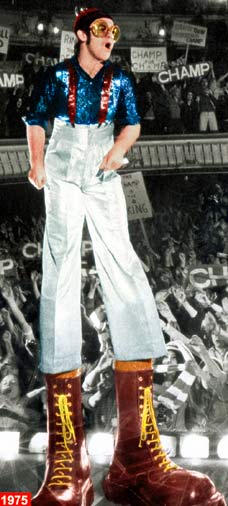 When I was a kid I knew that I had upgraded when I received my first pair of double-soled tap shoes. I owned a pair of the Alexander Concerto tap shoes by Leo's (now defunct), and with the built-up sole these shoes were louder and heavier than any other pair in the class.
Besides the sense of empowerment, having a thicker sole further increases your options when picking out the perfect tap shoe. Outsole thickness can alter a tap shoe's tone, weight, and durability. The soles of the tap shoe, most commonly made from thick leather or plastic, can be stacked to double or triple the thickness of the sole. With a thicker sole, longer screws can be used to affix the taps and could prevent constant retightening.
A thicker sole means more weight and less flexibility. A dancer who prefers to dance "up on their toes" may shy away from a double sole tap shoe, while a dancer who experiences chronic foot pain may prefer a shoe with the more rigid structure that a built up sole provides.
While someone could conceivably create a quadruple soled tap shoe or higher, not since Elton John and Robert Plant have we seen platform shoes of such magnitude and it is safe to say that tap dance is safe from this fad…FOR NOW!
Leather
Many materials have been used in tap shoe construction, but none have proven more versatile than leather. PVC (Polyvinyl chloride), PU (polyurethane), hemp, denim and fabric are all suitable candidates, but at this time none can match leather's strength and durability.
The leather used for tap shoes is primarily made from cowhide. The Giordano Jazz Tap, produced by Leo's, uses a full-grain, minimally processed leather for the foot housing. Kidskin, leather made from the hide of a young goat, is a very popular alternative to cowhide. Kidskin is thin, yet very strong and more economical than cowhide and is found in some high-end tap shoes, like the Capezio K360.
Leathers can be generalized into two categories, hard and soft. Soft leather is very comfortable, even right out of the box, but will wear out very quickly, as opposed to hard leather that, while requiring a longer break-in period, will last much longer.
Other forms of leather include patent leather, leather that has a plastic coating that creates a shiny coat and additional durability, and suede, where the leather is split to create a fuzzy texture. Both look good and perform well, but you should prepare to pay a little extra.
Tap Shoes For Beginners
PVC and PU plastics are very inexpensive and are used almost exclusively in cheap, beginner level tap shoes. These inexpensive shoes, which can be acquired at Payless and other budget shoe outlets, are good for entry-level classes, which focus on simple, low-impact exercises.
Parents with young children in tap classes may wish to purchase this type of shoe when faced with the problem of quickly growing feet. These shoes can save parents hundreds of dollars over several years.
However, beginning students and the parents of young children must be aware of when it is time to upgrade their tap shoes. As the technical demands of a tap class grows, so does the need for a more supportive shoe, or the dancer risks potential aggravation and injury.
The Taps
The most recognizable trait of the tap shoe is the tap.
Though there is no clear date when metal became the instrument of choice, the progression from bare skin to leather, leather to wood, and wood to metal demonstrates humanity's predilection for the music of tap dance. The evolution of the tap has been researched and debated, nowhere more so than in Constance Vallis-Hill's Tap Dancing America
in a section dubbed "Whence The Metal Taps?", which points to the 1930s as when the first metal taps appeared.
Generally, the taps found on modern tap shoes are composed of aluminum as the base metal, and many alloys exist, combining aluminum with other elements such as zinc and silicon. Aluminum offers many benefits in that it is lightweight, relatively inexpensive, and easy to manipulate.
Taps can be made out of any metal, but there are several factors to consider. Want durable, tampered steel taps? Good luck picking up your feet. How about solid, 14k gold taps? Start saving now!
Getting The Best Tone From Your Tap
The size, shape, and thickness of the taps influence their weight, tone, and manageability. Some dancers prefer the tap to completely line the edge of the sole, allowing for a greater range of 'notes,' while other dancers find a smaller tap increases foot flexibility. Some dancers may prefer a larger heel for a heavier, more bass-oriented sound, while others find that a large heel hinders them from getting up on their toes.
Recessed cavities, like the ones found in the Capezio Teleone Tap, are a popular design option. Lighter in weight, this tap allows the dancer to achieve a higher-pitched tone compared to a solid tap.
The contemporary tap dancer can find great enjoyment by experimenting with different taps. Mix and match different companies' taps, like the slim Capezio front tap with W.B. Smith's thick Super H series of heel taps, for a broad range of tones. Ultimately, the choice of which taps to use should reflect the artist's goals as a tap dancer and musician.
Support
When you get to the point where you are dancing twenty hours a week or more, it would be natural to begin to worry about the toll that such activity may take on the body. Thankfully, the companies that design tap shoes worry about that, too. A lot of time and attention has been given to what goes under your feet, and it is the structural support of the outsole of the shoe combined with supportive cushioning that helps add longevity to a dancer's career.
A built up shoe can be made into a split sole, where the outsole of the shoe is split into two pieces to provide extra flexibility to the arch area, or can feature a sole that runs the entire length of the shoe, through the arch, thus providing an incredibly rigid structure.
The Jazz Tap Master, by Miller and Ben, features a thick, doubled sole that extends the length of the shoe, while the Capezio K360 features a split sole design.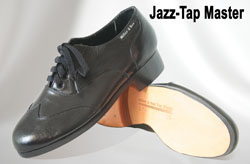 The cushion that lines the insole of a tap shoe varies greatly in where it is placed, what materials are selected, and how much of it is used. Many tap shoes have a layer of cushion for heel support, while others, like the Alexander Crescendo by Leo's, extends that padding to the toes and ball of the foot. A padded lining is also applied to the topline of the shoe to prevent chaffing around the ankle.
Orthotics
While tap shoes have come a long way, there is no perfect shoe. Everyone's feet are different and, aside from having a hand-made, custom pair created specifically for your unique needs, supplemental orthotics may hold the key between pain and pleasure when it comes to your dancing.
Orthotics are orthopedic devices intended to support and/or correct biomechanical dysfunctions.
The sole of the shoe can also be modified for extra support. For instance, a shoe can be purchased with a shank installed.
A Shank is a steel lining inserted between the insole board and outsole of the shoe. This creates a firmer structure in the sole, though limits the overall flexibility of the shoe.
Dancers with certain foot problems may benefit from the extra structure that a shank provides.
Not sure if your shoe has a shank already? Try sticking a magnet to the arch area on the bottom of the shoe.
If a dancer requires the use of orthotics in their everyday activities, than it may be a good idea to apply them to tap dance as well. However, some tap shoes are very narrow and snug and may be unsuitable for supplemental orthoses.
Miller and Ben Tap Shoes (www.tapemporium.com) offers several "orthotics enabled" options on all of their shoes. Browsing their website will give you a good idea of what you can do to keep tap dancing as painless and as pleasurable as possible.
Caution: A well-made and highly cushioned shoe is no substitute for a suitable, sprung dance floor. A dancer may face severe and debilitating injuries if they repeatedly practice and/or perform on an inappropriate floor, regardless of the quality of their shoes and any orthoses used.
Don't forget, you can tell us what YOU need to know about tap shoes and we'll do our best to deliver! Just head to that Shoeganza link above.
Kindly follow, like or share:
Tristan Bruns has studied the art form of tap dance with Donna Johnson, Ted Levy, Lane Alexander and Martin "Tre" Dumas and has a BA in Music from Columbia College Chicago. Tristan has been an ensemble member of such Chicago tap companies as BAM!, The Cartier Collective and MADD Rhythms. Tristan currently produces his own work through his company, TapMan Productions, LLC, which includes the performance ensemble The Tapmen and the tap and guitar "band" of The Condescending Heroes.