In Deconstructing a Tap Shoe, I discussed the use of orthotics as a means to prevent and treat foot ailments.  But what if you could achieve the same results by modification?  Modifying your tap shoes for health and comfort is like cutting out the middle man and can make tap dancing much more enjoyable for those with new and/or congenital foot disorders.
For Health and Comfort
Tracing your feet is an option that gives the shoe maker a good idea of the width and length of your foot.  Put your foot on a piece of white paper and trace around it.  Be sure to do both feet.  Consider this: A foot exists in three dimensions, while tracing your foot only deals with two.  Information like the height of your instep and certain deformities may go unnoticed.  Tracing is a good tool, but an even better idea may be to…

Send in a photograph of your foot. By taking pictures of all the sides, the shoe maker can get a 3-D model of your foot.  A trained eye can spot problem areas that may be treatable by shoe modifications.

Spot stretching is useful for people that need accommodations in specific areas.  Using a tool like a ball and ring stretcher, a distinct area in the shoe can be stretched, which can alleviate discomfort for bunions, calluses and corns, exostosis and heel spurs.

Plastic parts can be remolded. Certain parts of a tap shoe may contain supportive structures made out of hard plastic.  Plastic can be found in the counter, a built-in structure that sits behind the heel of the foot and is used to stiffen the back part of the shoe, and the toe box, a protective area built in to the front of a shoe to protect the toes.  These parts can be remolded to better suit a dancer's individual requirements.

Padding can be designed into the tap shoe during its construction to support all parts of the foot, including the toes, the metatarsal heads (balls of your feet), the arch of the foot, the heel and the Achilles tendon.

A metatarsal bar is a narrow, thick strip of leather added across the width of the bottom of the shoe that, when placed slightly behind the metatarsal heads, relieves pressure from the ball of the foot.
The proper modifications can help make a number of foot problems not only bearable, but hopefully negligible.  Morton's Foot, bunions, corns, Hammer Toes and most other disorders you can think of may be addressed to some degree by shoe modification.  As an example, let's focus on one particular ailment, Haglund's Deformity, and how to combat it.
Haglund's Deformity is a condition caused by a prominent bump on the posterior (back) aspect of the heel at the area of the Achilles tendon.  Haglund's Deformity isn't always debilitating and can go unnoticed, unless it is agitated by ill-fitting footwear.  When agitated, it can cause great pain and discomfort, and is referred to as "pump bump", as it often affects women who wear high-heeled shoes.
I turn to my tap shoe consultant, Matthew Schroepfer, and ask what modifications can be done to alleviate the symptoms of Haglund's Deformity.
Modifications for Haglund's Deformity
There's a lot that can be done to combat Haglund's Deformity.  Here are several suggestions for modifications that should help you dump the pump bump.

Spot stretch the counter of the shoe to create a pocket that provides extra room for the heel, decreasing agitation.
Add a heel lift during construction to raise the foot slightly higher over the topline of the shoe, avoiding "pinching" in the restrictive area where the heel meets the housing and adding flexibility around the Achilles tendon.
Remold the plastic insert in the counter to eliminate pressure points specific to the individual's bone structure.  (Note: Not all tap shoes include a plastic support structure in the counter.)
Friction Management
Not all injuries are caused by blunt trauma.  Blisters, rashes, calluses, cracked skin, bacterial infections…all can be avoided with proper friction management.
The common causes of friction related foot problems can be cured simply by taking care of your feet.  Wearing properly fitting shoes and socks and halting activity when feeling a "hot spot" start to form will prevent the majority of friction problems.  Besides Band-Aids, people with sensitive feet have a few other options when it comes to friction management.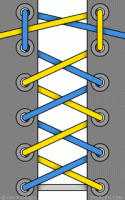 Different lacing techniques and modifications can help secure the foot in place.  Lock lacing can secure a narrow heel from slippage and friction damage, while skip lacing is a technique that avoids pressure on certain areas of the dorsum, the top of the foot.  Extra eyelets can be added to enhance these lacing techniques, and there are numerous variations focusing on almost every type of foot condition.
Also, padding can be added that focuses more on friction management than on impact reduction.  Friction-free padding, like Engo, can be applied to friction prone areas of the shoe, creating better adherence where the foot and the shoe meet.  Manufactured by Tamarack Habilitation Technologies and available through Dancing Fair,  Engo pads are thin, sweat-proof and latex-free, but will require replacement after enough use.
While a friction-free padding is a great idea, due to its limited life-span it can only be applied orthotically.  As research develops, one day we may be able to include such materials in tap shoe construction, thus alleviating blisters all together!  We can only dream…
Happy Feet
Whether your foot concerns are as serious as suffering sesamoids, or as mundane as bothersome blisters, feet are happiest when they are comfortable and healthy.  And happy feet want to dance more!  Thank you to all of the readers for their questions and concerns.
Check back soon for the next installment of The Great Tap Shoeganza: Customizing Your Tap Shoes: Fashion and Functionality.
Chicago Human Rhythm Project is hosting a Virtual Rhythms tap video contest! Our own Tristan Bruns is a nominee so check it out and vote for your favorite video.

The winner of the choreography competition will perform in the Rhythm World Faculty Showcase at the renowned Museum of Contemporary Art, Chicago. Vote up to once each day to support your favorite choreographer and videographer! And get others to join in and vote by sharing the contest on Facebook and Twitter!
Kindly follow, like or share:
Tristan Bruns has studied the art form of tap dance with Donna Johnson, Ted Levy, Lane Alexander and Martin "Tre" Dumas and has a BA in Music from Columbia College Chicago. Tristan has been an ensemble member of such Chicago tap companies as BAM!, The Cartier Collective and MADD Rhythms. Tristan currently produces his own work through his company, TapMan Productions, LLC, which includes the performance ensemble The Tapmen and the tap and guitar "band" of The Condescending Heroes.