Making Your Shoe You
Tap shoe customization has reached fantastic proportions, and days can be spent designing the look of a tap shoe that is uniquely "you." I've seen people sewing on patches of their favorite bands or cartoon characters. There are tiny taps that can be screwed onto the sides for easier metal-on-metal notes. Leather now comes in every color of the rainbow and then some. Straps, laces, Velcro, high tops, low tops, sneakers, boots, socks… anything that you can imagine going onto or into a tap shoe probably can.
"The Basic" Tap Shoe
In 1925, Ned Wayburn, head instructor and proprietor of the Ned Wayburn Studio of Stage Dancing and one of the most influential dance studios of the early 20th century, published The Art of Stage Dancing.  In it he describes what he considers an appropriate shoe for tap class.
"For tap and step dancing there are several types of shoes, the most common being that known as the "Mary Jane" or juvenile shoe with ankle strap and button or buckle. Another favorite is the laced low shoe, known as the Oxford, made for both men and women…There is also a low shoe for "Tap" dancing called the "Split-clog" shoe, used by very advanced pupils only…"
The basic look of the tap shoe has not changed too much in the last 100 years.  Normally made to resemble a dress shoe, the Oxford-style and Mary Jane-style tap shoe can be traced back close to the turn of the century.  Though your shoes may appear to be a dime-a-dozen, specialized modifications can increase the synergy between your feet and your tap shoes.
Shaving the edges of the outsole on the sides of the front tap makes it easier to hit those great scraping sounds produced where the edge of the tap meets the wood.  This adjustment is ideal for dancers with less flexible ankles.
A rubber pad can be applied to the bottom of the outsole if you find yourself (unwontedly) slipping and sliding around the stage.  The rubber is applied behind the front tap to give the dancer extra stability.  Concurrently, many shoes come with the rubber padding attached and may be removed if the dancer requires less floor-to-shoe friction and wants to pull off some Jimmy Slyde-esque moves.
But what about fashion?
Tap shoe companies now offer an amazing number of colored leathers and fabrics from which to choose.  While the pattern of the shoe is similar, no one will mistake your lime-green, patent leather shoes for anyone else's!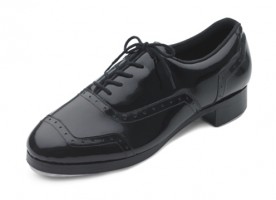 Brogueing, a series of decorative perforations, can be applied anywhere on the shoe.  An expert  can add a dotted design for a truly distinctive look.  If you really want to stand out, why not design your own?
A good example of a tap shoe that features unique stitching and brogueing is the Bloch SO313, also known as the shoe co-developed with dancer Jason Samuels-Smith.
Like health and comfort alterations which I covered
here
, tap shoe modifications for fashion and  functionality are as numerable and varied as the different types of dancers that wear them.  Have a good idea for a design?  Make it happen!
"The Classic" Tap Shoe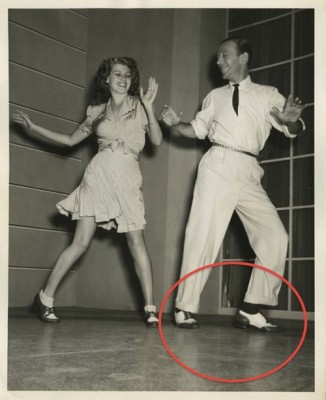 Look at those shoes on Fred. The wing tip-style Oxford is classic. Made with glossy patent leather, the bone-white vamp melts around the black toe cap. To revive the style, shoe companies have begun to offer numerous variations on this traditional theme.  It is the mixture of old and new that has attracted the attention of today's tappers to the wing tip's delicate sensibility.
The wing tip, or full brogue as it is known outside of the U.S., is a style of toe cap that originates in Scotland and Ireland.  The eye-catching and distinctive "W" pattern on the toe has made this style synonymous with the image of the Hollywood Golden Age tap dancer.
While any tap shoe could be customized with a wing tip, Miller and Ben Tap Shoes has gone to great lengths to explore this style to its fullest.  Most of their shoes feature a wing tip toe cap and are available in 48 different colors.  Not to mention the possible color combinations for shoes that have two or three different sections, you can easily spend as much time designing your tap shoes as you spend wearing them.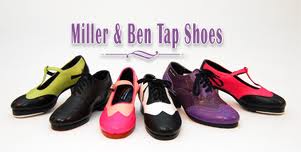 "The Vegan" Tap Shoe
There isn't a big market for vegan tap shoes, but as discussed in my article, Deconstructing A Tap Shoe, there are a number of alternative materials besides leather that can be utilized for tap shoe construction.  I asked Matt Schroepfer, owner of Dancing Fair, to design the perfect Vegan tap shoe.

Matthew Schroepfer's Vegan Tap Shoe
For the upper, which consists of the part or parts of a shoe that cover the toes, the top of the foot, the sides of the foot, and the back of the heel, Matt would use hemp as his material of choice.  Hemp is a soft, durable fiber that requires little pesticides, no herbicides and is a high yield producing crop.

The insole, a strip of material added on the bottom of the inside of the shoe for added comfort and protection, can be made out of pressed paper or pressed plastic.  Old paper and plastic can be recycled by first pulping the material and then pressing them into a solid structure.  The balance between flexibility and rigidity of pressed paper or plastic makes it a fine alternative material to leather.

For the heel, wood is a suitable candidate.  The SoDanca SDTA715 (the heart shoe), considered by many as a higher end shoe suitable for all levels of tap dance, uses a wooden heel in its construction.

When it comes to the outsole, things get a little tricky.  Matt recommended a synthetic outsole made from polyurethane or polyvinyl Chloride.  His reasoning is that there is no other material that can match leather's flexibility and durability, but Matt lamented that synthetic plastics don't really agree with the vegan mindset.  However, as demand grows, so will investments in research and development and the best way to overcome this hurdle is for vegan tap dancers to speak out, and let them know that there is a market for vegan tap products.  Contact the shoe companies, and let your voice be heard!
"The Future" Tap Shoe
The electronic tap shoe is no mere flight of fancy.  In fact, it has already been built.
Alfred Desio is the inventor of Tap-Tronics, a system designed to pick up and amplify a dancer's taps.  Tap-Tronics could also add effects like delay and reverb to the tap dancer's arsenal.  Pickups, transducers that convert sound vibrations into electrical signals, are installed in the tap shoe.  Overdrive, phaser, flange… if a guitar can do it then so can a tap shoe.
But why take my word for it when Alfred Desio himself can explain it so much better?
Tap-Tronics never really took off, and there are only a handful of dancers that even come close to replicating Alfred Desio's work.  To hook up a solid system would require a good amount of time, money and energy, but with the technological innovations in sound recording, an electronic tap shoe should be relatively easy to fabricate.
"The Other" Tap Shoe
Any shoe can be a tap shoe.  In fact, a tap shoe need not be a shoe at all!  Anything that covers your foot and has taps securely attached to the bottom constitutes as a "tap shoe."  I've personally seen a Chuck Taylor-style shoe with taps attached at a boutique in Michigan, and I have heard of people attaching taps to sneakers, loafers, and even socks!  Ouch.  It seems that there isn't any kind of shoe that gets the boot when it comes to making a tap shoe.
Speaking of boots: Tap Dogs, an Australian based touring tap company founded by Dein Perry, features tap dancers that wear heavy duty boots with taps affixed to the bottoms.  I saw Tap Dogs at the Rialto Theatre in Joliet, Illinois, several years ago, and I remember that the sounds were relatively clear, and the tone was very deep and a little muted.  While they may not make for the most versatile tap shoe, boot-taps certainly matches the music and attitude of these Aussie Bootmen.

Express Yourself
Tap dancers are by definition creative, though that creativity need not be limited to your dancing.  Find a pair of shoes that you love, and then find some wood and express yourself!
Stay tuned for the next installment: Customizing Your Tap Shoes: The Taps.
Have you customized your tap shoes?
Tell us about (or better yet, share a photo of) your unique shoes in the comments!

Kindly follow, like or share:
Tristan Bruns has studied the art form of tap dance with Donna Johnson, Ted Levy, Lane Alexander and Martin "Tre" Dumas and has a BA in Music from Columbia College Chicago. Tristan has been an ensemble member of such Chicago tap companies as BAM!, The Cartier Collective and MADD Rhythms. Tristan currently produces his own work through his company, TapMan Productions, LLC, which includes the performance ensemble The Tapmen and the tap and guitar "band" of The Condescending Heroes.