"The dance routines I created are like children to me. I don't want to forget them." – Eleanor Powell
On November 21, 1912, a little girl named Eleanor was born in Springfield, Massachusetts. Little did the world know that day that dance royalty had been born. For with an athletic and assertive style and plenty of raw talent to boot, Eleanor would grow up to be a star unlike any other dancer of her time – and ultimately become known as the Queen of Tap Dancing and earned the title "World's Greatest Tap Dancer" (Dance Masters of America 1965).
Beginnings, Ballet and Broadway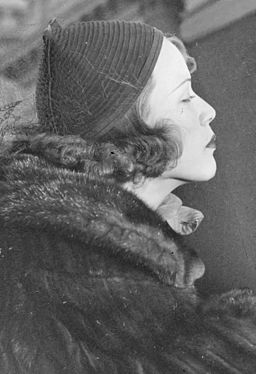 Powell began training in ballet when she was six years old. It was when she was 11, however, that she was discovered by Vaudeville kiddie revue head Gus Edwards while playfully doing acrobatics on the beach during a vacation. This life-changing moment set her on the track to a professional dance career, and soon enough she was regularly performing in Atlantic City nightclubs.
While a talented dancer, Powell failed to nab Broadway roles and determined she needed tap dance training if she was going to continue to pursue such parts. Having previously focused solely on ballet and acrobatics, Powell had an aeriel quality to her dancing and even had a distaste for tap earlier in career. She proceeded to take tap classes with vaudeville instructors Jack Donahue and Johnny Doyle to gain the skills she needed. Soon she had a knack for the style – but not before her teachers gave her a rehearsal belt weighted with sand to keep her grounded during lessons.
Around the same time, in 1928, Powell was cast in the musical revue "The Optimists" at the Casino de Paris theater in New York. The following year she made her Broadway debut in "Follow Thru." But it was when she signed a Hollywood contract with Metro-Goldwyn-Mayer that her career was officially set for takeoff.
Hollywood Bound
Powell first made the move to Hollywood in 1935. She performed a tap number for her first major movie, "George White's Scandals" (1935). That role caught the attention of MGM mogul Louis B. Mayer, who made the wise decision to get her a contract with the studio.
With her uniquely dominant dancing style, she not only rose to to be one of MGM's top female dancers, but even had roles created particularly for her outstanding talent. Unlike most female dance stars of the time who usually appeared opposite Hollywood's most iconic male dancers, Powell forged a solo path that embraced her "independent woman" image.
Although few men could match her dance talent (Fred Astaire, who starred with her in their famous "Begin "Beguine" duet, being the only possible exception), Powell did star alongside celebrated actors such as Jack Benny, Red Skelton, James Stewart, Robert Taylor and Robert Young. From "Born to Dance" (1936), to "Broadway Melody of 1938" (1937) to "Lady Be Good" (1941), Powell graced screens and captured audiences to great acclaim in a total of 14 movies during her career.
Later Years
Powell left MGM following "Thousands Cheer" in 1943 and largely retired from dancing when she married actor Glenn Ford that same year. They had one son, actor Peter Ford. She put her tap shoes back on for "Sensations of 1945" (1944), in which she performed in a giant pinball machine, as well as for a dance number in "Duchess of Idaho" (1950). Powell then went on to host an Emmy-winning religious TV series, "The Faith of Our Children" (1953 – 1955).
After her divorce from Ford in 1959, she also found success touring with her own nightclub act. Powell's last public appearance was in 1981 at the American Film Institute's televised tribute to Fred Astaire. Unsurprisingly, Powell received a prolonged standing ovation when she stepped up to the podium.
Powell died from cancer on February 11, 1982. But she had become someone whose legacy would live on – not just her legacy as a great dancer, but as the woman who wrote her own agenda for what it meant to be a female dancer in American musicals.
As Fayard Nicholas of the infamous Nicholas Brothers dance team put it:
"Eleanor Powell was one of the greatest, period, bar none. Not one of the greatest women – one of the greatest, period."
Fun Facts
The Dance Masters of America gave Powell the title of "World's Greatest Tap Dancer" in 1965.
Powell only took 10 formal tap lessons.
In "Ship Ahoy," Powell tapped out a morse code message to a secret agent in the middle of a dance number.
Powell choreographed her dances herself – an extremely rare occurrence for dancers at the time
Powell and Astaire's "Begin the Beguine" duet is known by some as the greatest moment in film history.
Just as she was a standout for her incomparable dance talent, Powell also stood out in Hollywood for her dedication to her Christian faith. Powell became a minister in her later years and is remembered for her volunteer work with at-risk children, with children with disabilities, and for racial equality.
For More on Eleanor Powell:
Sources: Britannica, Breakpoint.org ("The Dancing Minister," Part 1 and Part 2), DanceHeritage.org, IMDB, NewRepublic.com, Wikipedia
Kindly follow, like or share:
Elizabeth is a dance minor and journalism major at Southern Illinois University – Edwardsville. A dance student since the age of six, she has danced in the studio and on dance team, as well as at Radio City Music Hall as part of the Rockette Summer Intensive. She currently teaches at a studio in her college town.