Last month, Classical Girl, Terez Mertes, contributed 10 Zen Principles to Apply to Ballet. This month, she's back with incredible tips from her recent Paris dance class experience. Co-ed dressing rooms, cash payment, and barre au sol – she's got everything you need to know. We hope it inspires you to take class on your travels!
It's no coincidence that the French word for work, travail, is so close to the word "travel."
Leisure, as well as business travel, is taxing. Exhausting. It can unsettle you, both physically and emotionally.
Now, unsettling can be good, a way to jog the body and mind free from routine. But for many of us, attached to our regular dance and exercise regime back home, a vacation can be made even more enjoyable when the new sights and adventures are interspersed with some familiar exercise.
And Paris, with its glorious Palais Garnier, the Paris Opera Ballet, the French language—familiar in bits and pieces to all ballet dancers—is the perfect place for a ballet class. Indeed, although ballet originated in Italy and flourished later in Russia, it is the French influence of the 18th century that rests in my mind, particularly when I'm in Paris.
In a recent trip to Paris, I followed my own advice and took a ballet class at the Centre de Dance du Marais. The verdict? Yes, yes, and yes!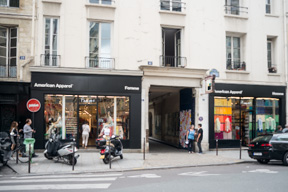 Why the Centre de Dance du Marais?
The center has a huge selection of classes, with over two dozen dance disciplines represented. Love dance but not ballet? This is the place for you. Love ballet but want multiple options? Ditto. Located in Paris's 4ème arrondissement, in the heart of the city, the Centre de Dance is an easy metro ride, perhaps even a walk. The building is gorgeous and historic, a former residence dating from the 1600′s. There are over a dozen dance rooms, and within the same courtyard, there's a café-restaurant, "The Studio," to refresh you before or after a class.
How to get to the Centre de Dance
Take the metro to either Hôtel de Ville or rue Rambuteau. I found the former to be the easiest, as it's a recognizable spot, on the Right Bank of the Seine, and as a tourist you'll likely traverse this area over and over. Cross over to the rue de Rivoli and within a block or two, you'll take a left turn onto the rue du Temple.
The dance center has a rather miss-able entrance, with only a small sign from the street. You enter a passageway at no. 41, before you come upon a courtyard that is surrounded on three sides by the building itself. Toward the back of the courtyard, on your right, you'll find a small office and a reception desk, where you can get information and a schedule. I highly recommend stopping by in advance to do this, so as to acquaint yourself with the facility, learn about any schedule changes. At the time you come to take the class, however, you will proceed directly to the studio where the class is being offered.
Important tidbits to know
Ballet is called "dance classique" here. If you stop by in advance, don't go inquiring about a "ballet" class. In French, ballet is the choreographed movement, not the name of the art. A schedule is "un horaire des cours" or "un programme des cours."
And be aware that "barre au sol" is not a regular ballet class or barre, even though it's listed in the local schedule of classes under "Classique," amid the other ballet classes. It's like barre-meets-Pilates, set to piano music like ballet, a series of stretches and strengthening exercises, even pliés, but you're on the ground (hence, "au sol"), either seated or lying down. Great for dancers recovering from injury! In the States, it's usually referred to as floor barre. Very popular in Paris.
Types of classes available at the Centre de Dance du Marais
You are spoiled for choice here. In addition to ballet and barre au sol, there's African dance, flamenco, capoeira, tap, ballroom, jazz, contemporary, Bollywood, salsa, Zumba, yoga, Oriental dance, tango, Baroque dance, Balinese, Afro-Cuban, funk jazz hip-hop. It's all here.
Three levels of instruction
Débutant – beginner level, but it assumes you've learned at least the core basics
Moyen – "middle," or intermediate. Whether it will prove to be closer to beginner or advanced depends in part on the students regularly attending the class. When in doubt, give it a try.
Avancé – advanced. Be prepared for a challenge, but again, if there are more intermediate level students frequenting the class, you might find it to be quite manageable.
One of the things that might define which class you take are the times. Assuming you are here for the ballet classes, there are beginner classes at 9:30am every weekday (uh oh, jet lag!). Advanced at 11:00am every weekday. Intermediate at 3:30pm every weekday except Wednesday. There are other classes, as well, at varying levels and times, running into the evening. (I did not consider these; in the evening I devote myself to the art and exploration of Parisian restaurants and cuisine.)
Prices
Cost is currently 18 euros for a drop-in class. (Roughly $25.) I hunted around beforehand, and this appears to be the going rate for classes in Paris, perhaps a touch higher. Of particular value here, though, is the popularity and prime location of this venue. Other dance studios that charge less seem to be located further out from the center of Paris, and offer fewer options.
Note: on their brochure, they mention a 12 euro "adhesion obligatoire." As a drop-in, you will not be expected to pay this. It's a registration fee for those attending classes there regularly, which gives them a discount from the drop-in rate.
Instructors
The classes are divided on the schedule according to instructor. They run their own business, essentially, and you'll pay them directly. Most instructors are former professional dancers and are well known in the dance community. Be aware, however, that this kind of skill and popularity might mean they have a substitute taking their place on the day of your class. (This happened to me; I'm guessing this happens more in the summer months.)
What to expect from the class itself
For ballet, you can count on the familiar progressions, from barre to center work, pirouettes, jumps, grand allegro. There might be variations along the way, and in my class, it seemed some of the center combinations were long, ambitious and rapidly executed. It might be a French thing, to not spend so much time polishing a shorter adagio, carefully marking it, performing it twice, interspersed with detailed comments and corrections from the teacher. (As my class was taught by a substitute, who, additionally, was Australian and not French, I can't be certain here.) The class will likely follow the pace and skill level of the students who most frequently attend it. There might be piano accompaniment, or it might be recorded music.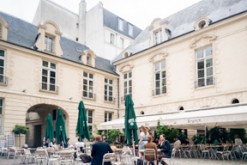 What to otherwise expect
•The changing rooms ("vestiere") here are co-ed. If you are modest, consider changing at home.
•You'll need to pay in cash at the time of class. You'll pay the teacher directly.
•Give yourself plenty of time to get to the center, change and stretch; this is not a class for which you want to arrive late!
•Your teacher may speak perfect English or little English. If you're nervous about this aspect, consider the 3:30pm intermediate ballet class with instructor Ghislain de Compreignac. This is the class I took and is regularly taught in English, by a default of sorts, as the class contains multinational students. (This class would be suitable for an advanced beginner, as well.)
•The café-restaurant in the courtyard closes on Mondays in the late afternoon. Don't go planning a happy hour or early dinner on Mondays, although other evenings, it is open, and there is indeed a happy hour (and the restaurant specializes, oddly enough, in Tex-Mex food).
•Expect to dance in Paris! Which alone will be worth the memories for a long time to come.
How to contact them
Centre de Dance du Marais
41 rue du Temple
75004 Paris
Tel: 01 42 77 58 19
Here is their current online schedule for ballet classes: http://www.paris-danse.com/cours-Danse-classique-Paris-2.html
You can find a personal account of my own ballet class experience at my site, The Classical Girl.
Terez Mertes (who also publishes as Terez Rose) danced once upon a time, but is now a blogger and writer whose stories and essays have appeared in Crab Orchard Review, Literary Mama, the Philadelphia Inquirer, Milwaukee Journal-Sentinel and San Jose Mercury News. Anthology credits include Women Who Eat (Seal Press, November 2003), A Woman's Europe (Travelers' Tales, June 2004) and Italy, a Love Story (Seal Press, June 2005). She blogs as The Classical Girl at www.theclassicalgirl.com and you can check out more of her work at www.terezrose.com.
Kindly follow, like or share: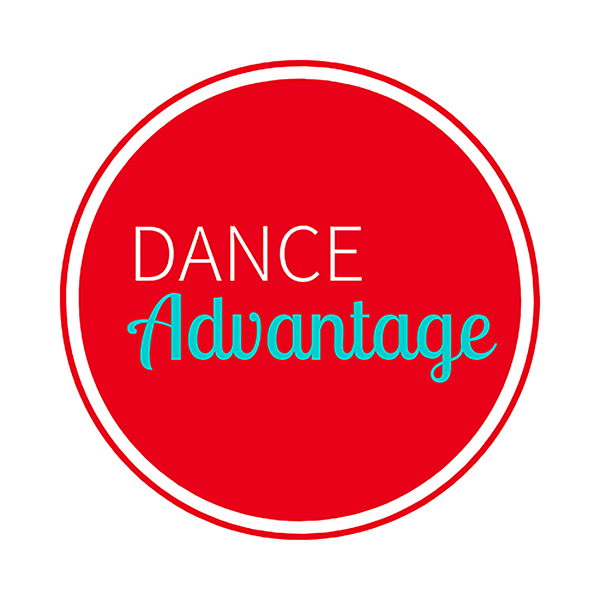 Dance Advantage welcomes guest posts from other dance teachers, students, parents, professionals, or those knowledgeable in related fields. If you are interested in having your article published at Dance Advantage, please see the following info on submitting a guest post. Read posts from guest contributors.