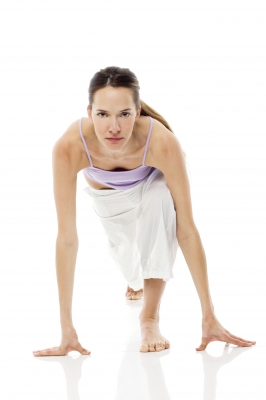 Dancers need endurance training and practice in performing short bursts of energetic movement. We do this in class (petite allegro), but one or two combinations in a few classes a week is not enough to train muscles for intense performances.
But dancers face obstacles in cross-training: Limited time. Small spaces. Lots of travel. Inconsistent access to equipment. A need to increase cardiovascular strength – quickly and with few accessories.
Enter interval training and Tabata.
Interval training involves executing short bursts of high intensity workouts followed by periods of less intense work or rest.
The Tabata Protocol is originally named after its founder Dr. Izumi Tabata who did extensive research on interval training. Dr. Tabata found that high intensity training has a greater impact on the aerobic and anaerobic systems than longer periods of moderate training.
Pattie Bostick is a dance educator in the Lehigh Valley area in PA. She performed and choreographed internationally for over 10 years and is also on staff at Muhlenberg College, where we met. She is an ACE (American Council on Exercise) certified Group Fitness Instructor and Personal Trainer and leads Tabata Bootcamp (among many other classes), as a certified Tabata Bootcamp Trainer, at the Patricia Bostick Dance Center in Allentown, Pa.
"Although Tabata Bootcamp is about short duration, its high intensity keeps your heart elevated leading to better endurance. Because of the short work out times, it easily fits into any busy schedule of rehearsal/performing/schooling," she discovered.
The Tabata Workout
The Tabata model, specifically, contains eight rounds of 20 seconds of hard work followed by 10 seconds of rest. The 'hard work' could include jumps in place, running in place jumping jacks, burpees (jumping up, jumping down into a low position, shooting the legs out into a plank, jumping back to a low position, jumping back up, repeat) or any form of repeatable movement. (I've also modified it to include strength training, with push- ups or ab work.). There are not specifically designed levels of Tabata, but like many workouts, the ability of the practitioner determines the intensity. Or, in other words, you can push yourself during individual Tabata workouts.
Tabata Bootcamp was developed by Mindy MyIrea. An eight-week program based upon high intensity interval training, it was nominated in 2013 for the best new workout by ECA World Fitness. Pattie checked out Tabata Bootcamp because she's always looking for new trends in the movement and fitness industry.
"Tabata Bootcamp has been scientifically proven to create EPOC (excess post oxygen consumption). So it continues to burn up to five times more calories long after the workout has been completed. In today's world of 'quicker is better' I thought my clients may like this approach."
Tabata in Practice
Many Tabata resources are available online – web guides, youtube videos, and downloadable apps with timers for ease of training. No specific equipment is needed, but jump ropes, large workout balls, weights, or resistance bands can be added depending on the needs and desired goals of the individual. Tabata Bootcamp provides a specific program for individuals with classes and suggests guided instruction from a certified trainer 2-4 times a week during the eight-week session.
But, Tabata can be blended into any warm up or training practice.
As a performer, educator, and choreographer who travels frequently, the interval training allows me to incorporate cardiovascular training into my day, regardless of time or space.
Pattie also suggests that practitioners be aware of their personal needs but that she's incorporated Tabata workouts with her "Kids Fit classes (ages 7+)" and she has people in her Tabata Bootcamp classes who are over 60.
Tabata Benefits
A particularly striking Tabata moment in Pattie's career included this story: "After my first Tabata Bootcamp session in the Spring of 2013 my clientele tripled for our summer session. In that next 8 weeks our bootcampers lost a total of over 100 inches.  Everyone felt better…! That's when I realized this was an awesome program for the average person which means it can benefit anyone."
"As a dancer, Tabata has helped me to be able to keep up with, and sometime exceed, the strength and endurance of much younger dancers," Pattie remarked.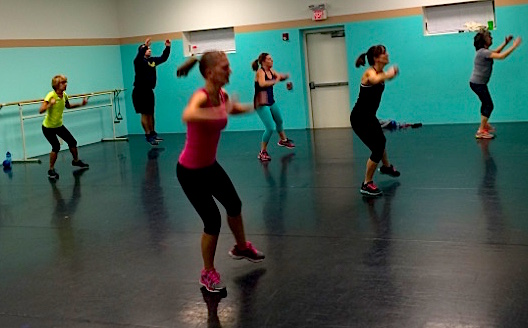 Personal note – there are many ways to practice interval training. Tabata was recommended to me by a medical professional and I developed my own workouts using his advice and online resources. As with any fitness program, ease into the training and seek professional guidance. I have not received any compensation for exploring Tabata, but wanted to share the practice as something other dancers could benefit from.
Kindly follow, like or share:
Jessica C. Warchal-King is a Philly-based performer, choreographer, educator, and arts advocate. She is a member of Kun-Yang Lin/ Dancers and Nora Gibson Contemporary Ballet and has toured nationally and internationally. Jessica is co-founder and curator of the InHale Performance Series and she teaches at universities, studios, and arts centers.
Jessica earned her MFA in Dance from Temple and her BA in Dance and Anthropology from Muhlenberg College. She is a trained instructor in Dance for PD, a program developed by the Mark Morris Dance Group to bring dance to people with Parkinson's Disease, and a Power Pilates Mat I & II Certified Instructor. The Embodiment Project is Jessica's ongoing research project combining education, physical dance practice, and performance. Using dance as its medium, The Embodiment Project investigates the relationships between kinesthetic, somatic, and anatomical understanding, self-awareness, art-making, joy-creation, and social justice. www.jcwarchalking.blogspot.com