We're celebrating our 800th post with a giveaway!
If you're searching for summer reading, Lynn Swanson's Summer Dance, a delightful Moonbeam Children's Book Awards winner, is a great choice for dance lovers of all ages.
Available for Kindle


Author Lynn Swanson portrays the hard-won accomplishments of tween and teenage girls as they cope with life-changing artistic and social events at a dance camp. Set in the northern Michigan woods, the novel tells the story of 13-year-old Sara, who has been accepted into an exclusive dance program for the summer, and how the challenges of boys, dance and friends help her realize what she wants in life and in a future dance career.

"Summer Dance" contains a glossary of dance terms and a study guide. It is filled with dance music readily available on the market to enhance readers' experience of the story, such as "Swan Lake," "Les Patineurs," "Les Sylphides," "Nutcracker" and Kronos Quartet's "Pieces of Africa." [More at PR NewsChannel]
One reviewer recently described the novel as "a gem," with inspirational characters whose "abilities and dedication is inspirational, but done in a such a subtle manner that it is never preachy."
I couldn't agree more. This is what I had to say after reading Summer Dance: "In the midst of tough competition and very authentic episodes of teenage drama, the characters develop… well… character, learning and demonstrating ways to get along and even work together."
Read more from my interview with Lynn Swanson to learn about the places, dance programs, and people who inspired Summer Dance.
If you're spending this summer at home, you can still experience summer dance at Lakewood with Sara. If you'll be away, this is definitely a book to pack in your summer intensive suitcase.
Summer Dance is sold at Amazon.com
(paperback and for Kindle), www.barnesandnoble.com, www.horizonbooks.com, and now dancewear stores across the U.S. and in England.
But you can win your very own copy right here at Dance Advantage.
Here's how to enter: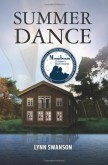 Comment on this post, telling us about your best summer dance experience.
(If you haven't ever had a summer dance experience, that's ok, tell us which summer dance camp or program you'd like to attend someday.)
You have until NOON (EST) Tuesday, June 25 to leave your comment. At that time 2 winners will be randomly selected to receive one paperback copy of Summer Dance by Lynn Swanson.
The nitty gritty: You must live in the U.S. or Canada and be at least 18 years old to participate in this giveaway. Read our giveaway policy.
Best of luck!
Kindly follow, like or share:
Nichelle Suzanne is a writer specializing in dance and online content. She is also a dance instructor with over 20 years experience teaching in dance studios, community programs, and colleges. She began Dance Advantage in 2008, equipped with a passion for movement education and an intuitive sense that a blog could bring dancers together. As a Houston-based dance writer, Nichelle covers dance performance for Dance Source Houston, Arts+Culture Texas, and other publications. She is a leader in social media within the dance community and has presented on blogging for dance organizations, including Dance/USA. Nichelle provides web consulting and writing services for dancers, dance schools and studios, and those beyond the dance world. Read Nichelle's posts.