"Come on in and find a spot!"
That's what you will hear at the top of my class.
Do my students run in circles? Nope. Hang on the bares? Nope. Scream and make funny faces in the mirror? Nope. Throw spots? Nope. They find a spot in the circle.
My young students know exactly what to do when they enter my room. Do yours? If not, a "Do Now" assignment (come in and sit down on a spot) may change your teaching.
Your students need to know what is expected of them, no exceptions. A class structure is how you let them know.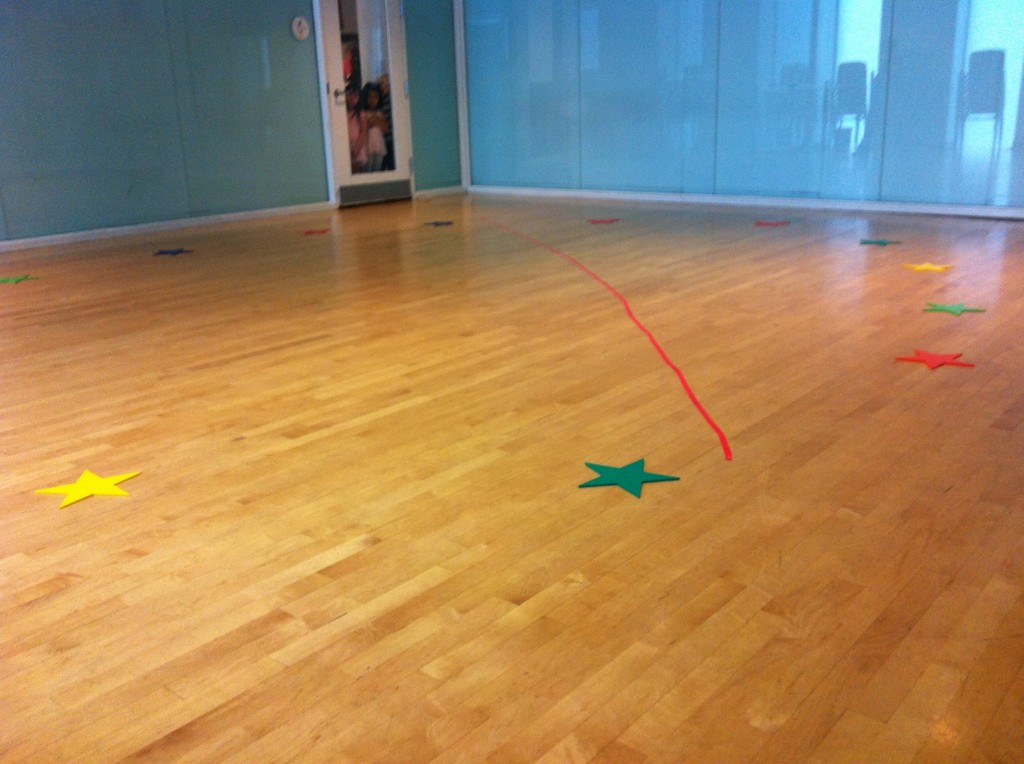 Creating The Structure
First, assess the space.
How can you configure the space so you are using all of it but not moving around too much? It's a fine balance.
For me, I teach in many different spaces in a week, so each space has it's own spacial configuration, but my structure remains the same. Each class has a clear beginning, a middle, and an end.
Maria's structure:

Warm- up -Begin in a Circle

Across the Floor – Move To The Wall or if there is no wall that's accessible I use a tape line.

Center Exploration/Prop Dance – Open Space

Group Dance/Choreography – Open Space

Goodbye – You choose, the wall, line, or circle.
Of course everyone's class structure is different, there is no right way to do it, but it is important to have one. If you don't, the little ones will walk all over you, literally.
Moving Within The Structure
It's important to keep the structure routine every week. So once you choose the structure that works, stick to it.
If I ever so slightly try to switch the order, I can feel it starts to affect my students. If I skip something, they let me know. Sometimes if I even say something in a different way they will call me out!
Once you have the structure it's easy to move within it. You can change things within the structure a lot.
I do a new Exploration every couple weeks. It starts from the same place (the line) and ends in the same place (the line). But, in the middle we visit the playground, and explore under the sea animals.
I handle Across the Floor is the same way. Introducing new steps is a breeze because they always start by sitting on the line, listening for their name, taking their turn, and then sitting back down on the line.
You can ask them and teach them to do anything within the structure you have set.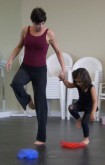 Disguise The Transitions
Part of a successful structure is having successful transitions. Some young children have difficulty transitioning but in dance class there is a way to disguise the transition. For example:
"Who can hop on one foot over to that line?" Viola! You have made the transition without their knowing it.

Another one I love to use is "Show me how slowly you can crawl over to that line." I like that one because it gives me time to transition into the next thing too.
Make The Structure Work For You
Now that you have the spots, and the wall or the tape line, use them to your advantage.
Are things getting a little chaotic? Send them back to the line and try again. It gives them a sense of place. That's the place we go back to before we do something else or new. They know it!
Collecting The Props
Collecting the props should also be incorporated somehow. Again, making the transitions within the structure seamless.
Maybe you have a song that sings them goodbye? Maybe you ask them to wear the spot on their head like a hat to bring them to the pile. Maybe they dance one at a time and drop their scarf into the basket.
When they know what to do with it and where to take it, collecting props is easy on you too. Let them pick up the dots for you, there is no reason you need to pick up 20 spots on the floor when there is a child for each one! Right? Right!
Structure = Success
Sometimes people will say, "that class has too much structure." I don't believe it. If you allow the dancers to move, create, and have fun within a structure, there can never be too much of it.
There are many moments in my class that have a "loose structure" but I am still in control of the structure before and after.
At school, children work within a structure. If they didn't, classrooms would be forever out of control. Children need direction and a place in a class setting. Dance class needs the same thing. You must have a structure if you want maintain a successful preschool dance class.
When I was a new teacher, the hardest part was finding a structure that worked. What worked for one class, didn't work for another. Or one part was really successful but then one part was still off.
After tweaking for 7 years, the structure and tips above are what works (and what hasn't) FOR ME.
So, what's your structure like?
Do we have a similar outlook or have you had a different experience? I would love to hear what works for you! 
Kindly follow, like or share:
A passionate advocate for early childhood dance education, Maria Hanley Blakemore specializes in teaching ages 0 months to 6 years. She left NYC, where she designed and implemented programs at Manhattan's Jewish Community Center, Dancewave Center and The Mark Morris Dance Group, to teach dancers in the greater Cleveland area. Maria holds a Master's degree in dance education from New York University (2007) and a Bachelor's degree in dance performance from Slippery Rock University in Pennsylvania (2005). Maria authors the blog Maria's Movers (www.mariasmovers.com) where she shares creative ideas and strategies for teaching young dancers. Maria served on the Dance/NYC Junior Committee for 2 years and presented at the 2012 Dance USA Conference. She also presents at the Dance Teacher Summit in New York City. Read Maria's posts.