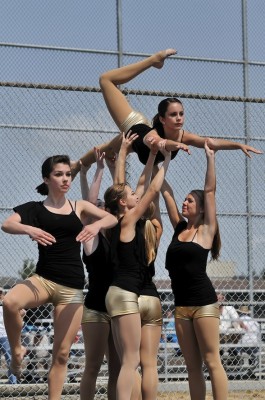 The photo Free Flight Dance, is titled after the name of the dance academy, Free Flight Dance, performing here. It was shot at a local outdoor festival and while the baseball diamond background is not the most eye pleasing, the photo does aptly capture the essence of 'free flight'
Photographer Brendan Lally tells us about his "assemblé" from nature photography to dance and why capturing dance is rewarding:
"The age of digital and my youngest son Neal's interest in photography revived my own interest, and being an avid outdoorsman, the natural thing to do was focus on nature and wildlife as subject matters.  A few years ago I was attending a local Indian festival so figured I would take my camera along. Not only was the dance enjoyable and intriguing, but the shots turned out amazing. In fact, they were good enough that I ended up providing one of the dancers with a series to use in promotional material. And so began my interest in dance photography.
Dance and the arts are not anything new to me, but dance photography has definitely widened my horizons especially in the area of traditional/ethnic dance. I live in such a wonderfully cultural diverse region so am fortunate enough to be able to attend many events and festivals throughout the year.
Regardless of the style of dance, I find it rewarding to capture both the sense of movement and the emotion the dancers are portraying. Whether it be Odissi, Tango, Middle Eastern or Interpretive they all provide a great opportunity for the photographer. But getting the great live performance shot is not as easy as it sounds, like nature photography, dance photography will provide lots of "just missed" shots, the movement is right but the expression is wrong and vice versa. The flexibility of digital allows today's photographer to shoot as much and as quickly as they can, my hat goes off to those film photographers of the past (and to those who still shoot film) that were able to capture great action dance shots."
When asked what bit of advice he might pass along to dance photographers, Brendan had this to say:
"I would ask all Dance Photographers to remember, when posting or displaying pictures, to make sure you acknowledge the artists, list their name, and if possible a link to their website. Without them your picture would be a blank stage."
About the photographer: Brendan Lally is a photographer based in the Vancouver Region of British Columbia, Canada, you can view more of his work at:
http://www.flickr.com/photos/dance_photographer/ and http://brendanlally-photography.daportfolio.com/
"All dancers are, by and large, a photographer's dream. They communicate with their bodies and they are trained to be completely responsive to a collaborative situation." Annie Leibovitz.
Submit your photo to our Flickr pool and you may be featured in our Sunday Snapshot!
Kindly follow, like or share:
Nichelle Suzanne is a writer specializing in dance and online content. She is also a dance instructor with over 20 years experience teaching in dance studios, community programs, and colleges. She began Dance Advantage in 2008, equipped with a passion for movement education and an intuitive sense that a blog could bring dancers together. As a Houston-based dance writer, Nichelle covers dance performance for Dance Source Houston, Arts+Culture Texas, and other publications. She is a leader in social media within the dance community and has presented on blogging for dance organizations, including Dance/USA. Nichelle provides web consulting and writing services for dancers, dance schools and studios, and those beyond the dance world. Read Nichelle's posts.