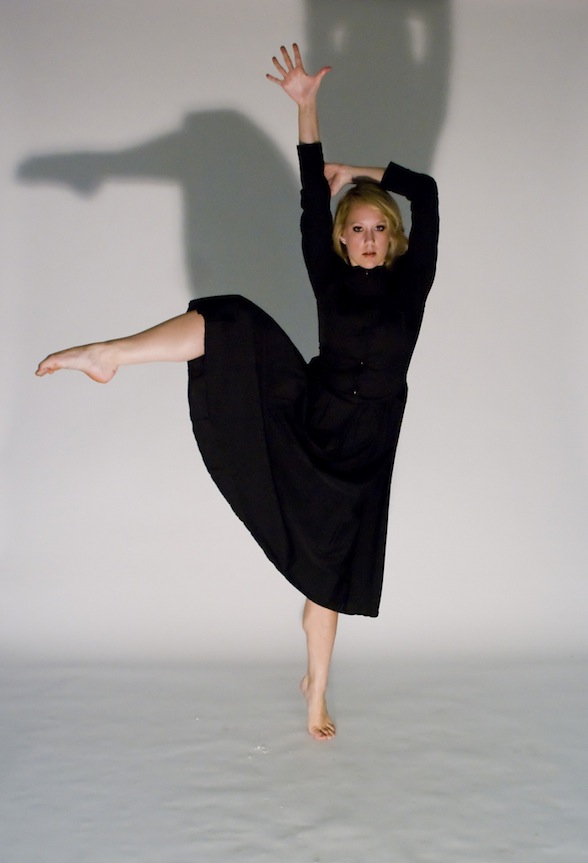 I chose today's photo simply because I liked the stark black and white look of this color photo. The shadow accents the striking shape created with the dancer's arms and leg. I also appreciated the vertical stacking of her body – she almost looks like she is hanging from her wrist and knee. The dancer is Sara Little of Gregory Hancock Dance Theatre (Indianapolis, Indiana). The photo was from the dance company's season shoot for 2009-2010 specifically for a production called The Casket Girls, a modern-gothic-alternative-vampire ballet, that premiered in Indianapolis on Halloween in 2009. In addition to the unusual, supernatural theme, the development of the production was also unique in that fans from around the world helped craft the story line and characters.
About the Photographer: Simone Boos is currently a second year college student who started Simone Boos Photography in January of 2009 at the age of 18. A native of Indianapolis, Simone works all around the Hoosier state as well as in mid-Michigan where she attends school. Simone became interested in photography as a high school student and has, since that time, pursued it at every opportunity. She especially loves photographing children and dancers. Simone has had photos published in several local Indianapolis publications including The Indianapolis Star and Nuvo as well as on several online venues including Now Public and Big Bend Habitat for Humanity. In the future Simone hopes to continue to expand her business and possibly pursue a career in photojournalism. You can also find Simone on Facebook and on Twitter.
---
Want to have your photo featured?
Add it to the DA Sunday Snapshot pool at Flickr
Learn more here
---
Kindly follow, like or share:
Nichelle Suzanne is a writer specializing in dance and online content. She is also a dance instructor with over 20 years experience teaching in dance studios, community programs, and colleges. She began Dance Advantage in 2008, equipped with a passion for movement education and an intuitive sense that a blog could bring dancers together. As a Houston-based dance writer, Nichelle covers dance performance for Dance Source Houston, Arts+Culture Texas, and other publications. She is a leader in social media within the dance community and has presented on blogging for dance organizations, including Dance/USA. Nichelle provides web consulting and writing services for dancers, dance schools and studios, and those beyond the dance world. Read Nichelle's posts.