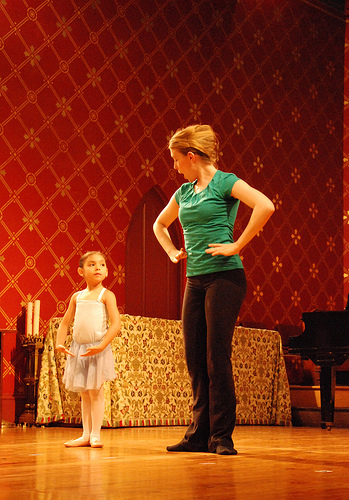 This photo is from the Hoboken Dance Academy recital and was taken by Sherry, a photographer and mom to one of the school's students. She says, "I took this picture because I admired the close relationship between the teacher and the student. I love to catch lovely memories."
I am attracted to the rich color of this photograph as well as the familiarity of this student-teacher moment. It also brought to mind some of my own childhood dance performances. Less formal affairs than the elaborate showcases which are the norm at dance studios across the country, these were often held in small or unique spaces. Seeing this photo reminded me that as a child, what mattered to me was not the stage, costume, or bright lights. I wanted to do my very best because in performance there was the thrill of showing my family what I had learned, the feeling of accomplishment at hearing their applause, and the approval and smile on my teacher's face at the finish. How enchanting that this image also caught my lovely memories! That is, I suppose, just some of the magic and allure of photography.
About the Photographer: Ya-Chi Sherry Liu is a native of Taipei, Taiwan. A well-traveled individual, Sherry is now living and working in New York City. Bringing her worldly sense of place and being to her images, she looks to convey the new and unique. Having a fresh perspective on the world, she brings joy and life to her photographs and those who view them. Sherry and her husband Aaron have recently launched a new web site dedicated to their shared passion for photography. You can view more of their work at Zao Imaging.
---
Want to have your photo featured?
Add it to the DA Sunday Snapshot pool at Flickr
Learn more here
---
Friendly Reminder: Please respect copyright online. Unless permission is granted through Creative Commons or other licensing agreement, please do not publish copyrighted photos without the permission of the owner. Thank you!
Kindly follow, like or share:
Nichelle Suzanne is a writer specializing in dance and online content. She is also a dance instructor with over 20 years experience teaching in dance studios, community programs, and colleges. She began Dance Advantage in 2008, equipped with a passion for movement education and an intuitive sense that a blog could bring dancers together. As a Houston-based dance writer, Nichelle covers dance performance for Dance Source Houston, Arts+Culture Texas, and other publications. She is a leader in social media within the dance community and has presented on blogging for dance organizations, including Dance/USA. Nichelle provides web consulting and writing services for dancers, dance schools and studios, and those beyond the dance world. Read Nichelle's posts.