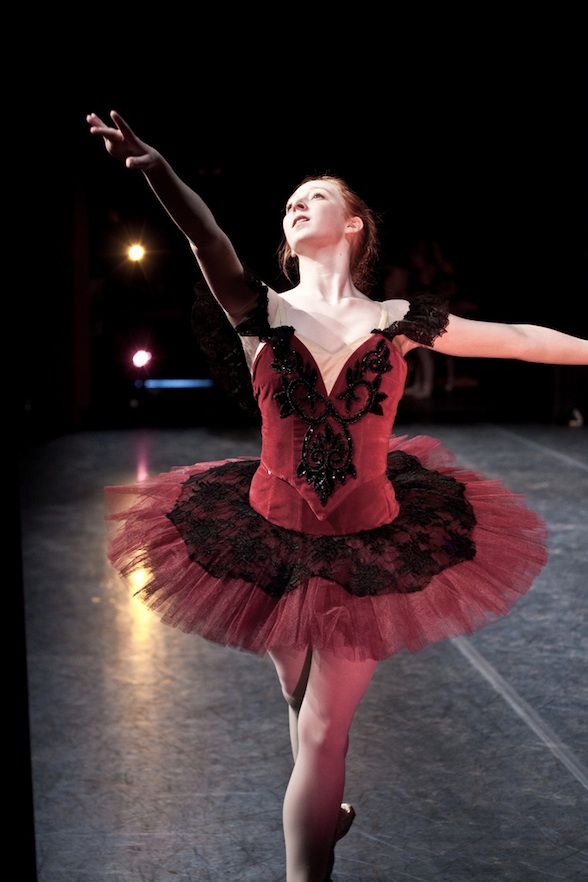 As a dancer Simone has always loved a good dance photo. When she started pursuing photography seriously – eventually going so far as to start her own business – she knew that performance photography (specifically dance) was definitely something she wanted to focus on. "I believe that as a dancer I have a distinct advantage when photographing dance." says Simone. "Not only do I have the artistic eye of a visual artist, I also understand the intricacies and technical elements of many different kinds of dance. I try to combine the two to create something unique in my photographs."
This photo was taken during a performance of Paquita by the Alma College Dance Company in Alma, MI. The beautiful young lady performing the principal role in this photograph is a freshman from Jackson, MI named Lindsay.
About the Photographer: Simone Boos is a native of Indianapolis, IN who currently attends Alma College in Michigan where she is pursuing dual degrees in dance and English. After discovering a love for photography in high school, she launched Simone Boos Photography in January of 2009. Simone now specializes in portraiture of all kinds, and continues to photograph dance at both the amateur and professional level. You can find Simone online through her website www.simoneboosphotography.com
Kindly follow, like or share:
Nichelle Suzanne is a writer specializing in dance and online content. She is also a dance instructor with over 20 years experience teaching in dance studios, community programs, and colleges. She began Dance Advantage in 2008, equipped with a passion for movement education and an intuitive sense that a blog could bring dancers together. As a Houston-based dance writer, Nichelle covers dance performance for Dance Source Houston, Arts+Culture Texas, and other publications. She is a leader in social media within the dance community and has presented on blogging for dance organizations, including Dance/USA. Nichelle provides web consulting and writing services for dancers, dance schools and studios, and those beyond the dance world. Read Nichelle's posts.