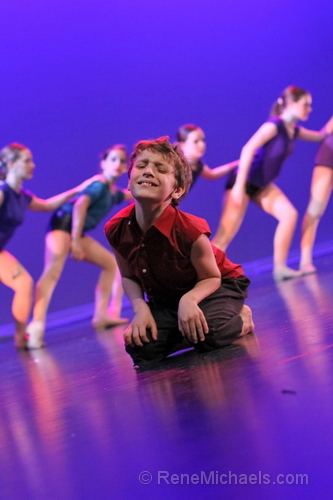 René Michaels has been a featured photographer on Dance Advantage's Sunday Snapshot before. His work speaks for itself but I'll add that he is a warm and personable guy I had the good fortune to meet in person while he was shooting a competition in Houston.  René is an Austin-based photographer with a talent for action photography and he always manages to capture really great moments, like the one above.
The snapshot is from a performance piece called Mr. Curiosity, set to the Jason Mraz song of the same name. It is a contemporary dance choreographed by Dane Burch of the Dance Institute in Austin, TX that explores the curious search for love. The photo perhaps best reflects the lyric "I'm looking for love this time, sounding hopeful but it's making me cry," as performed by the group's male dancer, Austin Meiteen, pictured above.
"From my perspective as a dance photographer, it's about capturing the passion in the moments during a routine that translates the music visually to the audience through dance. A picture is worth a thousand words." Of the young man in the photo above, Rene adds, "Austin does a great job of transferring his passion visually in this shot."
I selected this photo from an incredible array of submissions (from René and many other talented photographers) because Austin's face is just priceless. This is definitely a committed young performer. Austin is 10 and has been dancing since he was 5. As a competitive dancer he has accumulated 8 national championships, including 3 national champion solo titles. He dances approximately 12 hours a week and adjuncts with 2 hours of tumbling training. His father Geoff adds, "He has many wonderful teachers, but his high level guidance and tutelage is under Ms. Linda Holland, owner of the Dance Institute."
Mr. Curiosity is performed by thirteen, talented youth aged 10 through 13. The dance is described as a beautiful, sweet number that pushed the dancers to grow in not just their technical abilities, but also in their ability to express emotion through dance.
You can submit your photos for inclusion in the Sunday Snapshot feature at Flickr.
Kindly follow, like or share:
Nichelle Suzanne is a writer specializing in dance and online content. She is also a dance instructor with over 20 years experience teaching in dance studios, community programs, and colleges. She began Dance Advantage in 2008, equipped with a passion for movement education and an intuitive sense that a blog could bring dancers together. As a Houston-based dance writer, Nichelle covers dance performance for Dance Source Houston, Arts+Culture Texas, and other publications. She is a leader in social media within the dance community and has presented on blogging for dance organizations, including Dance/USA. Nichelle provides web consulting and writing services for dancers, dance schools and studios, and those beyond the dance world. Read Nichelle's posts.