According to dance photographer, Jim Markland, one of the most difficult shoots he has ever attempted was in the studios of the Ballet Nacional de Cuba in Havana.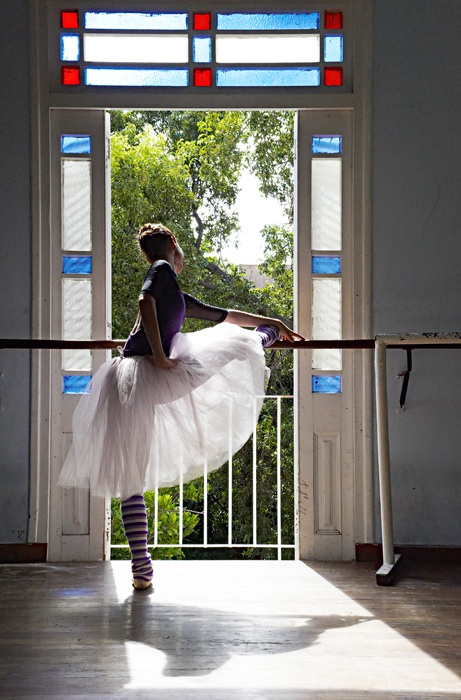 "The company was most welcoming and extremely helpful, however the light was dreadful," he remembers, "largely due to a combination of an earlier tropical storm and internal fluorescent lighting. After a very difficult three days and right at the end of the shoot, I spent some time with Grettel Morejon, a soloist, by an open window, the sun finally having obliged. I had neither reflector nor flash on hand to balance the light for photography so even this was tricky. Several of the shots are however quite special to me: the light coming through the window, providing a backlight to Grettel and her skirt then casting a long shadow on the dance floor. Magic! It was a delight to see Grettel steal the show some months later when the Ballet Nacional performed at the London Coliseum."
See our interview with Jim. He speaks about how, at 60, he became interested in photography and capturing dance; Lois Greenfield; the camera features required to capture dancers in action both onstage and off; and how dancers can prepare for a great studio shoot.
About the photographer: Jim Markland (James Rowbotham is his nom de plume) is originally from Lancashire in the north of England. He spent most of his career working in the international oil and gas industry as a petroleum economist which gave him the opportunity to travel very extensively and experience numerous languages and cultures. He now lives in Cheltenham, Gloucestershire. You can find Jim and more of his work at www.perfectlandscape.com, www.rowbotham-dance.book.fr, and www.rowbotham-cirque.book.fr, or on Flickr.